PERAWATAN OBSTRUKSI SALURAN AKAR MENGGUNAKAN EDTA PADA GIGI PASKA RESTORASI AMALGAM
Keywords:
obstructed canal, root canal treatment, EDTA
Abstract
Root canal calsification can occur due to prolonged trauma, aging, or restorations with pressure on the teeth for a long time, and causes root canal obstructed. The purpose of this case report to evaluate the results of root canal treatment with obstructed root canal post amalgam restoration, continue with unimetrix post and PFM crown. Thirty three years old female patient has come to dental clinic to treat her left mandibular molar tooth that have big amalgam restoration in the occlusal and tooth fracture at lingual side, but there was no pain when he came. Clinical examination on tooth 36 is necrosis pulpa. Radiographs showed radiopaque area from occlusal until pulp chamber floor and no periapical lesions were found. Rewalling lingual wall was done before the procedure of multivisit root canal treatment with EDTA, that consists of three obstructed root canal. Preparation and insertion of tapered self threading dowel (unimetrix, Dentsply) and build up core with cement resin at once. Core preparation were done for PFM jacket crown, and then mold with irreversible hydrocolloid for maxilla and double impression material for the mandible. PFM jacket crown was cemented using resin cement. The evaluation after six months, there were no complaints of pain and good marginal adaptation of restoration has performed. Selection cases and the right diagnosis with treatment procedures and adequate restoration, root canal treatment can be effective and durable.
Downloads
Download data is not yet available.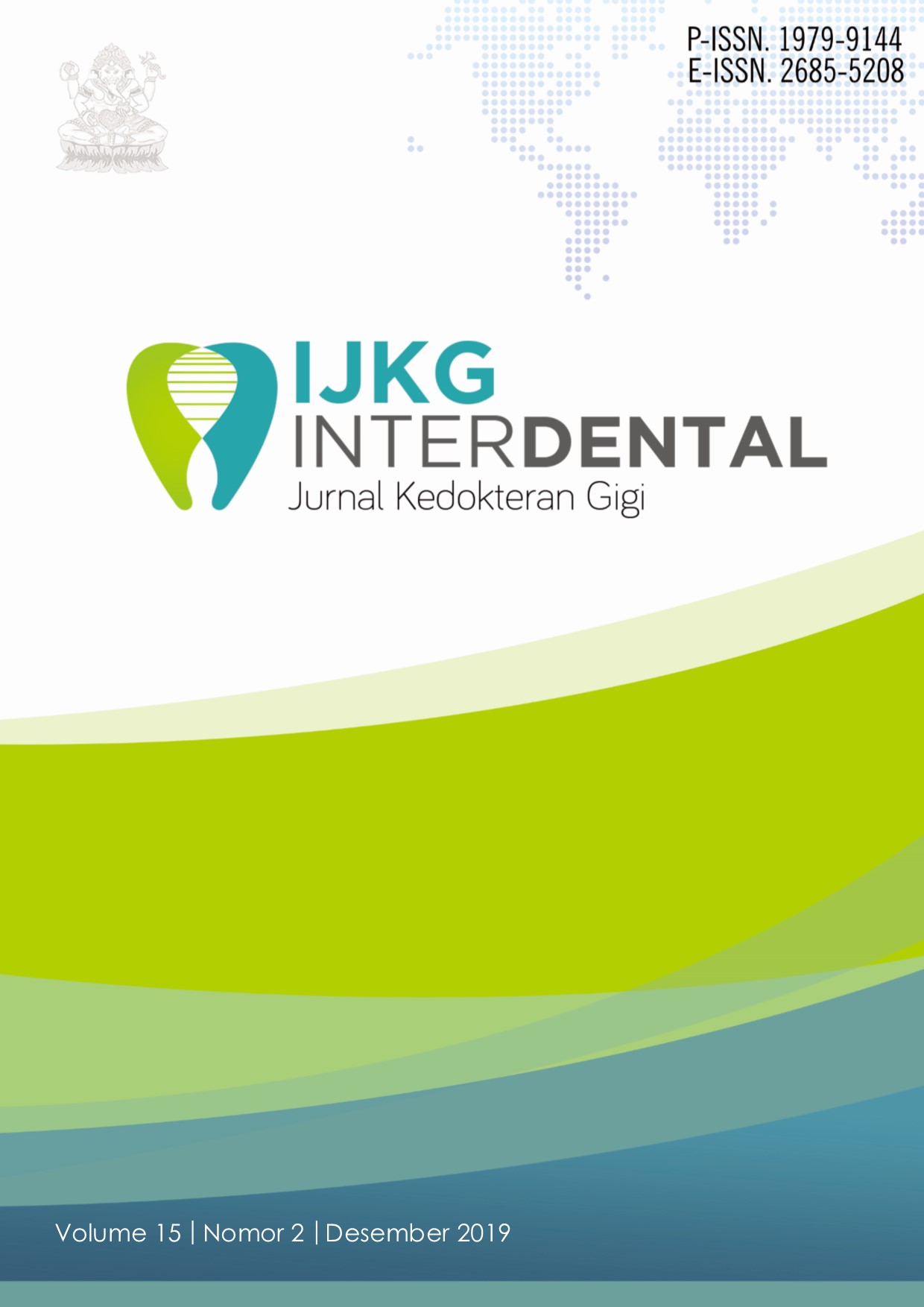 Downloads
How to Cite
Yudistian, I. (2019). PERAWATAN OBSTRUKSI SALURAN AKAR MENGGUNAKAN EDTA PADA GIGI PASKA RESTORASI AMALGAM. Interdental Jurnal Kedokteran Gigi (IJKG), 15(2). https://doi.org/10.46862/interdental.v15i2.595