Early Chidhood Caries (ECC) PADA ANAK USIA PRASEKOLAH DI DUSUN WANASARI KECAMATAN DENPASAR UTARA
Keywords:
preschool children, early childhood caries, prevalence
Abstract
Early Childhood Caries (ECC) is caries that destroyed maxillary insicives desidui after they erupt few month with specific pattern on children under 71 month of age. Prevalence of ECC in developed countries are low, but still high in developing countries, especially Indonesia. Dusun Wanasari is a village in subdistrict of South Denpasar of Bali that evarage of people with low income. Most of the parents in Dusun Wanasari are good in assisting their children on oral health maintenance. The aim of this research was to know the prevalence of ECC on preschool children in Dusun Wanasari. These research used diskriptive method and Survey was taken with quesioner which collaborate data of ECC. Thirty preschool children 3-5 years of age, as responden. Result showed that 80% children have ECC and 20% were free of ECC. It's mean the prevalence of ECC on preschool children in Dusun Wanasari was still high. Improper feeding pattern, such us bottle feeding and consumed cariogenic food. Poor oral hygiene and low awareness and behavior of oral health in low educated parents, were factor in occurring ECC.
Downloads
Download data is not yet available.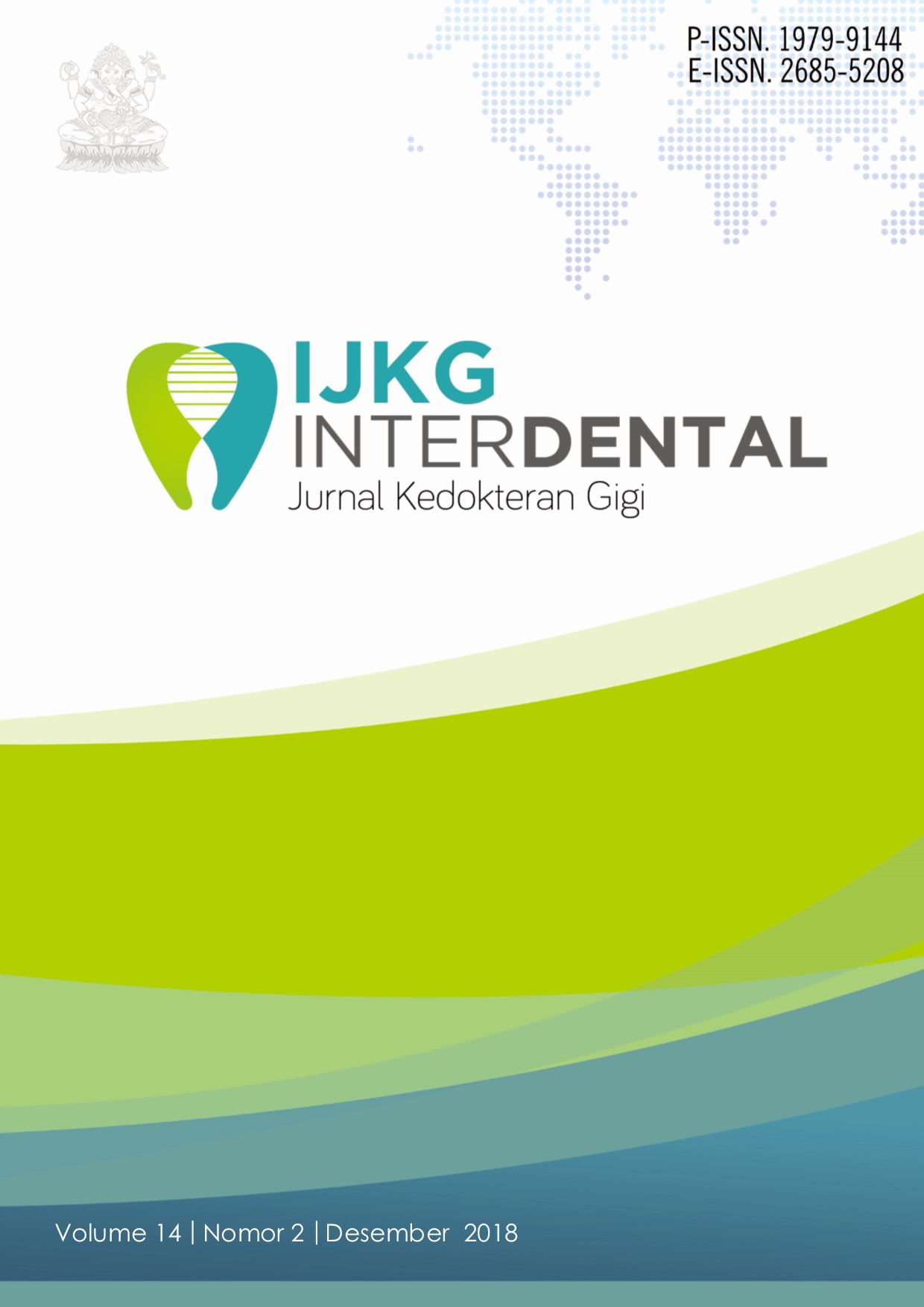 Downloads
How to Cite
Astuti, E. S. Y., & Rochmawati, F. (2018). Early Chidhood Caries (ECC) PADA ANAK USIA PRASEKOLAH DI DUSUN WANASARI KECAMATAN DENPASAR UTARA. Interdental Jurnal Kedokteran Gigi (IJKG), 14(2). https://doi.org/10.46862/interdental.v14i2.377