THE AETIOLOGY, IMPACT AND MANAGEMENT OF EARLY CHILDHOOD CARIES (ECC)
ETIOLOGI, DAMPAK DAN MANAJEMEN EARLY CHILDHOOD CARIES (ECC)
Keywords:
ECC, streptococcus mutans, children
Abstract
Introduction: Early childhood caries (ECC) is one of the most prevalent diseases in children worldwide. Streptococcus Mutans is the main bacteria that have strong association with ECC, and these bacteria can be transmitted from mother to child. Review: ECC does not only affect children's oral health, but also the general health of the children and the end affects their quality of life. Several impacts of ECC such as problems with sleeping, speaking eating, premature loss of primary dentition, and this condition often leads to orthodontic problems in adult life. Management of ECC are begun preventif strategies, curative and rehabitative treatment also. Conclusion: As we know the aetiology and management of ECC, the impact can be avoided, and the children still have good quality of life.
Downloads
Download data is not yet available.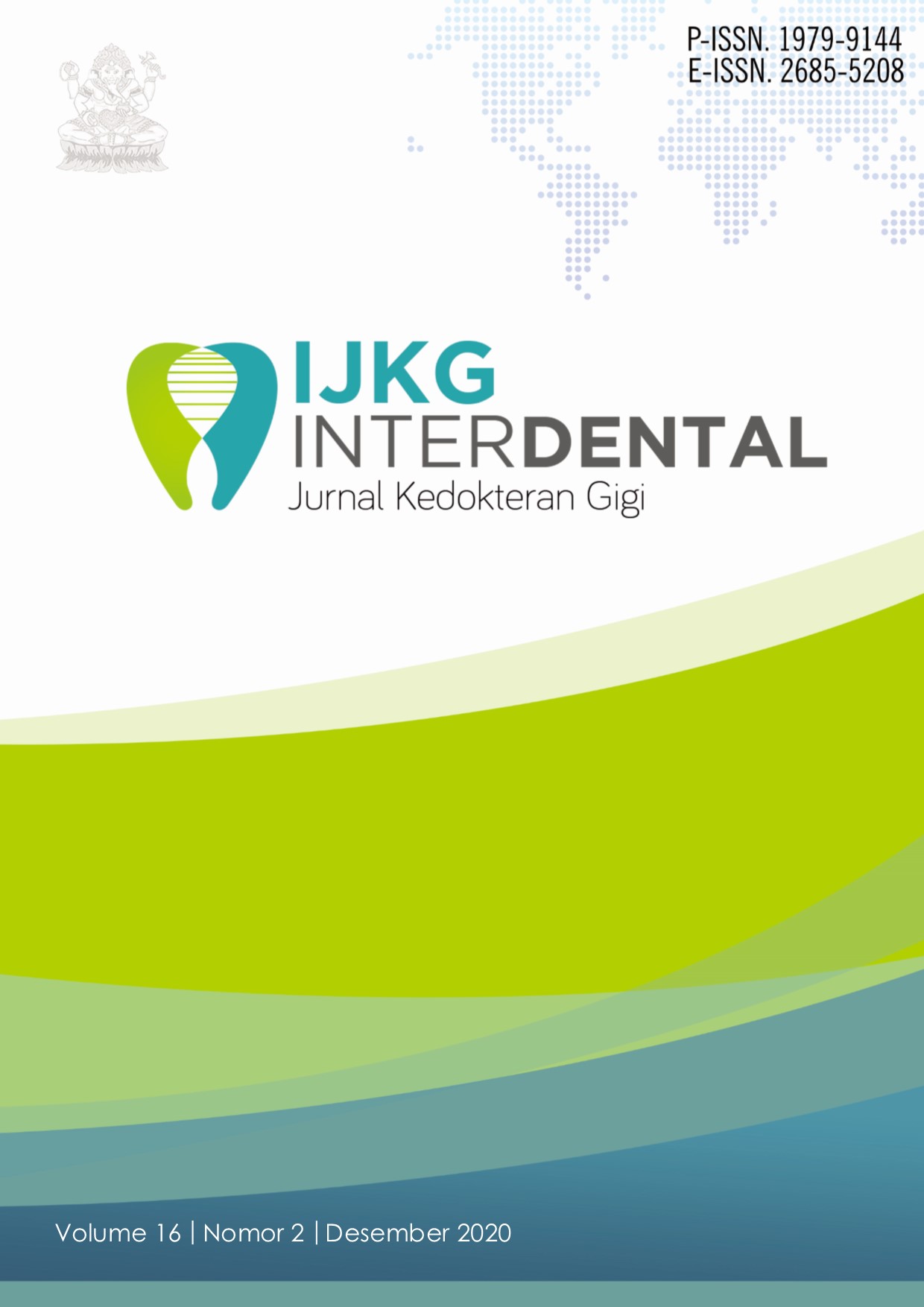 Downloads
How to Cite
Astuti, E. S. Y. (2020). THE AETIOLOGY, IMPACT AND MANAGEMENT OF EARLY CHILDHOOD CARIES (ECC) : ETIOLOGI, DAMPAK DAN MANAJEMEN EARLY CHILDHOOD CARIES (ECC). Interdental Jurnal Kedokteran Gigi (IJKG), 16(2), 74–79. https://doi.org/10.46862/interdental.v16i2.1297