SCHOOL PROGRAM BRUSH DAY AND NIGHT 21 DAY TO INCREASE AWARENESS ABOUT ORAL HEALTH: A QUALITATIVE STUDY
Program Sekolah 21 Hari Menyikat Gigi Pagi Dan Malam Untuk Meningkatkan Kesadaran Tentang Kesehatan Mulut: Studi Kualitatif
Keywords:
Brushing teeth, Children, Day and night
Abstract
Introduction: Most Indonesian brushes their teeth unproperly. This causes the rate of toothache due to caries is still high. The skill of brushing teeth should be taught from a young age. Materaials and Methods: This study is an qualitative applied study, namely implementing brushing day and night program at school for 21 days. This program involves 252 children including their parents, 17 teachers, and 5 dentists as counselor. The number of samples were 17 children. They were from 17 different classes, who followed until finished. Children's age ranges from 7-12 years old. This activity was carried out online. The materials prepared were animated educational videos, a 21-days toothbrushing calendar, colored pencils, children's toothbrushes and fluoridated toothpaste. A structured interview was used as research instrumment. Educational themes for children include: knowledge about teeth in general, the causes of dental caries,the brushing teeth method, and the pledge to brushing teeth. This program includes promotive, preventive, and counseling activities. The data were carried out during and after the activity was completed, then analyzed qualitatively. Results and Discussions: Children diligently brush their teeth in the right way, every morning after breakfast, and at night before going to bed. Parents take an active role in providing facilities, and accompanying their children when brushing their teeth. Conclusion: Children's awareness to maintain dental health increases, it becomes better than before. 
Downloads
Download data is not yet available.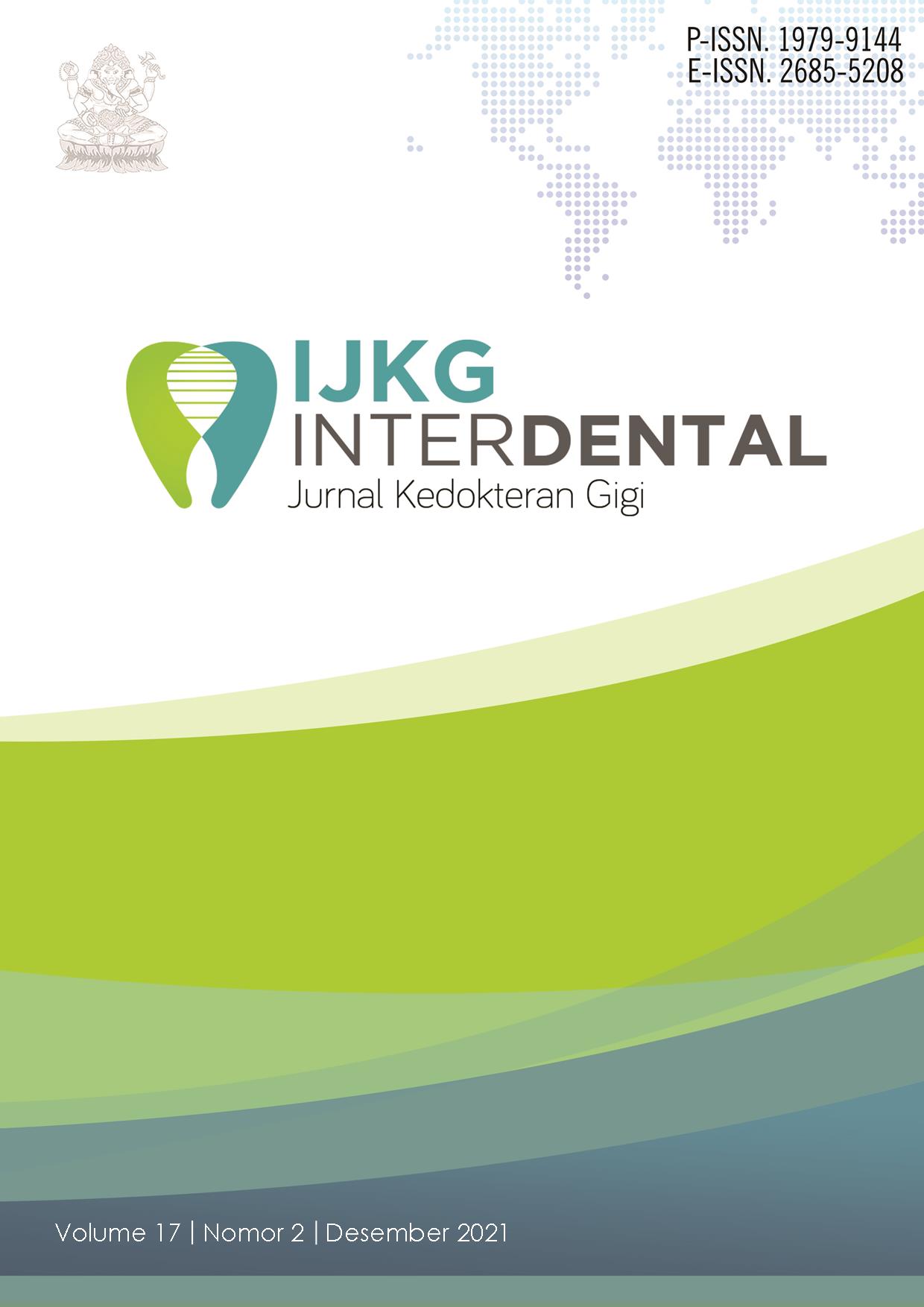 Downloads
How to Cite
Rahina, Y., Iswari DIGAA, C. ., Elang, P. ., & Walianto, S. . (2021). SCHOOL PROGRAM BRUSH DAY AND NIGHT 21 DAY TO INCREASE AWARENESS ABOUT ORAL HEALTH: A QUALITATIVE STUDY : Program Sekolah 21 Hari Menyikat Gigi Pagi Dan Malam Untuk Meningkatkan Kesadaran Tentang Kesehatan Mulut: Studi Kualitatif. Interdental: Jurnal Kedokteran Gigi, 17(2), 110–116. https://doi.org/10.46862/interdental.v17i2.2942