NUMBER OF CANDIDA ALBICANS COLONY ON HEAT CURED ACRYLIC RESIN PLATE AFTER IMMERSION IN BASIL LEAF EXTRACT (OCIMUM BASSILICUM LINN ) 50% SOLUTION
JUMLAH KOLONI CANDIDA ALBICANS PADA PLAT RESIN AKRILIK HEAT CURED SETELAH DILAKUKAN PERENDAMAN EKSTRAK DAUN KEMANGI (OCIMUM BASSILICUM LINN) 50%
Keywords:
Heat cured acrylic resin, Candida albicans, basil leaf (ocimum Bassilicium Liin)
Abstract
Introduction: Accumulation of plaque and food scraps on an acrylic resin heat cured base will increase bacterial colonies and Candida albicans which will cause denture stomatitis. Maintenance of denture hygiene using mechanical, chemical and combination of two methods. Basil leaf (Ocimum bassilicum Liin) 50% extract contain essential oils which are important to against  Candida albicans biofilms. Purpose: The purpose of this study was to determine the comparison of Candida albicans
colonies after cleaning various denture cleaning methods. Materials and method: The method was an experimental study, and the design was posttest only with control group design. Sample size of heat cured acrylic resin plate is 40x12x3mm. this study use Kruskall-Wallis test and Mann-Whitney test as data analysis for comparison tests between groups (non-parametric test). Result: The results showed that there were significant differences between the various cleansing methods used in reducing Candida albicans colonies. Conclusion: The compotition of flavonoids basil leaf (ocimum Bassilicum Liin) 50% extract is anti-microbial which can prevent the entry of fungi that harm the body.
Downloads
Download data is not yet available.
References
Rahmayani, L., Sofya, P.A. Penilian Tingkat Kebersihan Sebagaian Lepasan Akrilik Berdasarkan Metode Pembersihan Secara Penyikatan dan Lama Pemakaian. Odonto Dental Jurnal. 2016; 3(1):7-18
Dharmautama, M., Edy, M., Mardi, S.A. Research Report: Pertumbuhan Bakteri Plak dan Candida albicans pada Basis Gigi Tiruan Lepasan Akrilik Setelah Perendaman dalam Infusa Bunga Rosella. Universitas Hasanuddin, Makassar. 2014; 13:32-42
Angelina, R. 2012. Ekstrak Biji Kakao Sebagai Pembersih Gigi Tiruan Akrilik Terhadap Candida Albicans. Skripsi. Surabaya: Fakultas Kedokteran Gigi Universitas Airlangga,.
Machado de Andrade, I., Cruz, P.C., Silva‐Lovato C.H., de Souz, R.F., Cristina, M., Souza‐Gugelmin, M., de Freitas, O., Paranhos, H. E. Effect of Chlorhexidine on Denture Biofilm Accumulation. Journal of Prosthodontics. 2012; 21(1): 2-6
Pellizzaro, D., Polyzois, G., Machado, A., Giampaolo, E., Sanitá, P., Vergani, C. Effectiveness of Mechanical Brushing with Different Denture Cleansing Agents in Reducing In Vitro Candida albicans Biofilm Viability. Brazilian Dental Journal. 2012; 23(5): 17-23
Marisa, E., Eha, D., Haryy, P. Efektivitas Perendaman Akrilik Heat Cured dalam Infusa Daun Kemangi (Ocimum basilicum Linn) Terhadap Candida albicans. Journal of Prosthodontics. 2010; 1(1): 13-22
Desmara., S., Rezeki, S., Sunnati. Konsentrasi Hambat Minimum Dan Konsentrasi Bunuh Minimum Ekstrak Daun Kemangi (Ocimum Sanctum L.) Terhadap Pertumbuhan Candida Albicans. Journal Caninus Dentistry. 2017: 2(1): 22-29
Mutiawati, V.K. Pemeriksaan Mikrobiologi Pada C albicans. Jurnal Kedokteran Gigi Syiah Kuala. 2016; 1(16): 32-41
Silvia, D., Rezeki, S., Sunannti. Konsentrasi Hambat Minimum dan Konsentrasi Bunuh Minumum Ekstrak Daun Kemangi ( Ocimmum Sanctum L ) Terhadap Pertumbuhan Candida albicans. Journal Caninus Dentistry. 2017; 2(1): 18-27
Atikah, N. 2013. Uji Aktivitas Antimikroba Ekstrak Herba Daun Kemangi (Ocimumm americanum L) terhadap Staphylococcus aureus dan Candida albicans. Skripsi, Jakarta: UIN Syarif Hidayatullah.
Raut, J., S., Karrupayil, S., M. A status review on the medicinal properties of essential oils. Ind Crops. 2014; 62(1): 250-64
Yanti, N., Samingan, Mudatsir. Uji Aktivitas Antifungi Ekstrak Etanol Gal Manjakani (quercus infectoria) Terhadap Candida albicans. Jurnal Ilmiah Mahasiswa Pendidikan Biologi. 2016; 1(1):1-9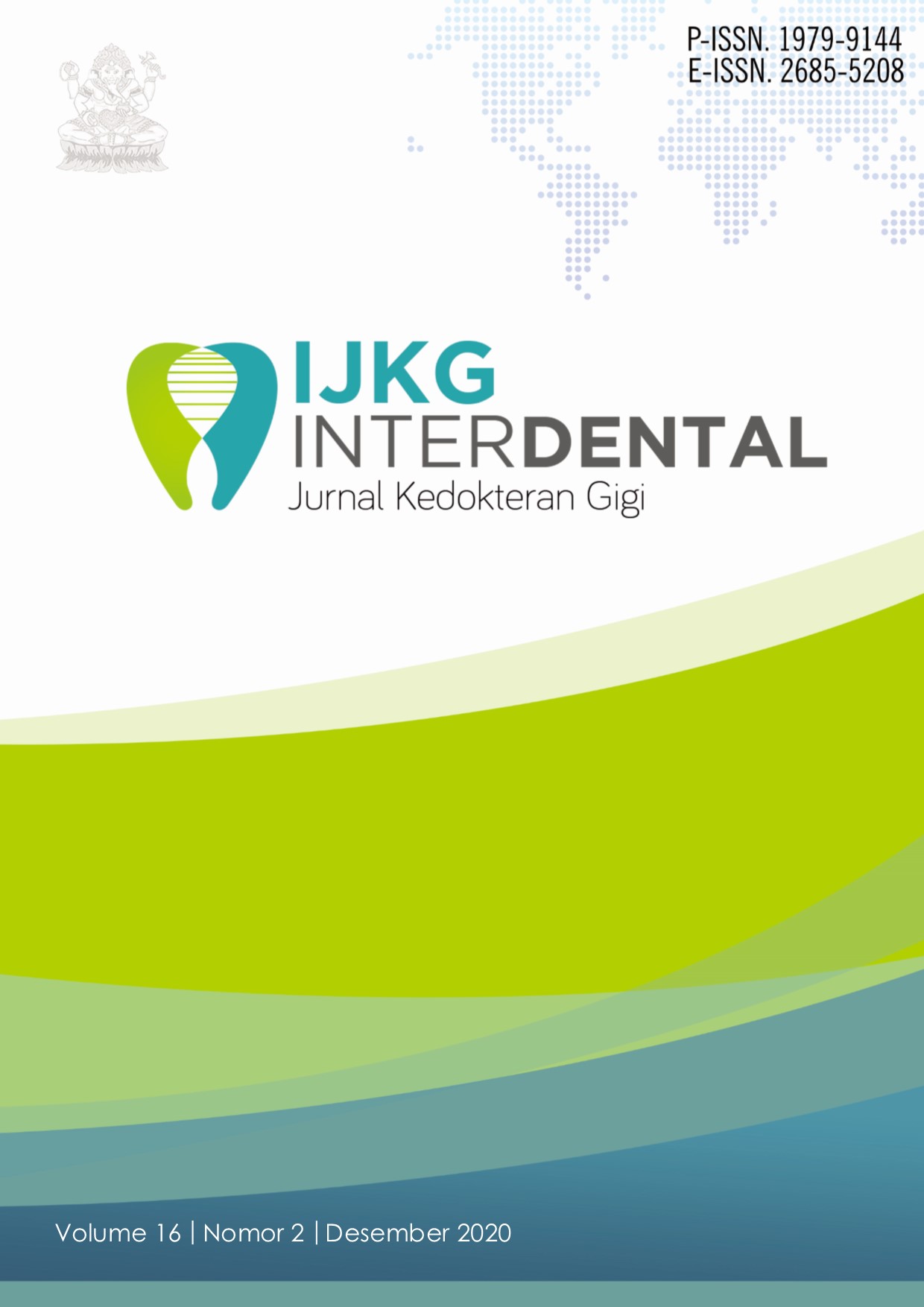 Downloads
How to Cite
Ayu Wirayuni, K., & Nugrahini, S. (2020). NUMBER OF CANDIDA ALBICANS COLONY ON HEAT CURED ACRYLIC RESIN PLATE AFTER IMMERSION IN BASIL LEAF EXTRACT (OCIMUM BASSILICUM LINN ) 50% SOLUTION : JUMLAH KOLONI CANDIDA ALBICANS PADA PLAT RESIN AKRILIK HEAT CURED SETELAH DILAKUKAN PERENDAMAN EKSTRAK DAUN KEMANGI (OCIMUM BASSILICUM LINN) 50%. Interdental Jurnal Kedokteran Gigi (IJKG), 16(2), 80–84. https://doi.org/10.46862/interdental.v16i2.1126