IMMERSION OF HEAT POLYMERIZED ACRYLIC RESIN DENTAL BASE IN ARAK BALI AGAINST SURFACE ROUGHNESS
PERENDAMAN BASIS GIGI TIRUAN RESIN AKRILIK POLIMERISASI PANAS DALAM MINUMAN ARAK BALI TERHADAP KEKASARAN PERMUKAAN
Keywords:
Acrylic Resin Denture Base, Arak Bali, Surface Roughness
Abstract
Introduction: The denture base is the part of the removable denture that is supported by good adaptation to the underlying oral tissue. Most of the denture bases are made of acrylic or polymethyl methacrylate resin, better known as PMMA. However, acrylic resin also has disadvantages such as easily broken and absorbs liquids both water and chemicals. The chemical absorption like alcohol, ethanol, and some drinks that contain acidic materials will chemically be induced with acrylic resin and settle in the pores of the acrylic resin. The chemical damage or defect creates roughness on the surface of the acrylic resin which can cause cracking or crazing and a decrease in surface strength and hardness. Materials and Methods: The method used in this research was a laboratory experimental design with a post-test-only control group using 12 samples consisting of 2 different types of samples by measuring the surface roughness of the acrylic resin after immersing the sample with a predetermined time. Results and Discussions: One-way ANOVA test results showed a significant difference in surface roughness after the samples immersion with a value of p = 0.006 (p <0.05). Conclusions: Based on this research, can be concluded that there is an increase in the surface roughness of the heated polymerized acrylic resin for 3 hours and 4 hours of immersion. The longer the heated polymerized acrylic resin is soaked in arak hence the level of surface roughness increases.      
Downloads
Download data is not yet available.
References
Dwi T. P., Lidya P.U. Pengaruh perendaman basis gigi tiruan resin akrilik polimerisasi Panas. Skripsi. Medan: Departemen Prostodonsia Fakultas Kedokteran Gigi. Universitas Sumatera Utara; 2015.
Putri R. D., Dinasari V., Sundari I. Pengaruh kopi Aceh ulee kareng terhadap kekerasan basis gigi tiruan resin akrilik. Dentofacial. 2011; 10(3): 135-9.
Ayu I. P., Suariyani N. L. P. Persepsi Produsen Arak Di Desa Merita, Karangasem, mengenai Bahaya Keracunan Arak Oplosan Yang Mengadung Metanol Yang Dapat Mengancam Kesehatan Dan Pariwisata Di Bali; 2010.
Shofi A, Purwanto A, Dyah I., Pengaruh konsentrasi etanol terhadap crazing pada permukaan resin akrilik polimerisasi panas. Skripsi. Ilmu keperawatan gigi; 2015.
Ishana R.H, Sudibyo, Etny D.H. Kekuatan transversa termoplastik nilon pasca perendaman teh, kopi dan minuman isotonic. Skripsi. Semarang: Fakultas Kedokteran Gigi Universitas Muhammadiyah Semarang; 2018.
Abuzar M, Bellur S, Duong N. Evaluating surface roughness of a polyamide denture base material in comparison with poly (methyl methacrylate). Journal of Oral Science. 2010; 13(2): 34-40.
Ari Yusasrini N.L, Puspawati N.N., Kajian Nilai Gizi Minuman Tradisional Bali; 2013.
Hairul, H. Kekasaran Permukaan Resin Akrilik Polimerisasi Panas Setelah Perendaman Dalam Minuman Tuak. Skripsi. Medan: Univesitas Sumatera Utara; 2018.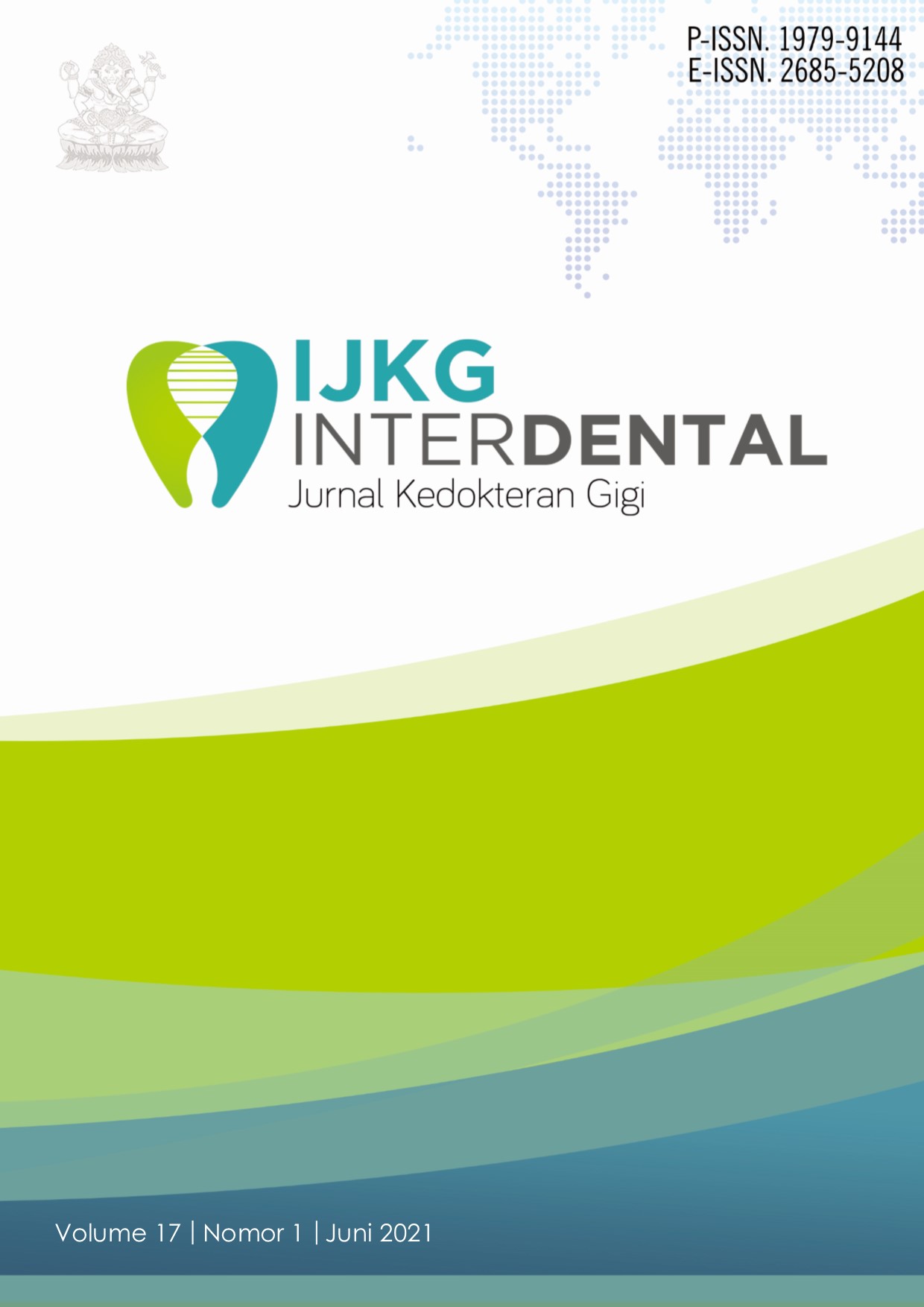 Downloads
How to Cite
Ayu Wirayuni, K., & Dwi Saputra, . I. M. H. . (2022). IMMERSION OF HEAT POLYMERIZED ACRYLIC RESIN DENTAL BASE IN ARAK BALI AGAINST SURFACE ROUGHNESS : PERENDAMAN BASIS GIGI TIRUAN RESIN AKRILIK POLIMERISASI PANAS DALAM MINUMAN ARAK BALI TERHADAP KEKASARAN PERMUKAAN. Interdental Jurnal Kedokteran Gigi (IJKG), 17(1), 22–26. https://doi.org/10.46862/interdental.v17i1.2051