PENINGKATAN AKTIVITAS SEL EPITEL PADA KASUS DENTURE STOMATITIS OLEH GEL Epigallocatechin gallate 0,5%
Keywords:
Denture Stomatitis, EGCG, wound healing, reepithelialization
Abstract
 Complete denture wearing patients are often associated with the presence of denture stomatitis. Poor-fitting dentures may increase mucosal trauma. It cause pressure on the mucosa and create a mechanical irritation. Epigallocatechin gallate(EGCG), is a flavonoid class of polyphenols antioxidant that have been widely researched, proven to have anti-inflammatory effects and may improve wound healing. The objective of this study was to prove the potential role of EGCG promoting reepithelialization of oral mucosa woundhealing.The study was a randomized Post Test Only ControlGroup Design experimental study. 32 male rats (Rattus norvegicus) were divided into 2 treatment groups. The controlgroup were given placebo gel administration (CMC-Na) for 3 days, and the treatment groups were given EGCG Gel 0.5% for 3 days. On the 6th day, mice were euthanized for tissue sampling and histological preparations, made by HE stainning. The data were analyzed using the Independent t-Test.The mean of  epithelial cleft oftreatment group (549.25 ± 217.094 µm) was lower than the controlgroup (1417.25 ± 180.572 µm), it was statistically different.EGCG Gel 0.5% increaseproduction of TransformingGrowth Factor-beta 1 (TGF-β1) to stimulate migration and adhesion of epithelial cell.Thus, it is concluded that EGCG gel 0.5% enhance reepithelialization on mucosa wound healingof Denture Stomatitis.
Downloads
Download data is not yet available.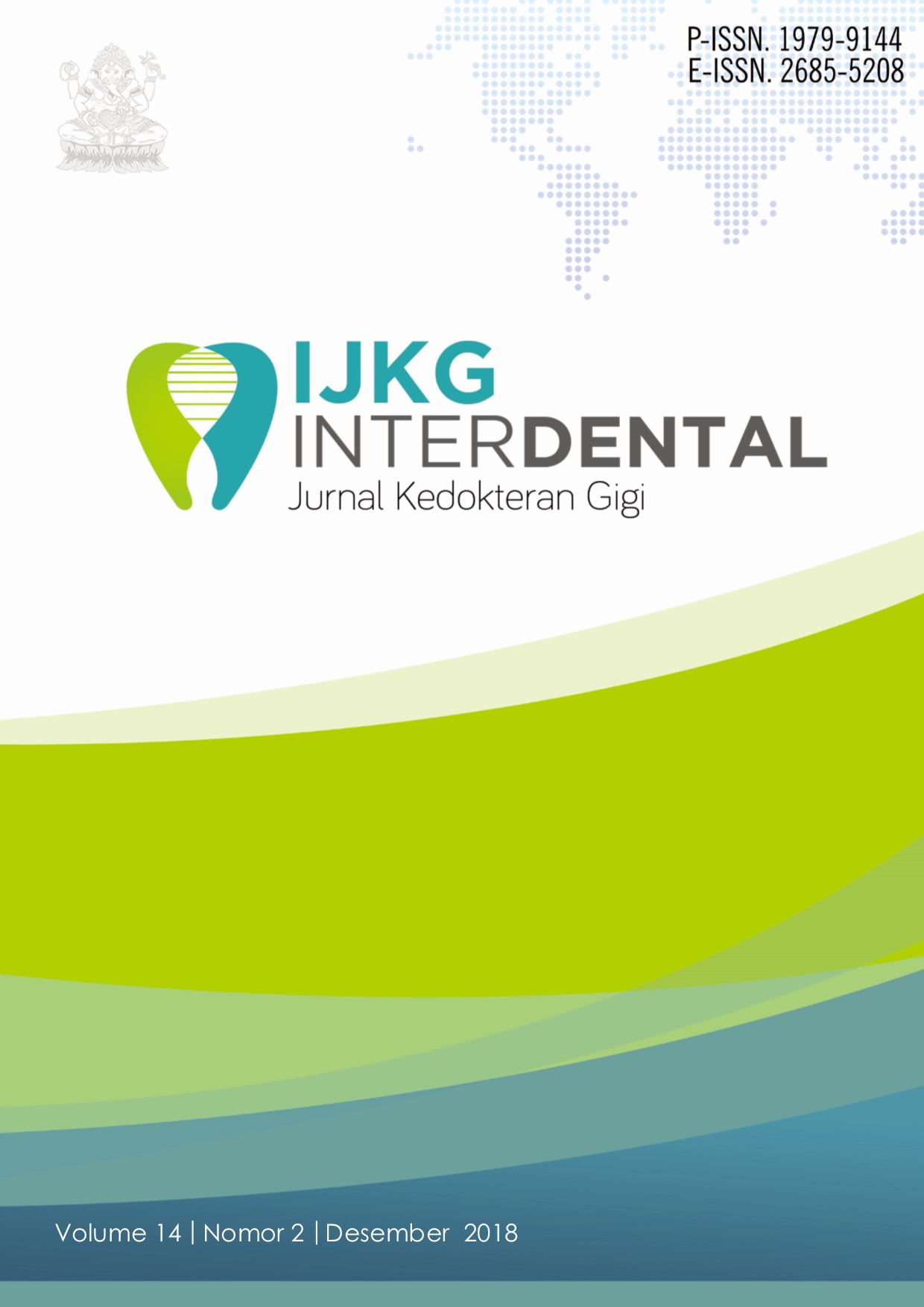 Downloads
How to Cite
Nugrahini, S. (2018). PENINGKATAN AKTIVITAS SEL EPITEL PADA KASUS DENTURE STOMATITIS OLEH GEL Epigallocatechin gallate 0,5%. Interdental Jurnal Kedokteran Gigi (IJKG), 14(2). https://doi.org/10.46862/interdental.v14i2.375