DAMPAK BUDIDAYA IKAN IRIGASI BAGI PENDAPATAN PETANI DAN KONSERVASI LINGKUNGAN (STUDI KASUS DI DESA BAKBAKAN GIANYAR)
Keywords:
Fish cultivation, Irrigation, Environmental conservation, Water quality
Abstract
Fish cultivation in public waters is one of the efforts to increase fishery production through the expansion of fishery land by utilizing public waters. The purpose of this research is to find the impact of irrigation channel utilization for fish farming on farmer's income and environmental conservation in Bakbakan Village, Gianyar Regency. This research is quantitative descriptive. The utilized irrigation channel reaches 47 meters by spreading the seedlings of tilapia as much as 100 kg, with the maintenance until the harvest is 3 months given the feed and probiotics. The data used are primary and secondary data with the results of research that farmers get additional income from tilapia cultivation in irrigation canals in Bakbakan Village in the amount of Rp. 3,272,000 and business feasibility with an income cost ratio of 1.70 per period of one harvest. Water on irrigation channels is analyzed in the laboratory against water quality parameters (in this case the physical and chemical parameters of water). This research also shows that the environment remains sustainable because the physical condition and water quality are still good, with category II irrigation water quality referring to Government Regulation Number 82 of 2001 concerning Management of Water Quality and Water Pollution Control.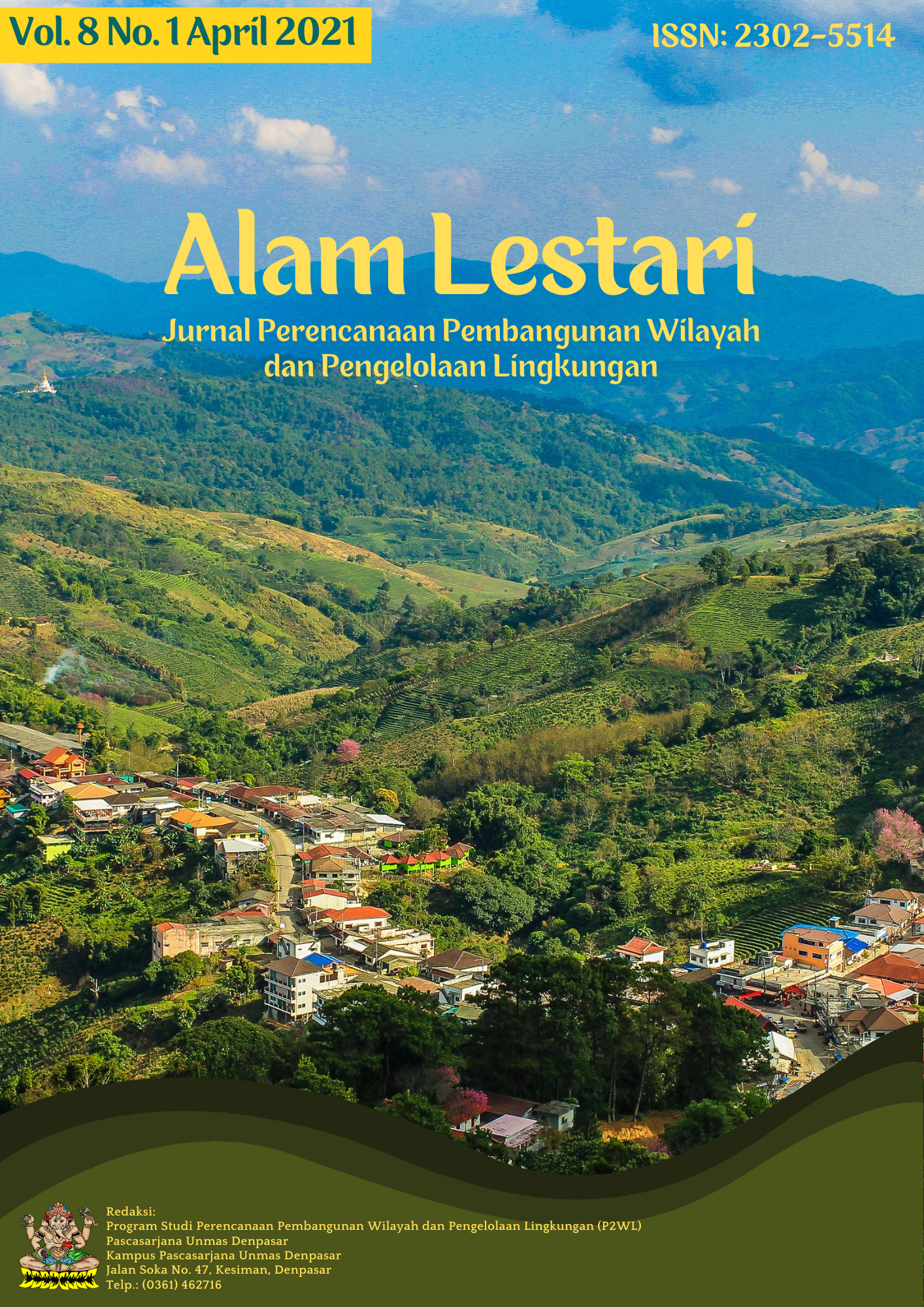 Downloads
How to Cite
Susanti, N. W., Arnawa, I. K., Maba, I. W., & Mulianto, I. N. A. (2021). DAMPAK BUDIDAYA IKAN IRIGASI BAGI PENDAPATAN PETANI DAN KONSERVASI LINGKUNGAN (STUDI KASUS DI DESA BAKBAKAN GIANYAR). Jurnal Alam Lestari, 8(1), 36–46. Retrieved from https://e-journal.unmas.ac.id/index.php/alamlestari/article/view/4357