Molecular Docking Kaempferol sebagai Antiinflamasi pada Aterosklerosis secara In Silico
Gede Ngurah Hadi Candra

Universitas Udayana

I Made Adnyana Partha Wijaya

Universitas Udayana
Keywords:
anti-aterosklerosis, in silico, kaempferol, molecular docking
Abstract
Aterosklerosis digambarkan sebagai reaksi inflamasi kronis dari dinding pembuluh darah sebagai respons terhadap dislipidemia bersama dengan gangguan endotel termasuk penarikan leukosit dengan aktivasi sel vaskular lokal. Gangguan endotel merangsang produksi sitokin proinflamasi dimediasi oleh NF-κΒ sehingga mendukung terbentuknya plak ateroma. Flavonol daun kelor memiliki aktivitas dalam memperlambat kejadian inflamasi. Flavonol utama pada daun kelor adalah kaempferol. Pengujian aktivitas kaempferol sebagai anti-inflamasi aterosklerosis yang didasarkan interaksi protein NF-ĸB dengan metode molecular docking. Pengujian aktivitas dilaksanakan adalah penyiapan struktur protein NF-ĸB, persiapan protein dengan Chimera1.11.1, optimasi struktur 3D kaempferol dengan HyperChem 8, validasi metode molecular docking dan docking kaempferol pada protein NF-ĸB dengan Autodock tools 1.5.6. Hasil penelitian menunjukkan bahwa kaempferol memiliki afinitas karena mampu membentuk ikatan hidrogen dengan protein NF-ĸB. Energi ikatan yang terbentuk antara kaempferol dengan protein NF-ĸB sebesar -7,85 kkal/mol yang membentuk ikatan hidrogen pada residu asam amino LEU472 dan SER476. Kaempferol mempunyai aktivitas sebagai anti-aterosklerosis karena memiliki afinitas dengan protein NF-ĸB yang dapat menghambat proses inflamasi terbentuknya plak ateroma.
References
Agistia, D. D., Purnomo, H., Tegar, M., and Nugroho, A. E. (2013). Interaksi Senyawa Aktif dari Aegle marmelos Correa sebagai Anti Inflamasi dengan Reseptor COX-1 dan COX-2. Traditional Medicine Journal, 18, 80-87.
Aziz, M. and Yadav, K. S. (2016). Pathogenesis of Atherosclerosis A Review. Medical & Clinical Reviews, 2(3), 1 – 6.
Fitriasari, A., N. Wijayanti, K., Ismiyati, N., Dewi, D., Kundarto, W., Sudarmanto, B. S. A., and Meiyanto, E. (2008). Studi Potensi Kurkumin dan Analognya sebagai Selective Estrogen Receptor Modulator (SERMs): Docking pada Reseptor Estrogen β. Pharmacon, 9, 27-32.
Gaziano, T. A., Bitton, A., Anand, S., Abraham-Gessel, S., and Murphy, A. (2010). Growing Epidemic of Coronary Heart Disease in Low- and Middle-Income Countries. Curr Probl Cardiol, 35(2), 72-115.
Ghani, L., Susilawati, M. D., and Novriani, H. (2016). Dominant Risk Factors of Coronary Heart Disease in Indonesia. Buletin Penelitian Kesehatan, 44(3), 153-164.
Jain, A. N., and Nicholls, A. (2008). Recommendation for Evaluation of Computational Methods. Journal of Computer-Aided Molecular Design. 22, 133- 139.
Laksmiani, N. P. L., Paramita, N. L. P. V., and Wirasuta, I. M. A. G. (2016). In Vitro and In Silico Antioxidant Activity of Purified Fractions from Purple Sweet Potato Ethanolic Extract. International Journal of Pharmacy and Pharmaceutical Sciences, 8, 177-181.
Lestari, T. (2015). Studi Interaksi Senyawa Turunan 1,3-Dibenzoiltiourea sebagai Ribonukleotida Reduktase Inhibitor. Jurnal Farmasi Indonesia, 7, 163-169.
Pamukcu, B., Lip, G. Y. H., and Shantsila, E. (2011). The nuclear factor – kappa B pathway in atherosclerosis: A potential therapeutic target for atherothrombotic vascular disease. Thrombosis Research, 128, 117 – 123.
Qahtany, A., Hani, F., Shali, H. A., Bayamin, A. A., Alzabien, H. S., Alrehaili, A. M., Aldalbahi, H. M. Z, Awadh, H. M. A., Yousif, M. M., Alqurashi, K. A., Aljehani, N. A., Alazwari, N. M., and Alghamdi, M. T. (2018). Atherosclerosis: Pathophysiology and Management. The Egyptian Journal of Hospital Medicine,70, 82 – 87.
Rajanandh, M. G., Satishkumar, M. N., Elango, K., and Suresh, B. (2012). Moringa oleifera Lam A herbal medicine for hyperlipidemia: a pre-clinical report. Asian Pacific Journal of Tropical Disease, 2(2), 790 – 795.
Salvamani, S., Gunasekaran, B., Shaharuddin, N. A., Ahmad, S. A., and Shukor, M. Y. (2014). Antiatherosclerotic Effect of Plant Flavonoids. Biomed Research International. 2014(480258), 1 – 11
Themistocleous, I. –C, Stefanakis, M., and Douda, H. (2017). Coronary Heart Disease Part I: Pathophysiology and Risk Factors. Journal of Physical Activity, Nutrition, and Rehabilitation, April 29. 167 – 175.
Tjahjono, D.H., dan Hamzah, N. (2013). Studi Hubungan Kuantitatif StrukturAktivitas, Fitur Farmakofor, dan Docking Molekuler Senyawa Turunan Pirazolo-[3,4-d]- Pirimidin sebagai Inhibitor Mer Tirosin Kinase. Acta Pharmaceutica Indonesia, 38(1), 1-10.
Tousoulis, D., Oikonomou, E., Economou, E. K., Crea, F., and Kaski, J. C. (2016). Inflammatory cytokines in atherosclerosis: current therapeutic approaches. European Heart Journal, 37(22), 1723 – 1732.
Zahrawardani, D., Herlambang, K. S., and Anggraheny, H. D. (2013). Analisis Faktor Risiko Kejadian Penyakit Jantung Koroner di RSUP Dr Kariadi Semarang. Jurnal Kedokteran Muhammadiyah, 1(2), 13-20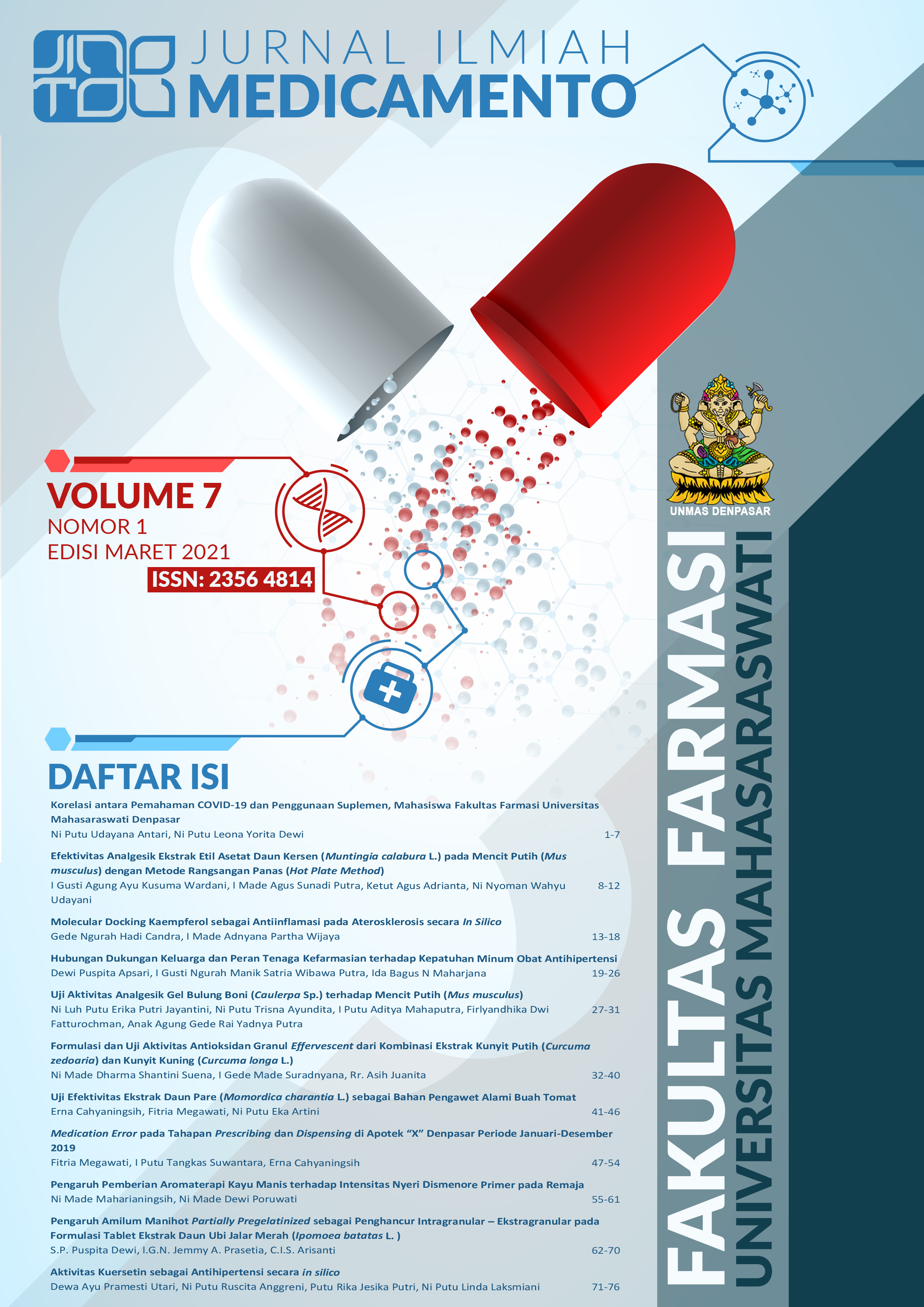 How to Cite
Candra, G. N. H., & Wijaya, I. M. A. P. (2021). Molecular Docking Kaempferol sebagai Antiinflamasi pada Aterosklerosis secara In Silico. Jurnal Ilmiah Medicamento, 7(1), 13-18. https://doi.org/10.36733/medicamento.v7i1.1497
Copyright (c) 2021 Jurnal Ilmiah Medicamento
This work is licensed under a Creative Commons Attribution-NonCommercial-NoDerivatives 4.0 International License.