PERAN AUDITOR INTERNAL DALAM MENENTUKAN PENGARUH PENGENDALIAN INTERN TERHADAP GOOD UNIVERSITY GOVERNANCE DI UNIVERSITAS MAHASARASWATI DENPASAR
Keywords:
Internal Audit, Internal Control, Good University Governance
Abstract
This study aims to determine the role of internal auditors in determining the influence of internal control of good university governance at the University of Mahasaraswati Denpasar. This research belongs to the type of causal research and is also categorized as quantitative research. Variables of this study include independent variables: internal control, mediation variables: internal auditor and dependent variable: good university governance. Data collection was done by distributing questionnaires to respondents who numbered 38 people from 14 courses in the environment Unmas Denpasar. The analysis tool used is SPSS V.23 path analysis. The test result showed that internal control had positive and significant effect on good university governance as shown by regression coefficient β = 0,801 and sig. of 0.000 <0.05. Internal auditors have a positive and significant role in determining the influence of control on good university governance as shown by the coefficient of sobel's z = 3.141 and sig of 0.002 <0.05
Downloads
Download data is not yet available.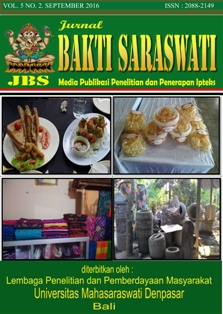 Downloads