PENGARUH ASSET MATURITY DAN RISIKO BISNIS TERHADAP STRUKTUR MODAL DAN DEBT MATURITY PADA PERUSAHAAN MANUFAKTUR DI INDONESIA
Keywords:
asset maturity, business risk, capital structure, debt maturity
Abstract
A survey of financial management practices by Graham and Harvey (2001) found that financial flexibility is the most important determinant of capital structure, and asset maturity alignment is the most important factor in debt maturity decisions. Business risk is also a factor considered in funding either by the firm itself, creditor and investor. The purpose of this research is 1) to analyzethe effect of maturity of asset to capital structure 2) to analyzethe effect of business risk to capital structure 3) to analyzethe effect of maturity of asset to debt maturity4) to analyzethe influence of business to debt maturity. Data analysis technique used in this research is multiple linear regression. The test results show the existence of significant asset maturity to the capital structure and the maturity of the debt, while the effect of risk is not significant either on the capital structure orthe debt maturity.
Downloads
Download data is not yet available.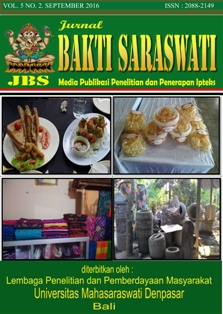 Downloads