PENEGAKAN HUKUM TERHADAP RESIDIVIS TINDAK PIDANA PENCURIAN DALAM SISTEM PERADILAN PIDANA ANAK
Keywords:
law enforcement, recidivists, juvenile criminal justice system, penegakan hukum, residivis, sistem peradilan anak
Abstract
Behavioral deviations in children are things that are prone to occur because of the child's unstable psychology. Children who are in conflict with the law can be sentenced if they are proven to have committed a criminal act. The type of research in this paper is legal research using literature study and statute approach. The purpose of the imposition of punishment is not merely revenge, but to provide guidance and protection. This provision is also applied to the criminalization of children, even more attention is paid to criminalizing children, given the characteristics of children. Restrictions on the use of criminal law for children can be seen from the regulation of diversion against children in conflict with the law. However, for repetition or recidivist crimes, diversion against children cannot be done.
Penyimpangan perilaku pada anak merupakan hal yang rentan terjadi karena jiwa labil anak. Anak yang berkonflik dengan hukum dapat dipidana apabila terbukti melakukan tindak pidana. Adapun jenis penelitian dalam tulisan ini adalah penelitian hukum dengan menggunakan studi kepustakaan dan pendekatan perundang-undangan. Bahwa tujuan dari penjatuhan pidana bukan semata-mata sebagai pembalasan dendam, tetapi untuk pemberian bimbingan dan pengayoman. Ketentuan ini juga diterapkan pada pemidanaan anak, bahkan pemidanaan terhadap anak lebih diperhatikan mengingat karakteristik anak. Pembatasan penggunaan hukum pidana bagi anak dapat dilihat dari pengaturan diversi terhadap anak yang berkonflik dengan hukum. Namun terhadap kejahatan pengulangan atau residivis maka diversi terhadap anak tidak dapat dilakukan.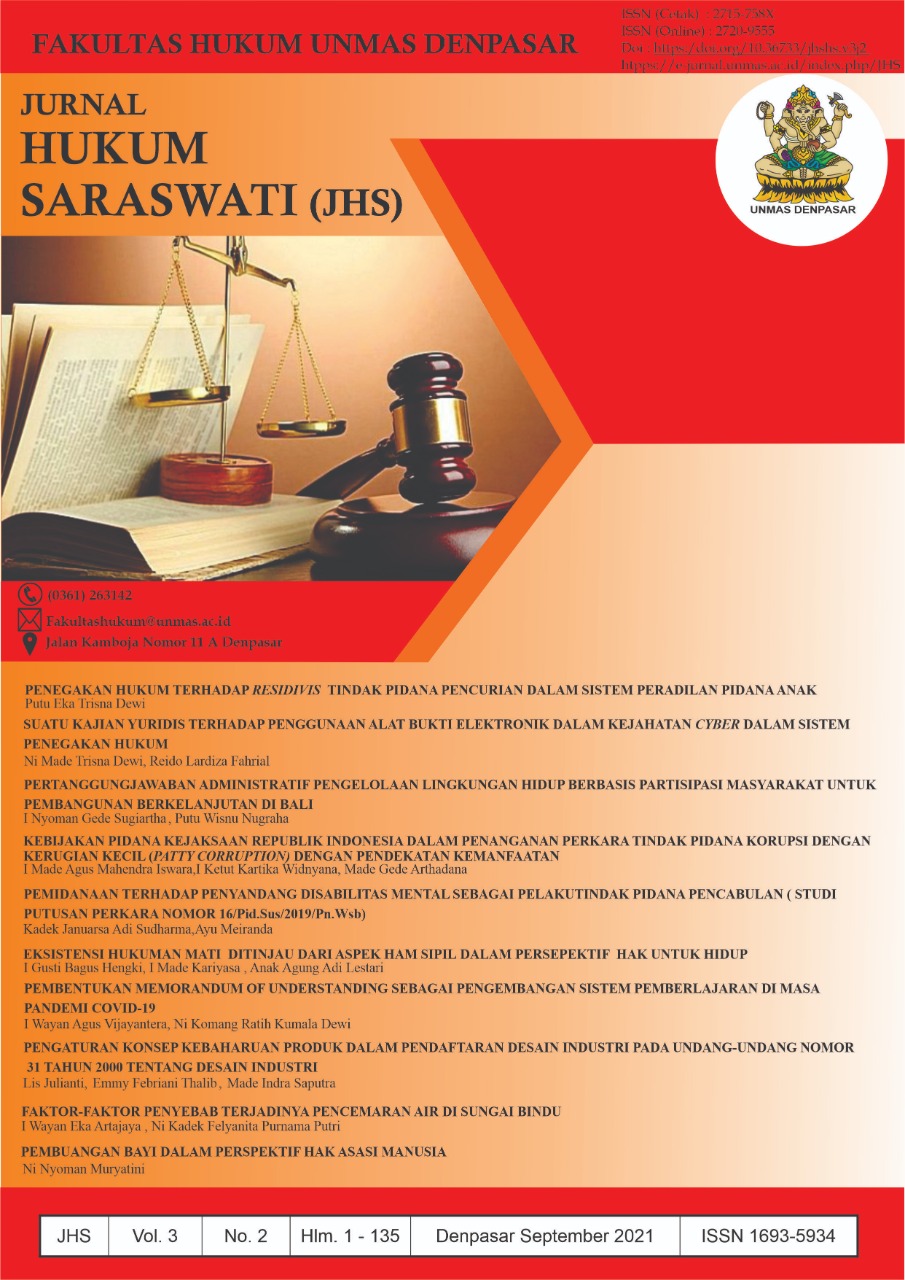 Downloads
How to Cite
Putu Eka Trisna Dewi. (2022). PENEGAKAN HUKUM TERHADAP RESIDIVIS TINDAK PIDANA PENCURIAN DALAM SISTEM PERADILAN PIDANA ANAK. Jurnal Hukum Saraswati (JHS), 3(2). https://doi.org/10.36733/jhshs.v3i2.2945
License
Copyright notice
Authors who publish with this journal agree to the following terms:
Authors retain copyright and grant the journal right of first publication with the work simultaneously licensed under aCreative Commons Attribution License that allows others to share the work with an acknowledgement of the work's authorship and initial publication in this journal.
Authors are able to enter into separate, additional contractual arrangements for the non-exclusive distribution of the journal's published version of the work (e.g., post it to an institutional repository or publish it in a book), with an acknowledgement of its initial publication in this journal.
Authors are permitted and encouraged to post their work online (e.g., in institutional repositories or on their website) prior to and during the submission process, as it can lead to productive exchanges, as well as earlier and greater citation of published work (See The Effect of Open Access).