OPTIMALISASI BLENDED LEARNING MELALUI PEMBUATAN VIDEO PEMBELAJARAN PADA MATA KULIAH BAHASA INGGRIS DI UNIVERSITAS UDAYANA
Keywords:
blended learning, penelitian pengembangan, LMS, video pembelajaran
Abstract
Penelitian ini merupakan penelitian pengembangan atau research and development (R&D) yang bertujuan untuk mengoptimalisasi proses blended learning melalui learning management system (LMS) OASE pada mata kuliah bahasa Inggris di Program Studi Sastra Inggris, Fakultas Ilmu Budaya, Universitas Udayana. Dengan menggunakan model ADDIE yang terdiri dari lima tahapan pengembangan media pembelajaran yakni analisis, desain, pengembangan, implementasi, dan evaluasi, dikembangkan sebuah video pembelajaran guna meningkatkan pemahaman mahasiswa terhadap salah satu materi yang diajarkan pada mata kuliah Bahasa Inggris yakni plagiarisme dan cara-cara menghindarinya. Hasil penelitian ini menunjukkan bahwa video pembelajaran yang dikembangkan dan diintegrasikan penggunaannya dengan LMS OASE, mampu meningkatkan pemahaman mahasiswa tentang plagiarisme dan cara-cara menghindarinya serta memudahkan mahasiswa untuk belajar secara mandiri di tengah pandemi.
References
Azis, A. A. (2017). Pengembangan media E-learning berbasis Lms moodle pada matakuliah anatomi fisiologi manusia. Jurnal Pendidikan Biologi, 7(1), 1-8. Diunduh dari http://dx.doi.org/10.17977/um052v7i1p1-8
Branch, R. M. (2009). Instructional design: The ADDIE approach (Vol. 722). Springer Science & Business Media.
Bervell, B. & Arkorful. V. (2020). LMS-enabled blended learning utilization in distance tertiary education: establishing the relationships among facilitating conditions, voluntariness of use and use behaviour. International Journal of Educational Technology in Higher Education. 1 – 16. Diunduh dari https://doi.org/10.1186/s41239-020-0183-9
Fitri, N, et al. (2022). Developing animation videos as learning media for students speaking ability in description text on junior high school 2 metro. Journal of English Education and Entrepreneurship 2(1). 1 – 15. Diunduh dari https://scholar.ummetro.ac.id/index.php/jeep/article/view/1743/816
Hardika, R. T. (2021). Pengembangan learning management system (lms) dalam implementasi media pembelajaran di perguruan tinggi. Perspektif, 1(2), 143-150. Diunduh dari https://doi.org/10.53947/perspekt.v1i2.14
Harding, A., Kaczynski, D., & Wood, L. N. (2005). Evaluation of blended learning: Analysis of quantitative data. UniServe Science Blended Learning Symposium Proceedings: 56—72.
Kumarasdyati. (2019). The use of three development model as research methodology in language teaching. International Seminar on Language, Education, and Culture 2019 Proceedings. 76 - 79
Listiawan, T. (2016). Pengembangan learning management system (lms) di program studi pendidikan matematika STKIP PGRI Tulungagung. JIPI (Jurnal Ilmiah Penelitian dan Pembelajaran Informatika), 1(01). Diunduh dari https://doi.org/10.29100/jipi.v1i01.13
Pahmi & Syahfutra, W. (2019). Development of learning media using videoscribe for the subject of present continuous tense. Lectura; Jurnal Pendidikan 10(2). 184 – 197. Diunduh dari https://doi.org/10.31849/lectura.v10i2.3129
Putra, I.G.L.A.K, et al. (2014). Pengembangan media video pembelajaran dengan model addies pada pembelajaran bahasa Inggris di SDN 1 Selat. E-Jurnal Edutech Universitas Pendidikan Ganesha 2(1). Diunduh dari http://dx.doi.org/10.23887/jeu.v2i1.3939
Sugiyono. 2015. Metode penelitian pendidikan. Bandung: CV ALFABETA.
Wijayanti, A. & Gunawan, Y.B. (2021). Pembelajaran bahasa Inggris dengan bantuan media video pendek youtube. Resona, 5 (1). 14 – 24. Diunduh dari http://dx.doi.org/10.35906/resona.v5i1.637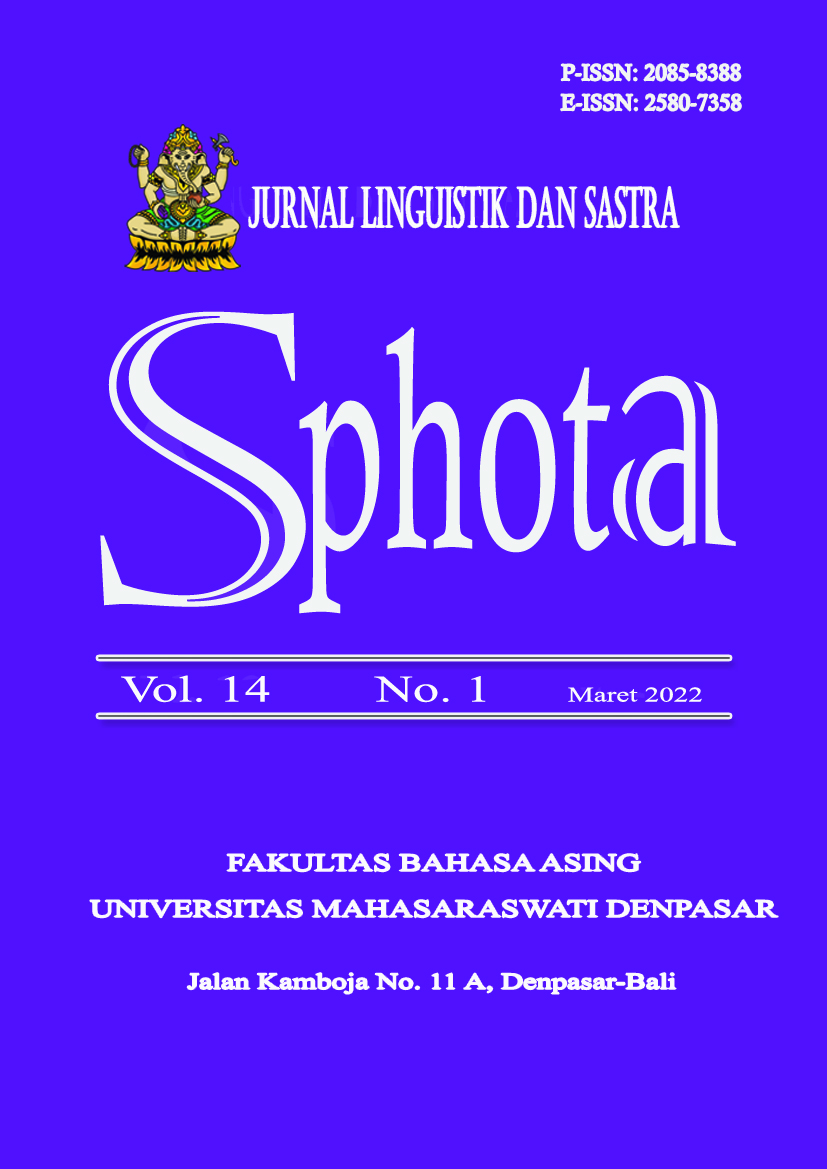 Downloads
How to Cite
Mulyana, N. (2022). OPTIMALISASI BLENDED LEARNING MELALUI PEMBUATAN VIDEO PEMBELAJARAN PADA MATA KULIAH BAHASA INGGRIS DI UNIVERSITAS UDAYANA. SPHOTA: Jurnal Linguistik Dan Sastra, 14(1), 22–33. https://doi.org/10.36733/sphota.v14i1.3548