KOMPARASI ANTARA TEMA EKOLOGI, EKONOMI, SOSIAL DAN BUDAYA DALAM FOTO LANSKAP BUDAYA SUBAK HASIL PHOTOVOICE MAHASISWA CALON GURU
Keywords:
Subak cultural landscape, PuPB, photovoice, student-teachers
Abstract
The subak system comprises four aspects, namely economic, ecological, social, and cultural aspects. It is important to have the abilities to understand these four pillars, especially for higher education in preparing students-teachers as educational facilitators. The aim of this study is to compare the frequency of photo themes in relation to ecological, economic, social, and cultural aspects yielded from photovoice results of student-teachers. This study was conducted from November 2018 to January 2019 at UNMAS Soka campus and several subak sites in Denpasar. This study was conducted in mixed methods where two approaches were utilised: qualitative and quantitative with community-based participatory action research (CBPR) as its design. There were 18 student-teachers (4 males and 14 females) of Biology Education Study Program, Universitas Mahasaraswati, Academic Year 2018/2019, participated in this study. The data analysis technique used was analysis of variance (ANOVA). The finding of this study showed that there was a significant difference (F = 6.973 and P = 0.000) among the frequency of ecological, economic, social, and cultural themes of the student-teachers' photovoice results, with the frequency value of each theme in the following order: ecology = 35, economy = 46, social = 26, and cultural = 63.
Downloads
Download data is not yet available.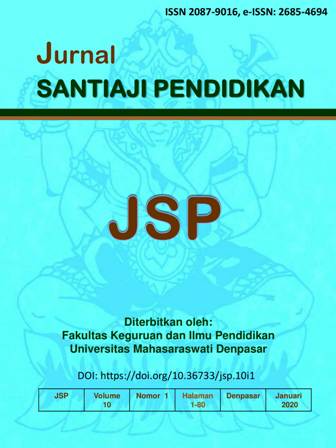 Downloads