EKSTRAK DAUN PEPAYA (CARICA PAPAYA L) DAPAT MENURUNKAN JUMLAH BAKTERI STAPHYLOCOCCUS AUREUS PADA RESIN AKRILIK HEAT CURED
Keywords:
Heat cured acrylic resin , Papaya extract, Staphylococcus aureus
Abstract
ABSTRACT
Heat cured acrylic resin is the most commonly used material in making denture bases. Acrylic resin is in contact with saliva, drinks and food so that the denture is a place for the formation of plaque and an increase in microorganisms, namely the fungus Candida albicans and Staphylococcus aureus bacteria, which can cause Denture stomatitis. Papaya leaf extract containing flavonoids, saponins, tannins and alkaloids can act as anti-bacteria. The purpose of this study was to determine the effectiveness of papaya leaf extract (Carica papaya L.) on the amount of growth of Staphylococcus aureus on a heat cured acrylic resin denture plate. The study was post test only with control group design. Samples were contaminated with Staphylococcus aureus suspension and incubated, then inserted into a test tube, then immersed for 3 minutes, then inserted into Saboroud's broth and continued with calculation of the number of colonies. Data analyzed with One Way Anova difference test obtained a value of p <0.05, which mean that the number of Staphylococcus aureus colonies between treatment groups and control groups had a significant difference. The LSD test found a significant difference (ρ <0.05) between aquades and papaya leaf extract 2.5%, 5%, 10% and fittydent®. Whereas at 10% concentration when compared with fittydent® there was no significant difference (ρ> 0.05). From the results of the study it can be concluded that immersing heat cured acrylic resin plate in papaya leaf extract can inhibit Staphylococcus aureus growth, according to the increase in concentration where the most effective concentration was 10%.
Downloads
Download data is not yet available.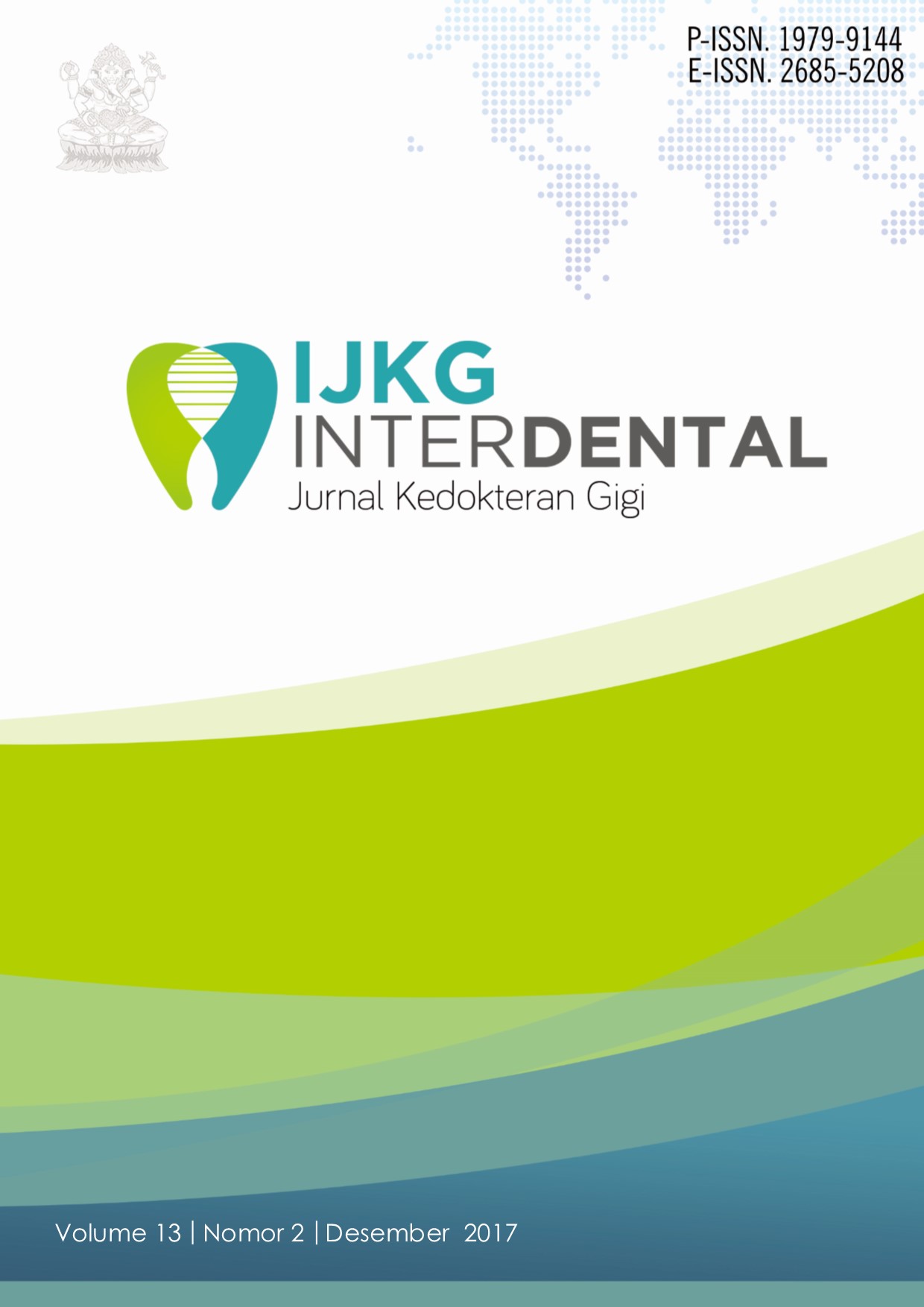 Downloads
How to Cite
Sugianitri, N. K. (2020). EKSTRAK DAUN PEPAYA (CARICA PAPAYA L) DAPAT MENURUNKAN JUMLAH BAKTERI STAPHYLOCOCCUS AUREUS PADA RESIN AKRILIK HEAT CURED. Interdental Jurnal Kedokteran Gigi (IJKG), 13(2). https://doi.org/10.46862/interdental.v13i2.963