IMPACT STRENGTH TEST ON ADDITION OF AGAVE SISALANA FIBER AND E-GLASS FIBER IN ACRYLIC RESIN DENTAL PLATE REPAIR
UJI KEKUATAN IMPAK TERHADAP PENAMBAHAN AGAVE SISALANA FIBER DAN E-GLASS FIBER PADA REPARASI PLAT GIGI TIRUAN RESIN AKRILIK
Keywords:
Acrylic denture repair, agave sisalana fiber, E-glass fiber, impact strength
Abstract
Introduction: Acrylic resin is the most common material for the denture base because acrylic resin has good esthetics, ease of processing, reparability and inexpensive. A disadvantage of acrylic resin is that it is easily to be cracked. One of the ways to resolve this problem is by adding the agave sisalana fiber and E-glass fiber. The purpose of this study was to find out the effect after addition agave sisalana fiber and E-glass fiber on impact strength of an acrylic resin denture plate reparation. Material and Method: The experiment involved twenty seven plates of heat-cured acrylic with the dimensions of 55x 10 x 10 mm with the 26 x 5 x 4 mm for the cavity to measure, each measurement divided into three groups, with nine samples for each groups. The first group as a control group (without fiber), the second group as a group with agave sisalana fiber addition, the third group as a group with e-glass fiber addition. All plates were soaked in distillation water for one day at 37oC. Plates were tested for impact strength using the charpy method. All data obtained was analyzed with one-way ANOVA followed by LSD (Least Significant Difference) with p<0,05. Result and Discussion: The result showed that the influences of impact strength between without fiber with agave sisalana fiber and E-glass fiber addition on acrylic denture reparation. Acrylic denture reparation in both fibers with concentration 3,3%, agave sisalana fiber has the highest impact strength rather than e-glass fiber. Conclusion: The conclusion of this study is that there is an increase in impact strength with agave sisalana fiber and E-glass fiber addition on acrylic denture reparation and agave sisalana fiber has the highest impact strength.
Downloads
Download data is not yet available.
References
McCabe J. F, Walls A. W. Applied Dental Materials. 9th Edition. Singapore: Blackwell Publishing; 2007. h 110-23.
Anasanne N, Ahhirao Y, Chitnis D. The Effect of Joint Surface Contours and Glass Fiber Reinforcement on the Transverse Strength of Repaired Acrylic Resin : An In Vitro Study. J Dent Res 2013; 10(2): 241-19.
Bisanda E T N. The Effect of Alkali Treatment on the Adhesion Characteristic of Sisal Fibers. Apl Com Materials. 2000; 7: 331-9.
Wibowo, Farid W. Pengaruh Holding Time Annealing pada Sambungan Smaw terhadap Ketangguhan Las Baja K945 EMS45. Skripsi. Semarang: Fakutas Teknik Universitas Negeri Semarang; 2013. h 5-22.
Colvenkar S, Aras M A. In Vitro Evaluation of Transverse Strength of Repair Heat Cured Denture Base Resins with and without Surface Chemical Treatment. J Indian Prosthodont Soc 2008; 8(2): 87-93.
ASTM. Standard Test Methods For Notched Bar Impact Testing Of Metallic Materials. USA: 2016; p. 23-82.
Doerjadibrata. Kekuatan Transversa Hasil Reparasi Beberapa Macam Basis Gigi Tiruan dengan Bahan Reparasi Resin Triad Visible Light Cured. Available from URL: http://www.adln.lib.unair.ac.id. Accesed April 2, 2019.
Hadianto E., Widjijono, M, Herliansyah. Pengaruh Penambahan Polyethylene Fiber dan Serat Sisal terhadap Kekuatan Flek-sural dan Impak Base Plate Komposit Resin Akrilik. IDJ. 2013; 2(2): 58-67.
Kanie T, Fuji K, Arikawa H, Inoue K. Flexural Properties and Impact Strength of Denture Base Polymer Reinforced with Woven Glass Fiber. Dent Mater. 2000; 16(2): 115-25.
Nagai E. Repair of Denture Base Resin Using Woven Metal and Glass Fiber: Effect of Methylen Chloride Pretreatment. J.Prosthet Dent. 2001; 85: 496-500.
Ferracane J L. Material in Dentistry Principles and Applications, 2nd Edition, Philadelphia: Lippincott Williams & Wilkins; 2001. h 67-88.
Ozen J, Sipahi C, Caglar A. In vitro Cytotoxicity of Glass and Carbon Fiber-Reinforced Heat-Polymerized Acrylic Resin Denture Base Material. Turk J Med Sci. 2006; 3:121-6.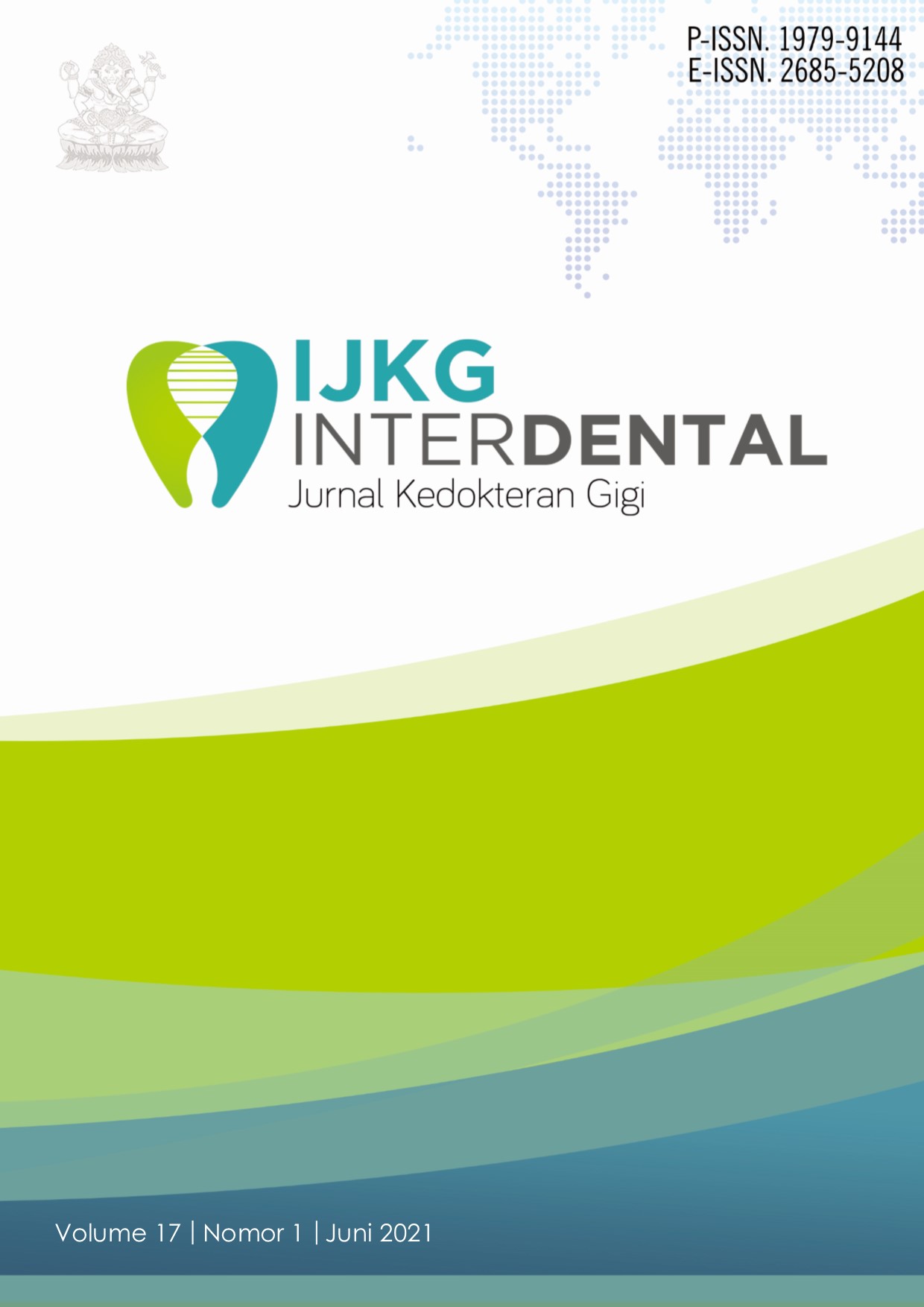 Downloads
How to Cite
Sugianitri, N. K., & Suhendra. (2022). IMPACT STRENGTH TEST ON ADDITION OF AGAVE SISALANA FIBER AND E-GLASS FIBER IN ACRYLIC RESIN DENTAL PLATE REPAIR : UJI KEKUATAN IMPAK TERHADAP PENAMBAHAN AGAVE SISALANA FIBER DAN E-GLASS FIBER PADA REPARASI PLAT GIGI TIRUAN RESIN AKRILIK. Interdental Jurnal Kedokteran Gigi (IJKG), 17(1), 49–55. https://doi.org/10.46862/interdental.v17i1.2427