MANAGEMENT OF ORAL LICHEN PLANUS TRIGGERED BY STRESS
PENATALAKSANAAN ORAL LICHEN PLANUS PADA RONGGA MULUT
Keywords:
Corticosteroids, oral lichen planus, stress
Abstract
Introduction: Oral lichen planus (OLP) is a mucocutaneous disorder that rarely occurs around us and only involves the layer of the stratified squamous epithelium. Oral lichen planus is more common in women aged 30
 - 65 years. The etiology of this disorder is not yet known, but there are severe predisposing factors that play a role,such as hepatitis C virus infection, food, drugs, malignancy and psychological factors. Purpose: This case report aims to describe the treatment of stress induced OLP. Case Report: A 46 year old man presented with complaints of stinging on the inner right and left cheeks for one month ago. The patient admits that he has a lot of thoughts related to family problems. It is found that the lesion resembles a white streak with
redness that forms in the intraoral area. Case management: The patient was given therapy in the form of topical corticosteroids and consulted to psychiatry and got improvement after 1 week of treatment. Discussion: The treatment of OLP lesions is a treatment that requires collaboration between the dentist, the patient and the patient's family. Corticosteroid therapy is the gold standard treatment given to people with OLP. Corticosteroids are widely used in medicine because of their strong effect and fast anti-inflammatory reaction. Corticosteroids are widely used for the management of inflammatory diseases. Besides supporting therapy in consultation with a psychologist or psychiatrist to deal with stress disorders. Conclusion: Treatment of OLP lesions is a complex treatment. Corticosteroid therapy, both topical and systemic, is the most appropriate therapy and the role of a psychologist or psychiatrist is needed in managing patient stress to increase the percentage of patient recovery.
Downloads
Download data is not yet available.
References
Glick M. Burket Oral Medicine. 12th ed. USA: People's medical publishing house; 2015.
Kurago ZB. Etiology and pathogenesis of oral lichen planus: An overview. Oral Surg Oral Med Oral Pathol Oral Radiol. 2016; 122(1):72-80. doi:10.1016/j.oooo.2016.03.011.
Agha-Hosseini F, Mirzaii-Dizgah I, Farmanbar N, Abdollahi M. Oxidative stress status and DNA damage in saliva of human subjects with oral lichen planus and oral squamous cell carcinoma. J Oral Pathol Med. 2012; 41(10): 736-40. doi:10.1111/j.1600-0714.2012.01172.
Ruoppo E, Mignogna MD, Leuci S, Amato M, Aria M, Adamo D. Sleep disturbances, anxiety and depression in patients with oral lichen planus: a case-control study. J Eur Acad Dermatology Venereol. 2014; 29(2):291-7. doi:10.1111/jdv.12525.
Sandhu S, Sandhu J, Bansal H, Dua V. Oral lichen planus and stress: An appraisal. Contemp Clin Dent. 2014; 5(3):352. doi:10.4103/0976-237x.137946
Alves MGO, do Carmo Carvalho BF, Balducci I, Cabral LAG, Nicodemo D, Almeida JD. Emotional assessment of patients with oral lichen planus. Int J Dermatol. 2015; 54(1):29-32. doi:10.1111/ijd.12052.
Valter K, Boras VV, Buljan D, et al. The influence of psychological state on oral lichen planus. Acta Clin Croat. 2013; 52(2):145-9.
Le Cleach L, Chosidow O. Lichen planus. New Engl J Med Med. 2012; 8:366-723.
Mostafa D, Bassel Tarakji. Photodynamic therapy in treatment of severe oral lichen planus. J Clin Med Res. 2015; 7(6):393-9. doi:10.17116/stomat201695231-33
Mostafa B, Ahmed E. Prevalence of oral lichen planus among a sample of the Egyptian population. J Clin Exp Dent. 2015; 7(1):e7-e12. doi:10.4317/jced.51875
Vinod S, Varghese SS, Sebastian J, et al. Epidemiology of Oral Lichen Planus in a Cohort of South Indian Population: A Retrospective Study. J Cancer Prev. 2016; 21(1):55-9. doi:10.15430/jcp.2016.21.1.55
Lodi G, Carrozzo M, Furness S, Thongprasom K. Interventions for treating oral lichen planus: A systematic review. Br J Dermatol. 2012; 166(5):938-47. doi:10.1111/j.1365-2133.2012.10821.x
Dillenburg CS, Martins MAT, Munerato MC, et al. Efficacy of laser phototherapy in comparison to topical clobetasol for the treatment of oral lichen planus: a randomized controlled trial. J Biomed Opt. 2014;19(6):068002. doi:10.1117/1.jbo.19.6.068002
V SK, Shenai P, Chatra L, Ahammed Y, Mds AR. Effect of stress on oral mucosa. 2012;1(1):13-6.
Lopez-Jornet P, Cayuela CA, Tvarijonaviciute A, Parra-Perez F, Escribano D, Ceron J. Oral lichen planus: Salival biomarkers cortisol, immunoglobulin A, adiponectin. J Oral Pathol Med. 2016; 45(3): 211-7. doi:10.1111/jop.12345
Gavic L, Cigic L, Biocina Lukenda D, Gruden V, Gruden Pokupec JS. The role of anxiety, depression, and psychological stress on the clinical status of recurrent aphthous stomatitis and oral lichen planus. J Oral Pathol Med. 2014;43(6):410-17. doi:10.1111/jop.12148
Cerqueira JDM, Moura JR, Arsati F, Lima-Arsati YB d. O, Bittencourt RA, Freitas VS. Psychological disorders and oral lichen planus: A systematic review. J Investig Clin Dent. 2018; 9(4):e12363. doi:10.1111/jicd.12363
Aditya M. Corticosteroid Induced Psychotic Syndrome : A Review. J Wiyata. 2016;3(1):31-37.
Mamfaluthi T. Penggunaan Kortikosteroid dalam Praktek Klinis. Ked N Med. 2018;1(1):70.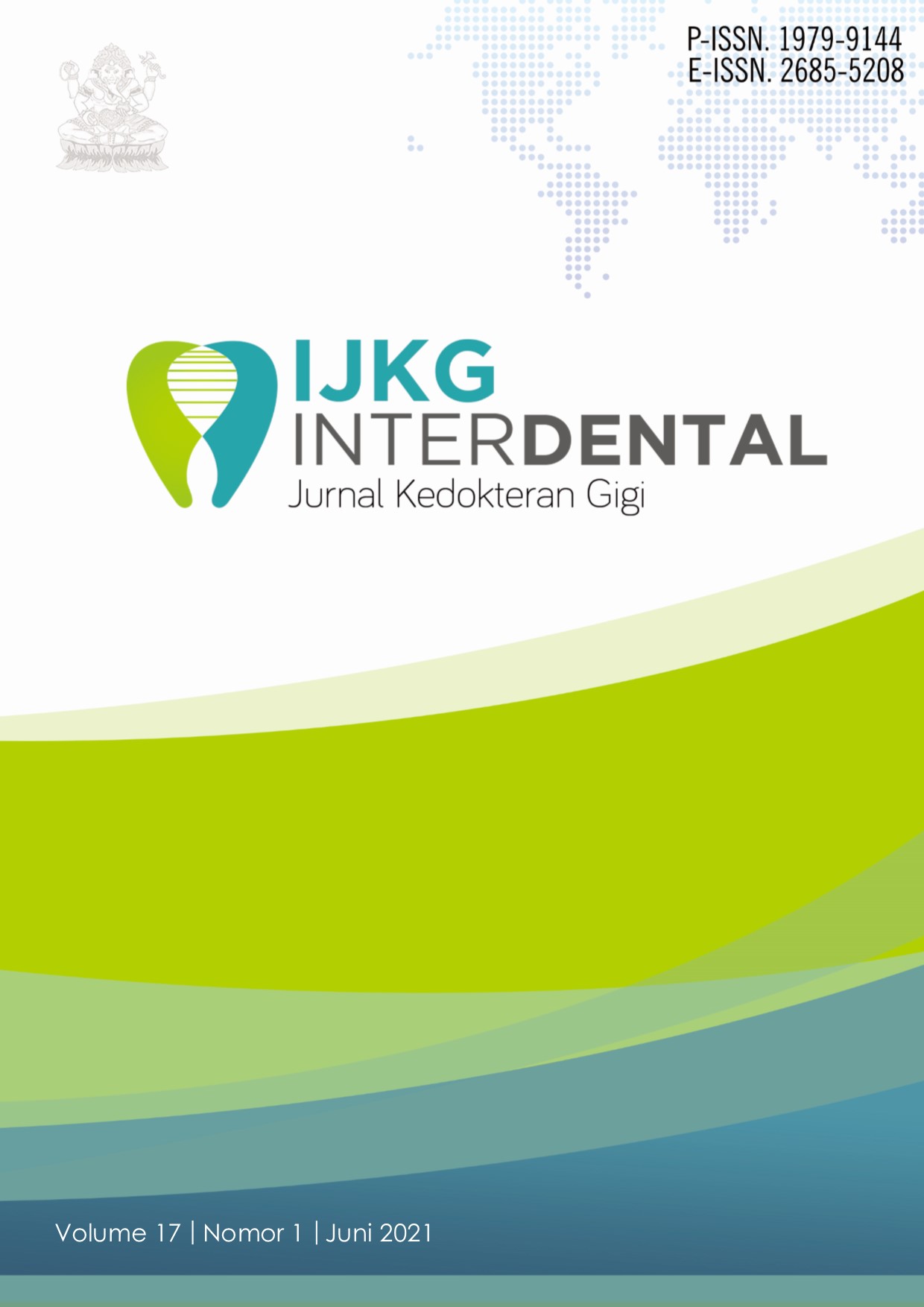 Downloads
How to Cite
Dermawan, I. P., & Gede Juwita Putra, . I. N. . (2022). MANAGEMENT OF ORAL LICHEN PLANUS TRIGGERED BY STRESS : PENATALAKSANAAN ORAL LICHEN PLANUS PADA RONGGA MULUT. Interdental Jurnal Kedokteran Gigi (IJKG), 17(1), 27–33. https://doi.org/10.46862/interdental.v17i1.1935