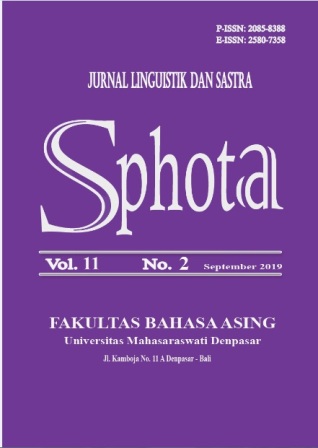 Focus and Scope
SPHOTA provides conceptual and research-based articles with various topics on Language and Literature studies. Editors are welcoming articles which encompass the field of Language and Literature written in Indonesian or English Language.
Peer Review Process
Peer Review Process conducted double blind reviewer process. Each article will be reviewed by at least 2 reviewers. Things that will be concerned in the review process are the originality, plagiarism, and the relevancy with the journal's focus and scope. The reviewing process takes at least 2 weeks. If the reviewers consider that a manuscript is needed to be revised by the author, the manuscript will be sent back to the author with some statements explaining the things that should be revised. Manuscript that sent back to the author for revision should be received by the editor in at least 2 weeks after the sending.
Publication Frequency
SPHOTA is issued two times a year; in March and June. There are 6 (six) articles for each issue.