POTENSI PENGEMBANGAN USAHA PETERNAKAN AYAM BURAS PADA UNIT PELAKSANAAN TEKNIS PEMBIBIHAN DAN PEMBERIAN PEMBERIAN TERNAK DI TABANAN
Keywords:
Potential, Development, Livestock Business, Free-range Chicken
Abstract
Chicken livestock is one type of business that has the potential to be developed, besides being profitable in the business sector, it is also able to preserve Indonesian germplasm. Several factors that support the domestic chicken business can be developed, because the demand for native chicken, especially in Bali, is still very potential to be developed in terms of consumption and fulfillment of religious ceremony facilities for the Hindu community in Bali. The aims of this study were 1) Analyzing the potential feasibility of domestic chicken business, 2) Knowing the inhibiting factors in the management of domesticated chicken production at the Baturiti Animal Husbandry and Animal Feed UPTD. The method used in this research is the method of R/C Ratio analysis and description analysis. The results showed that 1) the domestic chicken business was in a proper position with a value of 1.30 and 2). The inhibiting factors for the development of domestic chicken business are limited marketing, livestock disease attacks, high feed prices, limited labor, and minimal number of Day Old Chicken (DOC). To develop a domestic chicken business that is more profitable on a large scale, a breeding industry is needed that provides quality DOC, a programmed biosecurity system and a sustainable market arrangement
Downloads
Download data is not yet available.
References
Aho P. 2008. How Globalization of Agriculture Will Affect The Poultry And Livestock Industries of Southeast Asia. ASA Technical bulletin. PO 39. American Soybean Association, Liat Tower, Singapore.
BPTP Bali. 2019. BPTP Bali Silangkan Ayam Kampung Dengan Ayam KUB.https://bali.litbang.pertanian.go.id/id. Diakses pada 9 Februari2022.
Daryanto A. 2009. Dinamika Dayasaing Industri Peternakan. Bogor: IPB Press.
Dewi, Puspita Rani. 2019. Peningkatkan Produktivitas Peternak Itik Melalui Penerapan Mesin Penetas Telur. Jurnal Pengabdian dan Pemberdayaan Masyarakat. Volume (3) no. 2. http://jurnalnasional.ump.ac.id ,diakses pada tanggal 6 Februari2022.
Dhanny Jufril. 2015. Implementasi Mesin Penetas Telur Ayam Otomatis Menggunakan Metoda Fuzzy Logic Control. JurnalSemnastek.https://jurnal.ftuml .ac.id. Diakses pada tanggal 6 Februari2022.
Saptana, Daryanto A. 2013. Dinamika Kemitraan Usaha Agribisnis Berdayasaing dan Berkelanjutan. Bogor: Pusat Sosial Ekonomi dan Kebijakan Pertanian. Badan Penelitian dan Pengembangan Pertanian, Kementerian Pertanian.
Saragih B. 2008. Agribisnis Berbasis Peternakan. Bogor: Pusat Studi Pembangunan, Lembaga, Penelitian Institut Pertanian Bogor.
Setyawan Ramadlan, Rahman. 2022. Evaluasi Managemen Pemeliharan Ternak Sesuai Dengan Good Breeding Practice. Baturiti : UPTD Pembibitan Ternak dan Hijauan Pakan Ternak.
Soekartawi A, Soeharjo, Dillon JL, Hardaker JB. 2003. Ilmu Usahatani dan Penelitian Untuk Pengembangan Petani Kecil. Jakarta: UI–Press.
Sugiyono. 2017. Metode Penelitian Kuantitatif, Kualitatif, dan R&D. Bandung : Alfabeta, CV.
Supriyadi.2013. Prospek Penetasan Telur Dan Cara Penetasan Telur https://sumbar.litbang.pertanian.go.id. Diakses pada tanggal 14 Februari2022.
Tangendjaja, B. 2014. Usaha Meningkatkan Daya Saing Perunggasan Indonesia, Memperkuat Dayasaing Produk Pertanian. Jakarta: Badan Penelitian dan Pengembangan Pertanian, Kementerian Pertanian.
Yusdja Y, Ilham N, Sayuti R. 2004. Tinjauan Penerapan Kebijakan Industri Ayam Ras: Antara Tujuan Dan Hasil. Forum Penelitian Agro Ekonomi 22(1): 22–36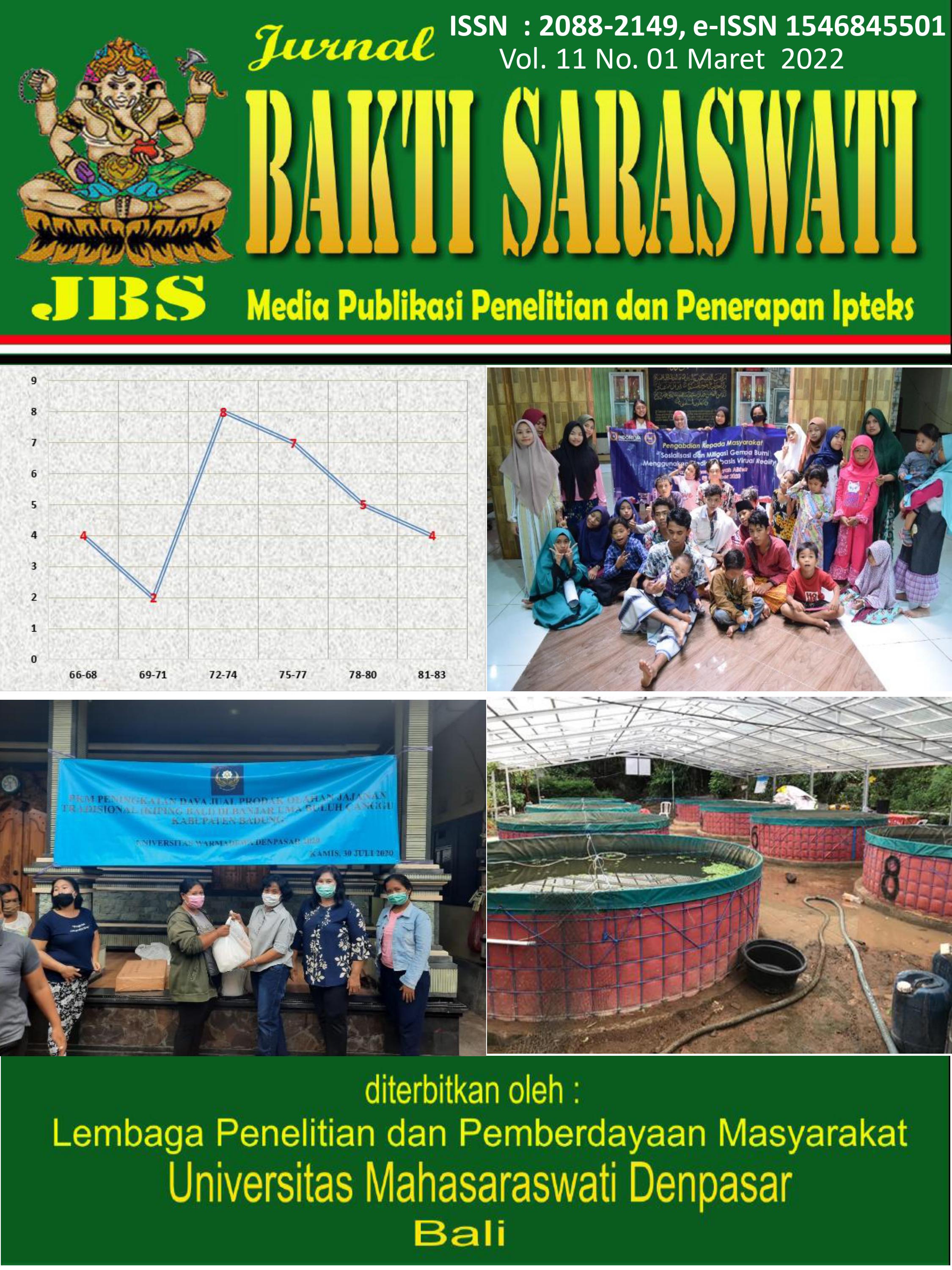 Downloads