IMPLIKASI GCG DAN BUDAYA LOKAL BALI TERHADAP KINERJA LPD
Keywords:
GCG, local culture, LPD
Abstract
GCG is a relationship between interested parties in a regulated and organized business. The application of GCG principles in managing LPD performance is very important because it will directly provide clear direction for the LPD to improve decision making responsibly and enables better management of LPD. Based on the application of LPD performance in the local culture (Tri Hita Karana concept) is very helpful because in it's implementation it has the goal of achieving good LPD performance, then we need a guideline with the concept of local wisdom, which basically teaches tri hita karana it suppresses relationship in life in this world. This study aims to examine the effect of applying GCG principles and implementation of local culture on LPD performance in Abiansemal District. The sample in this study is all LPD in Abiansemal District with a total population and a sample of 34 LPD. Each LPD was taken by 2 respondents so that there were 68 respondents. This study uses the nonprobability sampling method with saturated sampling technique. Data colletion using a questionnaire. Data analysis techniques are multiple linear regression analysis techniques. Hypothesis testing results show that transparency, accountability, responsibility, and independence do not affect the performance of LPD in the Abiansemal District, while the principles of fairness and implementation of local culture has a positive effect on LPD performance in the Abiansemal District.
Downloads
Download data is not yet available.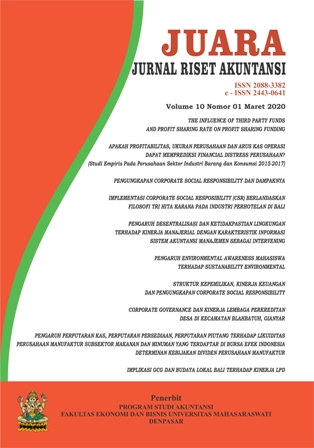 Downloads