PENGARUH KINERJA KEUANGAN TERHADAP NILAI PERUSAHAAN DENGAN DEWAN KOMISARIS INDEPENDEN SEBAGAI VARIABEL PEMODERASI PADA PERUSAHAAN MANUFAKTUR YANG TERDAFTAR DI BURSA EFEK INDONESIA
Keywords:
return on assets, leverage, independent board of commissioners, company value
Abstract
The value of the company describes a state of the company, with the high value of the
company will be followed by the high prosperity of shareholders. Company value is reflected in
the company's stock price. High corporate values can be predicted using information contained
in financial statements and corporate governance mechanisms within the company. This study
aims to reexamine the effect of the variable return on assets and leverage on firm value with an
independent board of commissioners as a moderating variable.The sample in this study were
70 manufacturing companies listed on the Indonesia Stock Exchange for the period 2015-2017.
Determination of samples using purposive sampling method. The analytical tool used is moderate
regression analysis.The results of the study indicate that the return on assets variable does
not affect the value of the company. The leverage variable also does not affect the value of the
company. Independent commissioner variables are able to strengthen the relationship between
ROA and company value. But the independent board of commissioners is not able to moderate
the relationship between leverage and company value.
Downloads
Download data is not yet available.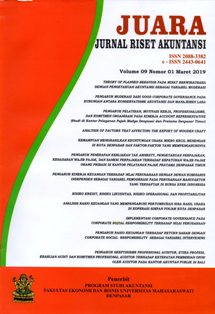 Downloads