EKSPLORASI PEMAKNAAN PELAPORAN SPT TAHUNAN PPH 21 DARI KACAMATA WAJIB PAJAK ORANG PRIBADI (Studi Fenomenologi Wajib Pajak Orang Pribadi Pada KPP Pratama Makassar Utara)
Keywords:
Tax, PPh 21, Phenomenology
Abstract
This study aims to explore deeper the meaning of Income tax (pph 21) from the perspective of an individual taxpayer in carrying out his responsibilities as a taxpayer in reporting tax payments.By using the purpose sampling method in the selection of informants, the selected informants are 4 informants consisting of employees in several private companies within the scope of the KPP Pratama Makasar Utara who have worked for a long time.The phenomenological analysis developed by Edmund Husserl is used to capture deeper the aims of this study by exploring the understanding of taxpayers and their responsibilities as individual taxpayers. The results showed that, there are differences in the meaning of Income tax (pph 21) and reporting from the perspective of an individual taxpayer. They consider that the tax is burdensome for them including the reporting that they must report to the tax office every year. This negative comment is caused by the lack of education from related parties regarding their responsibilities as taxpayers. Another finding is their reluctance to report Annual tax due to the absence of sanctions they have received due to non-compliance.
Downloads
Download data is not yet available.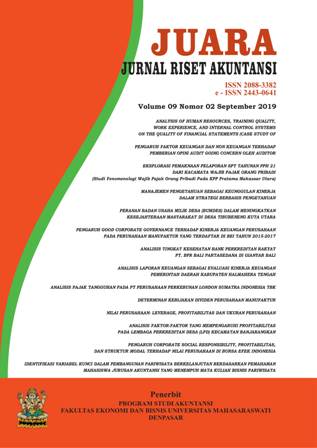 Downloads