ANALISIS RASIO KEUANGAN YANG MEMPENGARUHI PERTUMBUHAN SISA HASIL USAHA DI KOPERASI SIMPAN PINJAM KOTA DENPASAR
Keywords:
Current Ratio, Debt to Equity Ratio, Total Assets Turnover, Net Profit Margin, SHU Growth
Abstract
The purpose of this study was to determine the growth of the remaining results of the
business using financial ratio analysis, namely the current ratio, debt to equity ratio, total asset
turnover and net profit margin in KSP in Denpasar City. Remaining Business Profit (SHU) is a
profit gained by a cooperative, high SHU will encourage cooperative members to take an active
role in developing cooperative businesses.
The population in this study were all KSP in Denpasar City during the period 2015-2017.
Determination of the sample using purposive sampling method and obtained as many as 18
KSP with a total observation of 54. The analysis technique used is multiple linear regression
analysis. The results of this study indicate that the current ratio variable, total assets turnover,
net profit margin does not affect the growth of the remaining results of the business, while the
debt to equity ratio has a positive effect on the growth of the remaining operating results.
Downloads
Download data is not yet available.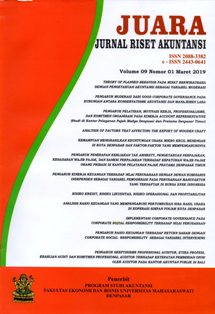 Downloads