PENGEMBANGAN BAHANAJAR BAHASA INDONESIA BERBASIS BUDAYA LOKAL BALIDI KELAS VII SMP PGRI 3 DENPASAR
Keywords:
teaching materials, local culture
Abstract
This research categorized as Research and Devenlopment (R&D) that aims to (1) describe and identify the design process and the feasibility of learning materials of Bali based on Balinese culture, (2) to describe and analyze the responses of VII grade students of SMP PGRI 3 Denpasar towards the development of Indonesian language based materials of local culture Bali. The data obtained through observation, interview, and questionnaire methods. Furthermore, the collected then analyzed by qualitative descriptive analysis and quantitative descriptive analysis. The results showed that the development of Indonesian language learning materials based on local Balinese culture included into very well category. It was based on the validation results by the subject matter expert who gave an assessment with an average score of 88.42. The results of the pilot test, both initial field trials and major field trials also showed an average score of 90.28 and 92.50 included in the excellent category. Moreover, a good response is also obtained in this study, the overall average score given by students as users of teaching materials is 4.45 included very positive category. Thus, it can be concluded that the developed teaching materials are feasible to be used in the learning process.
Downloads
Download data is not yet available.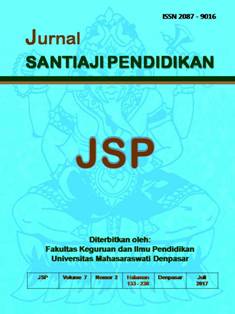 Downloads