IMPLIKATUR PERCAKAPAN DALAM KOMUNIKASI ANTARSISWA DI SMP N 1 SAWAN SINGARAJA
Keywords:
conversational implicature
Abstract
This descriptive qualitative research aimed at describing the form and process of linguistic implicature form which exists in the communication among students of SMP N 1 Sawan. The method of data collection in this research was observation interview and recording. The data gathered were then analyzed through three phase namely data reduction, data display, and data verification. The result of this study showed that there were three forms of language functions namely imperatives or command, reporting and questioning. The reason of choosing those forms of language function was to avoid misunderstanding among speakers or hearers so that no one will get offended. Besides, the use of imperatives, report, and questions was due to the factor of familiarity and intimacy between speakers. In relation to conversational implicature, the students of SMP N 1 Sawan use six kinds of implicature. Those are, asking, rejecting, mocking, commanding, ordering, and informing facts. Hopefully, the result of this research can give contribution in understanding the implied meaning of the speaker to the hearer.
Downloads
Download data is not yet available.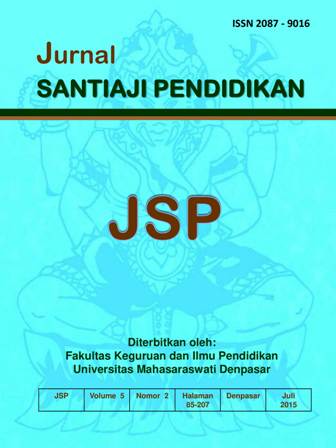 Downloads