PENGARUH PEMBERIAN INSENTIF TERHADAP KINERJA KEPALA SEKOLAH DASAR SE-KOTA DENPASAR
Keywords:
Incentives, Performance of Elementary School Principals, Denpasar City
Abstract
The Regional Government of Denpasar City issued a policy regarding the provision of incentives. The incentives provided are in the form of additional incentives for teachers and headmaster, especially for public elementary schools in the Denpasar City area. The provision of incentives aims to make the headmaster more maximal in carrying out assigment or workloads, and to optimize the potentials that can be developed in the school (both in aspects of teacher and student achievement). Based on this background, a study was conducted which aimed to determine the effect of giving incentives on the performance of elementary school headmaster throughout Denpasar. The analysis technique used in this study is simple linear regression. Based on the data analyzed, it was obtained 1) the variability of the dependent variable (primary school principal's performance) which can be explained by the variability of the independent variable (incentive giving) of 15.5% and the remaining 84.5% explained by other variables not included in the regression model and 2) giving headmaster incentives has a significant positive effect on the performance of elementary school principals throughout Denpasar.
Downloads
Download data is not yet available.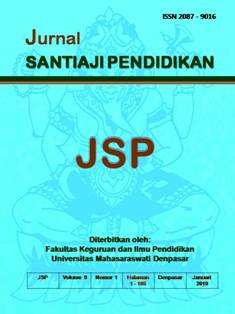 Downloads