PENINGKATAN KEMAMPUAN MENGARANG CERPEN MELALUI PEMBELAJARAN KONTEKSTUAL DENGAN INSPIRATOR FILM DOKUMENTER PADA SISWA KELAS VIII B SMP PGRI 7 DENPASAR TAHUN PELAJARAN 2015/2016
Keywords:
trump up the short story, inspiration documentary, contextual
Abstract
This study is a classroom action research. it aimed to improve the student ability in trump up the short story by implementing contextual learning through inspiration documentary. the study was conducted at class VIII B SMP PGRI 7 Denpasar, in the academic year 2015/2016. data was collected through test, observation, and interview. The data analysis used in this research is quantitative descriptive. the results shown that there was improvement in every cycle. on pre tes, the score was 4,78, it increased respectively into 5,60 in cycle I, 6,66 in cycle II, and 8,30 in cycle III.
Downloads
Download data is not yet available.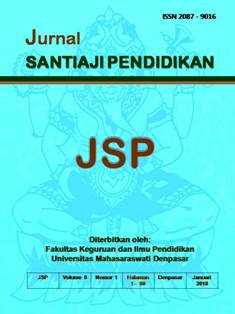 Downloads