PERBEDAAN KECEPATAN ADSORPSI DARAH GOLONGAN O PADA TIGA JENIS MEMBRAN YANG TIDAK DAN DIREHIDRASI SALINE
Keywords:
saline, adsorption speed, type O blood, collagen membrane, pericardium membrane, cortical membrane.
Abstract
Tooth extraction and periodontal disease is the most common cause of alveolar bone resorption. A technique has developed to gain the bone volume back, called Guided Bone Regeneration (GBR). GBR combine the application of bone graft particles and a barrier membrane, to protect bone regeneration from soft tissue invasion that grows faster. Collagen, pericardium, and cortical membranes are resorbable membranes that can be used in the GBR technique. Blood is an essential component of any regeneration that takes place in human body. Before the membrane is applied, it is usually be rehydrated with saline to flex the membrane so that easily applied. To observe the effect of saline rehydration on the O type blood adsoption speed on collagen, pericardium, and cortical membranes. Collagen, pericardium, and cortical membranes each 14 membranes and 2×1.5 cm in size were divided into two groups, 7 samples for group membranes without saline rehydration and 7 samples for group membranes with saline rehydration. Each group samples were submerged in 75 ml blood. The measurement of the O type blood adsorption speed was examined in 10 minutes for each group. The data was analyzed using Independent T-Test and resulted a significance value of less than 0.05 (Sig<0.05). It shows a significant difference between the control group and the treatment group. There is a difference in the speed of type O blood adsorption between collagen, pericardium, and cortical membranes with and without saline rehydration.Membrane with saline rehydration has a faster blood adsorption speed so that it is less good as a barrier membrane.
Downloads
Download data is not yet available.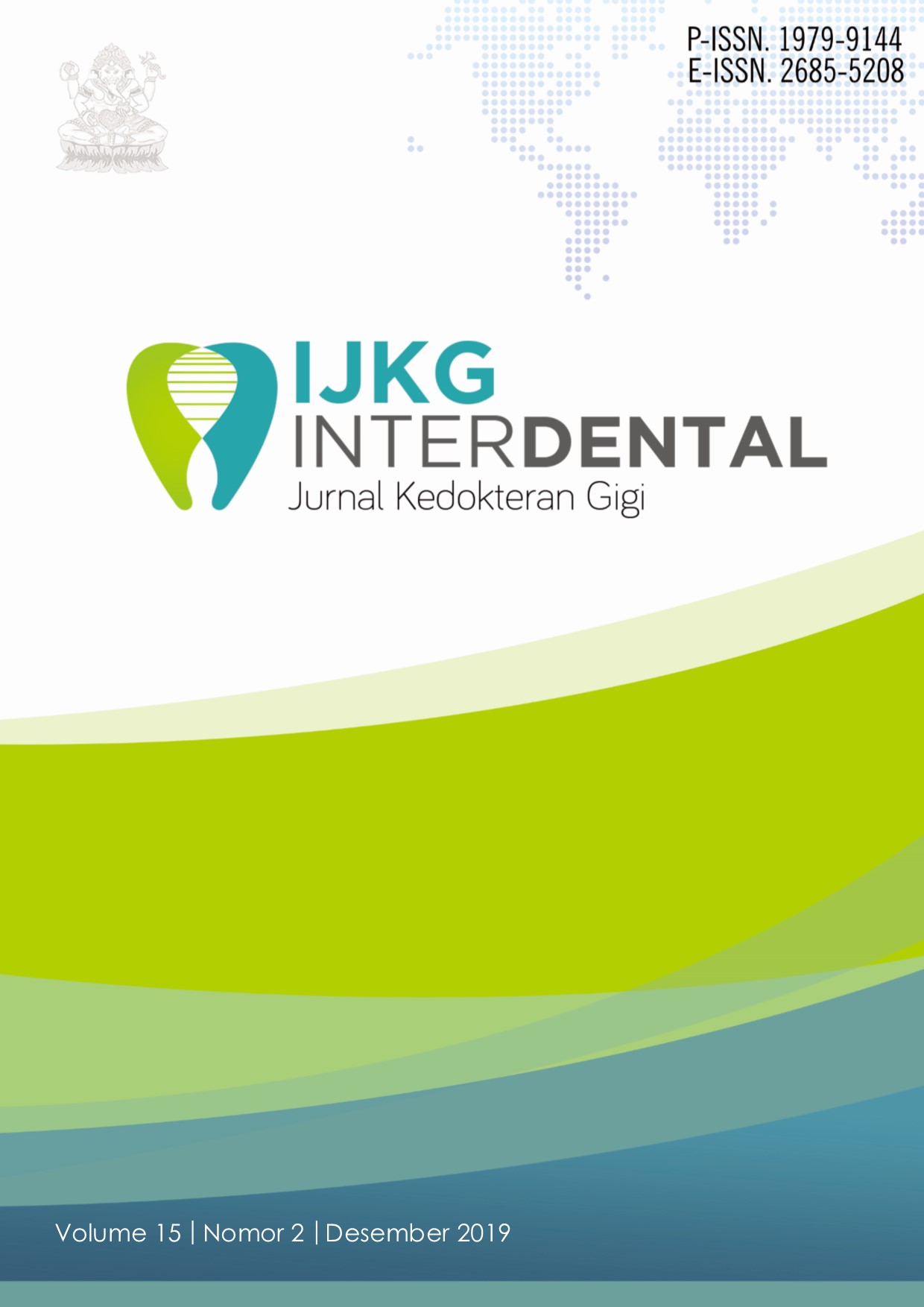 Downloads
How to Cite
Prabowo, H., Laksono, H., Sitalaksmi, R. M., Setiyana, V. S., Dewanty, Z., & Giyansyah, N. S. (2019). PERBEDAAN KECEPATAN ADSORPSI DARAH GOLONGAN O PADA TIGA JENIS MEMBRAN YANG TIDAK DAN DIREHIDRASI SALINE. Interdental Jurnal Kedokteran Gigi (IJKG), 15(2). https://doi.org/10.46862/interdental.v15i2.663