PENGARUH CINNAMALDEHYDE DARI KAYU MANIS (Cinnamomum burmanii) PADA PERIODONTAL DRESSING TERHADAP SEL FIBROBLAS PADA LUKA GINGIVA KELINCI
Keywords:
Gingival wound, cinnamaldehyde, fibroblast, periodontal dressing
Abstract
Gingiva is the outermost structure of the periodontal tissue and play a role to protect the underlying tissue. Traumatic actions such as simple incisions, gingival flaps, and biopsy are the main causes of damage or injury to periodontal tissue. Application of a material to protect post-operative wounds is necessary. A common procedure related to this problem is periodontal dressing which serves to close the wound and accelerate the healing of gingival tissue. One type of plant that has a good ability to wound healing is cinnamon (Cinnamomum burmannii) with a compound called cinnamaldehyde. The use of this compound as a mixture in periodontal dressing has the potential to accelerate wound healing in the gingiva. This study aims to determine the effect of the addition of cinnamaldehyde from Cinnamomum burmannii on periodontal dressing on fibroblasts in healing gingival wounds in rabbits. The design of this study was an experimental laboratory study design with a post-test only with control group design. Experimental animals in the study were divided into 4 groups based on the presentation of the addition of cinnamon extract, namely 0%, 5%, 10%, and 15%. Each sample was again divided into small groups based on the day of decaputation consisting of days 3, 5, and 7. Statistical test results showed there were significant differences in the number of fibroblast cells between 3 subgroups (ANOVA, p <0.05). Addition of cinnamon extract to periodontal dressing could increase the
number of fibroblast cells after gingival injury.

Downloads
Download data is not yet available.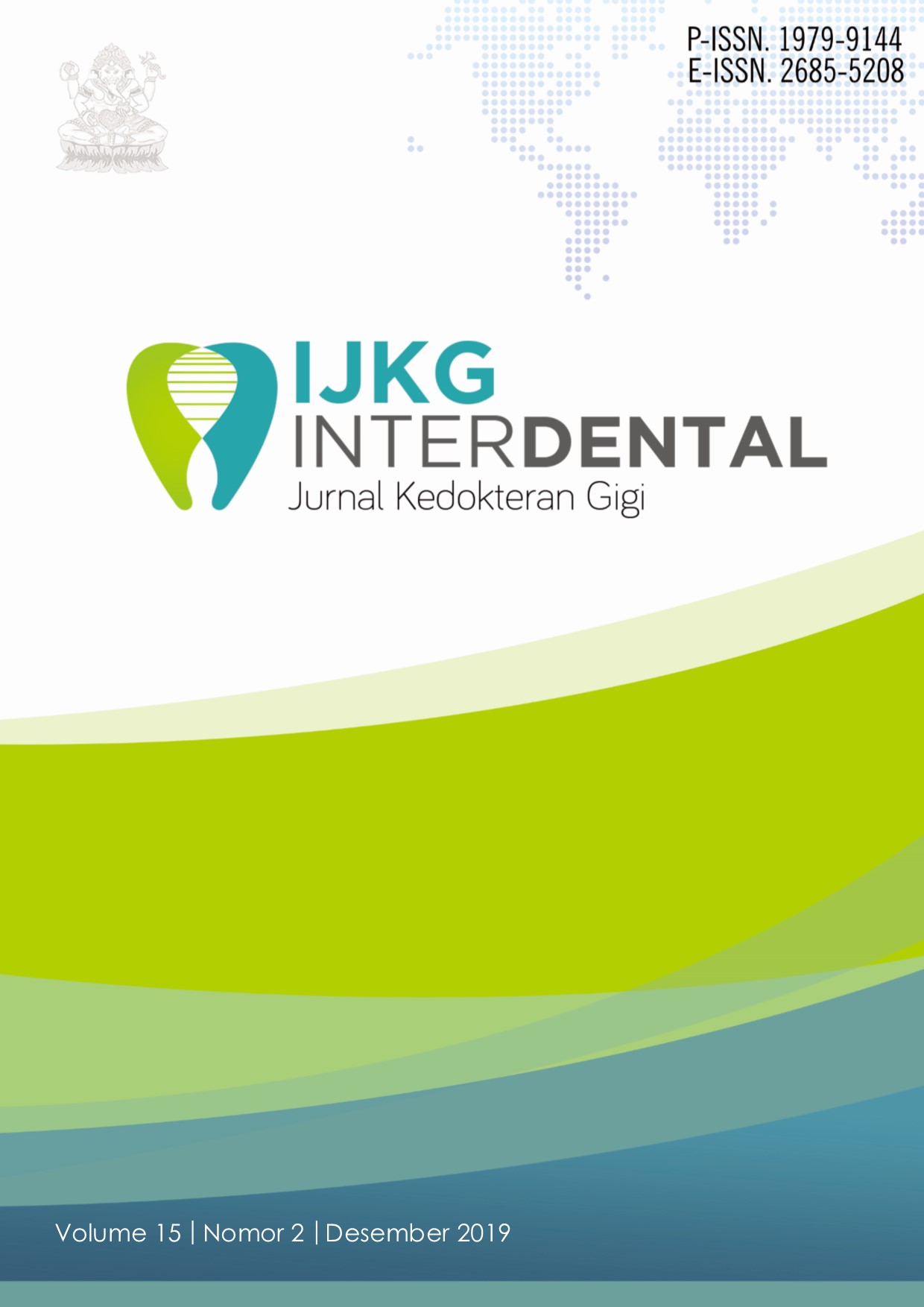 Downloads
How to Cite
Vavata, M. L., Lisda V.E., N. L. P. B., Ramadhana, S., & Susanti, D. N. A. (2019). PENGARUH CINNAMALDEHYDE DARI KAYU MANIS (Cinnamomum burmanii) PADA PERIODONTAL DRESSING TERHADAP SEL FIBROBLAS PADA LUKA GINGIVA KELINCI. Interdental Jurnal Kedokteran Gigi (IJKG), 15(2). https://doi.org/10.46862/interdental.v15i2.590