PREVENTION AND MANAGEMENT OF DENTURE STOMATITIS
Pencegahan dan Tatalaksana Denture Stomatitis
Keywords:
Denture Stomatitis, Inflammatory reaction, Candidiasis, Tissue Culture Examination, Recovery
Abstract
Introduction: Denture Stomatits (DS) is pathological changes in the oral mucosa that commonly occurs in denture users, which is characterized by an inflammatory reaction amd erythema in the area of the oral mucosa that is in contact with the denture. Review: There are 3 types of Denture Stomatitis, in order: tipe I Hyperemic Pinpoint lessions (Localized Simple Inflammation), type 2 Generalized Simple Inflammation , type 3 Inflammatory Papillary Hyperplasia . In general, DS occurs on the palatal mucosa. Risk factors such as trauma from occlusion from excessive dentures, poor OH and degenerative conditions ( systemic) are not good and had habbits such as smoking increase the occurrence of DS. The appearance of reddish lessions that occur in the palatal mucosa without symptoms of severe pain is one of the clinical features of DS condition. The diagnosis of DS can be made by clinical examination and microscopic tissue culture examination. Conclusion: Repairing dentures and making changes to the condition of oral hygene is one of the keys to success in accelerating the healing of DS. In addition, if there is a fairly severe candidiasis, topical and systematic antifungal drugs can be given to recover the condition.
Downloads
Download data is not yet available.
References
Michael, Glick. Burket'sral Medicine. 13th Ed. USA: Philadelphia; 2021
European Association of Oral Medicine (EAOM). EAOM Handbook. 1st edition. 2020.
Hasan S.et.al. Denture Stomatitis: A Literature Review. Journal of Orofacial and Health Science. 2015; 6 (2): 65-69.
Grover C, et.al . Denture Stomatitis A Review. The Journal of Prosthetic And Implant
Steward. Clinical Removable Partial Denture, 2003, Quintessence, p 201.
Hannah V, O'Donnell et,.al. Denture Stomatitis : Causes, Cures, and Prevention. Prim Dent J. 2017; 6(4) : 46-51.
D'Dharan S,et.al. Medical Management of Denture Stomatitis. Asian Journal of Pharmaceutical and Clinical Research. 2016; 9(5); 14-16
Dyall-Smith,D et.al. Denture Stomatitis. 2010 [Cited 2022 August 23]. Available from: https://dermnetnz.org/topics/denture-stomatitis.
Menon A, Ganapathy D. Denture Stomatitis: A Comprehensive Diagnostic Approach. BBRC. 2020; 13(7): 22-26
MIMS..com Indonesia IIMS 114th ed.2009; 341-353
Vaques P, Salas E, Moreno S, Montero R, Roig A, Lopez J, et.al . Inflammatory Papillary Hyperplasia : A Systematic Review. Med Oral Patol Oral Cir Bucal. 2017 (1) :36-42.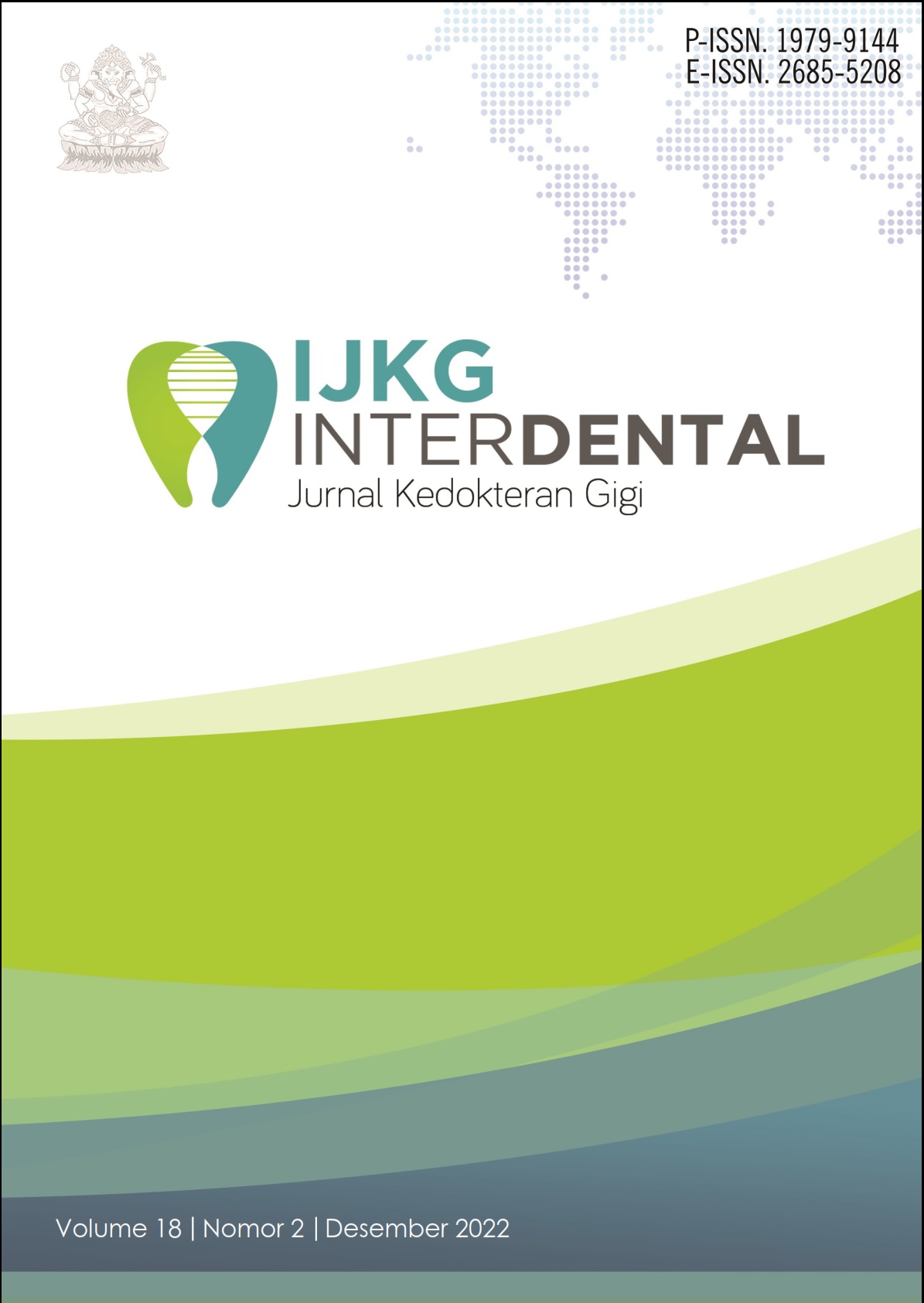 Downloads
How to Cite
1.
Oktaria I. PREVENTION AND MANAGEMENT OF DENTURE STOMATITIS: Pencegahan dan Tatalaksana Denture Stomatitis . interdental [Internet]. 2022 Dec. 14 [cited 2023 Dec. 10];18(2):67-73. Available from: https://e-journal.unmas.ac.id/index.php/interdental/article/view/5404
License
Every manuscript submitted to must observe the policy and terms set by the Interdental Jurnal Kedokteran Gigi (IJKG)
Publication rights to manuscript content published by the Interdental Jurnal Kedokteran Gigi (IJKG) is owned by the journal with the consent and approval of the author(s) concerned.
Full texts of electronically published manuscripts can be accessed free of charge and used according to the license shown below.