GINGIVECTOMY IN GINGIVAL ENLARGEMENT CASES USING CONVENTIONAL TECHNIQUE
Gingivektomi Pada Kasus Gingival Enlargement Menggunakan Teknik Konvensional
Keywords:
Gingival enlargement, gingivectomy, conventional technique
Abstract
Introduction: Gingival enlargements is an abnormal condition that localized
or generalized on the gingival cause by some factor. Gingival enlargements is
always associated with chronic gingival irritation due to traumatic occlusion,
calculus and the presence of rough edges on tooth restoration, drug induced
or cause by systemic disease. Gingivectomy is an excision in the gingival
area. By removing the pocket wall, gingivectomy provides visibility and
accessibility to the removal of calculus as a whole. Case: A 12th years old
men came to the Klungkung District Hospital complaining of a lump in the
upper front gum since 6 months ago, clinically there was gingival swelling at
11,12,13,21,22,23. Case Treatment: The treatment procedure performed
was gingivectomy with an conventional technic. Conventional Technic are
used routinely for surgical procedures because predictable result. Example
for Growth excision, excision or incision biopsy, white lesion ablation, and
gingivectomy are common in intraoral procedures. Discussions: The results
of treatment after one week and two weeks showed good condition with
slight complaints of pain. Conclusion: The gingivectomy technique in this
case was performed using a continuous technique because the gingival enlargement was found in the marginal and interdental areas. The results of
treatment for more than a week show good condition.
Downloads
Download data is not yet available.
References
Andriani, N. 2009. Perawatan Pembesaran Gingiva dengan Gingivektomi. Mutiara Medika; 9(1): 59-73.
Astuti, L.A. 2020. Penatalaksanaan Penyakit Periodontal di Klinik Kepanitraan Mahasiswa Profesi. Makassar, Agma.
Newman FA et al. 2006. Carranza's Clinical Periodontology. 10th Edition. Philadelphia, WB. Saunders Company: pp. 373-374.
Newman FA et al. 2012. Carranza's Clinical Periodontology. 11th Edition. Philadelphia, WB. Saunders Company: pp. 86.
Ruhadi dan Aini. 2005. Kekambuhan Gingivitis Setelah Gingivektomi. Maj. Ked. Gigi. (Dent. J.), Vol. 38. No. 3 Juli–September 2005: 108–111.
Savage dan Daly.2014. Gingival enlargement and Localized Gingival Overgrowth. Australian Dental Journal.pp. 55-60.
Sopiatin, S., dkk. 2021. Gingivektomi pada Pembesaran Gingiva Pasien Ortodontik. Cakradonya Dental Journal; 13(1): 32-38.
Tomar N, Vidhi M et al.2014. Inflammatory Gingival enlargementA Case Report. J Adv Med Dent Scie 2014;2(1):109-113.
Widagdo, A.K. & Murdiastuti K. 2015. Gingivektomi Menggunakan Scalpel dan Electrocautery pada Perawatan Gingival Enlargement Wnita Pubertas. MKGK; 1(1): 1-4.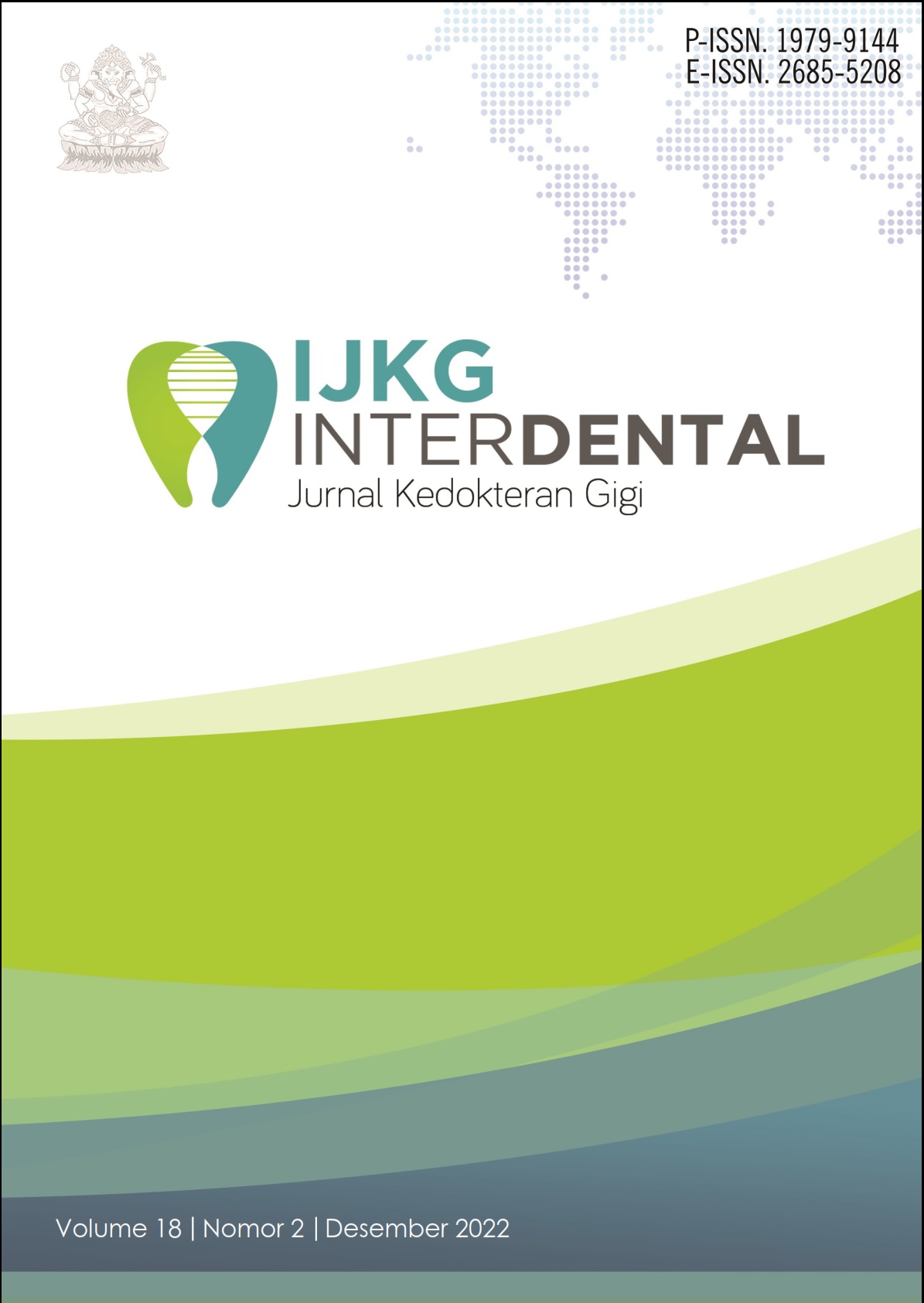 Downloads
How to Cite
artika, M. deby. (2022). GINGIVECTOMY IN GINGIVAL ENLARGEMENT CASES USING CONVENTIONAL TECHNIQUE : Gingivektomi Pada Kasus Gingival Enlargement Menggunakan Teknik Konvensional . Interdental Jurnal Kedokteran Gigi (IJKG), 18(2), 62–66. https://doi.org/10.46862/interdental.v18i2.5090