PENINGKATAN SEL OSTEOBLAST MANDIBULA TIKUS WISTAR JANTAN SETELAH PEMBERIAN FERMENTASI TEH KOMBUCHA
Keywords:
Kombucha Tea, Alveolar bone, Osteoblast
Abstract
Osteoblasts are bone-forming cells to grow and play a role in regulation of bone metabolism, including alveolar bone. Imbalance of osteoblasts number in bone formation may lead loss of bone mass, which is causes osteoporosis. Reactive Oxygen Species (ROS) is an oxidant that take important roles in osteoclast activation, osteoclastogenesis and activation of osteoblasts inhibition. Kombucha tea has antioxidant effects. This study was conducted to determine Kombucha tea fermented on 14 days make the osteoblasts in the mandibular bone of male wistar rat more numerous.This research was a purely experimental method with Randomized Post Test Control Group Design. Subjects consisted of ten of three – month male wistar rats were divided into 2 groups. Control group received aquadest for 30 days, on the other hand the treatment group were treated by 8 ml of Kombucha tea for 30 days. On the 31st day, rats were euthanized for tissue sampling and histological preparation of mandibular bone and subjected for HE staining. The test results based on comparison between the control group and treatment group with independent t-test showed that there were significant differences in osteoblasts number in mandibular bone of wistar rats (p<0.05). Kombucha tea contain epicatechin gallate (ECG) that stimulate osteoblasts differentiation and inhibit induction of Receptor Activator Of Nuclear Factor-κB Ligand (RANKL). Further more, Epigallocatechin gallate (EGCG) and theaflavin (TF) detoxify molecules of ROS and enhance osteoblastogenesis. This study concluded that administration of Kombucha tea fermented on 14 days make osteoblasts in the mandibular bone of wistar rat more numerous.
Downloads
Download data is not yet available.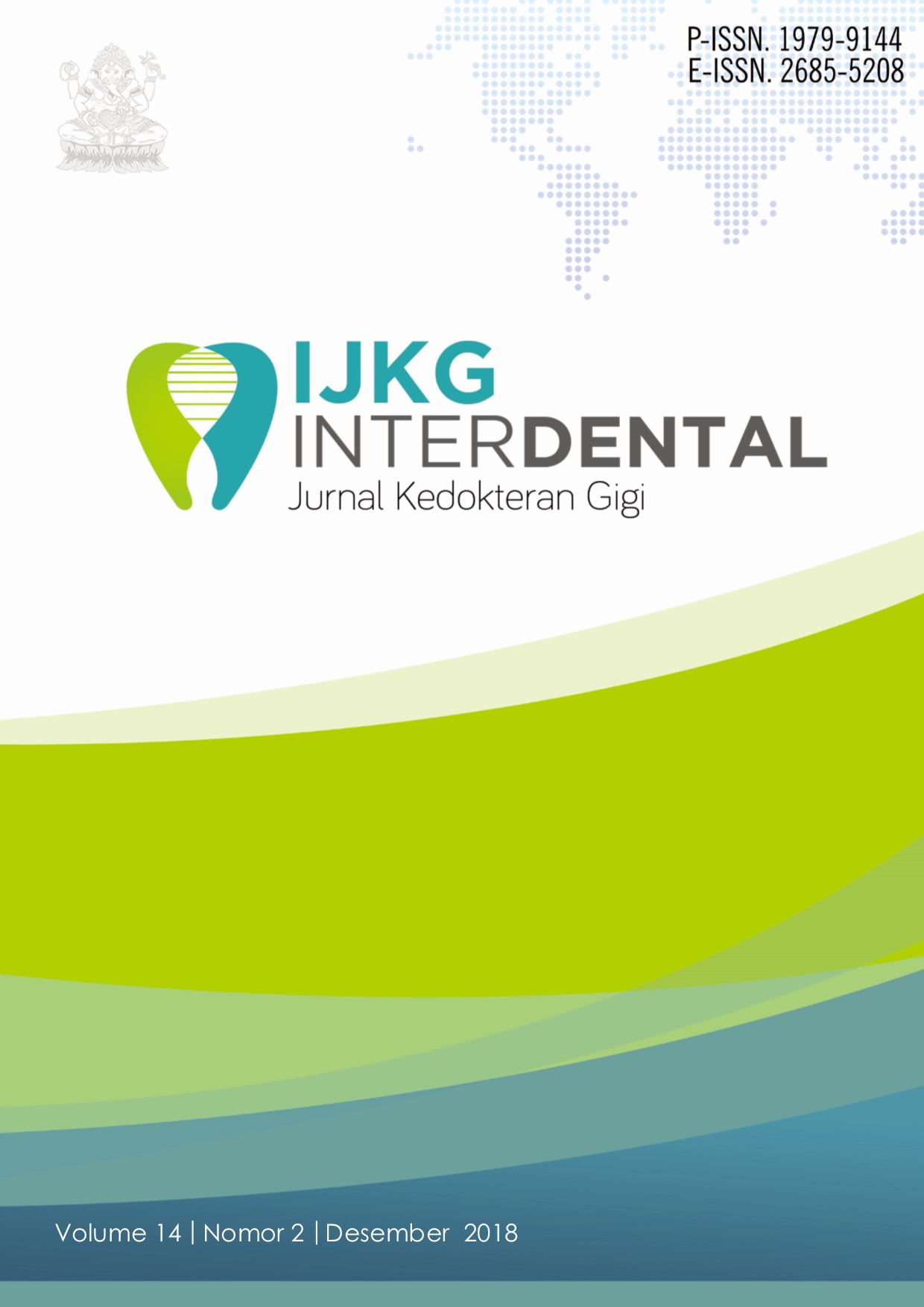 Downloads
How to Cite
Sardi, N. W. A., Sukrama, I. D. M., & Satriyasa, B. K. (2018). PENINGKATAN SEL OSTEOBLAST MANDIBULA TIKUS WISTAR JANTAN SETELAH PEMBERIAN FERMENTASI TEH KOMBUCHA. Interdental Jurnal Kedokteran Gigi (IJKG), 14(2). https://doi.org/10.46862/interdental.v14i2.376