THE EFFECT OF REINFORCED POLYETHYLENE FIBER ON FLOWABLE RESIN COMPOSITE AS SPLINTING MATERIAL ON ATTACHEMENT OF Streptoccocus mutans
PENGARUH PENAMBAHAN POLYETHYLENE FIBER PADA RESIN KOMPOSIT FLOWABLE SEBAGAI BAHAN SPLINTING TERHADAP Streptococcus mutans
Abstract
Introduction : Tooth mobility is one of the symptoms of periodontal disease which is characterized by loss of attachment and vertical bone damage. One method to overcome this is by splinting. The development of dental materials science has resulted in an innovative splinting technique using a thin band of material, easily bonded, consisting of a series of criss-crossed strands of thin polyethylene fibers. Fiber in the oral cavity will interact with saliva and microorganisms, especially Streptococcus mutans. Objective: The purpose of this study was to determine the effect of adding polyethylene fiber to flowable composite resin as a splinting material on the attachment of Streptococcus mutans. Materials and Methods: This research method was an experimental laboratory using a post-test only control group design. Samples in the form of blocks with a size of 5x4x2 mm were immersed in artificial saliva for 1 hour then soaked in liquid medium containing Streptococcus mutans and incubated for 2x24 hours, diluted to 100 or dilution of 10-2 then 0.1 mL of liquid medium put into TYC agar media in petridishes and incubated at 37oC for 48 hours anaerobically. Results and Discussion: Statistical tests showed that the addition of polyethylene fiber to the flow composite resin splinting material increased the attachment of Streptococcus mutans bacteria . The results of the Saphiro-Wilk test showed that the growth of Streptococcus mutans bacteria in each group was normally distributed (p>0.05). Lavene's test results obtained a statistical levene value of 0.695 with a significance value of 0.410 > 0.05, this proves that the data used is homogeneous. In the One Way Anova test, it can be seen that the sig value is 0.000 (p<0.05). From the results of the analysis with LSD shows there is a significant difference in treatment between variables. Conclusion: From the results of the study, there is an influence of the addition of polyethylene fiber to flowable composite resins as a splinting material on increasing the attachment of Streptococcus mutans.
Downloads
Download data is not yet available.
References
Sianturi, T.W.R., Nasution, R.O., Splinting periodontal estetik dengan fiber komposit (Tinjauan Pustaka), B-Dent: Jurnal Kedokteran Gigi Universitas Baiturrahmah, Special Edition (September 2021); Vol 8, No. 2: page 115-120.
Suwandi, T., The initial treatment of mobile teeth closure diastema in chronic adult periodontitis, PDGI Journal, 2010; 59: hal. 105 -109.
Arni Irawaty Djais, Berbagai jenis splint untuk mengurangi kegoyangan gigi sebagai perawatan penunjang pasien penyakit periodontal, Dentofasial, Vol.10, No.2, Juni 2011:124-127.
Octavia M, Soeroso Y, Kemal Y., Adjunctive intracoronal splint in periodontal treatment: report of two cases. J Dent Indonesia 2014; 21: 94–9.
Kathariya R, Archana D, Rahul G, Nan-dita B, Venu V, Mohammad YSB. To splint or not to splint: the current status of periodontal splinting. J Int Acad Periodontol 2016; 18(2): 45–56.
Mozartha, M., Herda, E., dan Soufyan A., 2010, Pemilihan Resin Komposit dan Fiber untuk Meningkatkan Kekuatan Fleksural Fiber Reinforced Composite, Jurnal PDGI, 59(1): 2934.
Rosenstiel, S. F., Land, M. F., Fujimoto, J. Contemporary Fixed Prosthodontics. 3rd Edition. USA: Mosby Inc. 2001.
Strassler HE, Brown C. Periodontal splinting with a thin-high-modulus polyethylene ribbon. Compendium 2001; 22: 610-20.
Sakaguchi, RL., dan Powers, JM. 2012. Craig's : Restorative Dental Materials. 13th. United States of America : Mosby. Inc. pp: 84181.
Garg, Nisha., Garg, Amit., 2013, Textbook of Endodontics, Jaypee Brothers Medical Publishers (P) Ltd.: New Delhi, 476.
Tarle, Z., Marović, D., Pandurić,V., 2012. Contemporary Concepts On Composite Materials. Medical Sciences. 38 : 23-38.
Karthick, A., Kaisalam, S., Priya, P.R.G. and Shanter, S. 2011. Polymerization Shrinkage Of Composites A Review. JIADS. Vol 2 : 32-36.
Tanner, J., Vallittu, P. K., dan Soderling E., 2001, Effect of Water Storage of E-Glass Fiber Fiber-Reinforced Composite on Adhesion of Streptococcus mutans, Biomaterials., 22(2001): 1613-8.
Grivet, M., Morrier, J. J., Benay, G., dan Barsotti, O., 2000, Effect of Hidrophobicity in Vitro Streptococcal Adhesion to Dental Alloys, Journal of Material Science, Vol. 11(10): 637642.
Akalin-Evren, B., Kulak-Ozkan, Y., Ozcan, M., dan Kadir, T., 2012, Candida albicans Adhesion on Reinforce Polymethylmethacrylate Denture Resin: Effect of Fiber Architecture and Exposure of Saliva, Gerodontology 2012, doi: 10.1111/ger.12024, 1-8.
Namen, F., Galan Jr, J., de Oliveira, J. F., Cabreira, R. D., Filho, F. C. S., Souza, A. B., dan de Deus, G., 2008, Surface Properties of Dental Polymers: Measurement of Contact Angles, Roughness, and Fluoride Release, Material Research, 11(3): 239- 43.
Larasati, K., Siswomihardjo, W., Sunarintyas, S., Pengaruh Polyethylene Fiber pada Material Resin Komposit, JMKG, 2017;6(2):33-38
Yoshida Y, Wakasa K, Kajie Y, Takahashi H, Urabe H, Satou N, Shintani H, Yamaki M. Adherent bacteria cells in five dental materials: sonication effect. Journal of Material Science Materials in Medicine 1998; 6: 117–20.
Yulianto,H.D.K., Morita, Potensi Herbal Buah Mahkota Dewa (Phaleria Macrocarpa (scheff.) Boerl) yang Dimanfaatkan sebagai Modifikator Permukaan dan Anti Adhesi Bakteri S.mutans pada Permukaan Material Restorasi Resin Komposit, Dentika Dental Journal, Vol 18, No. 2, 2014: 158-164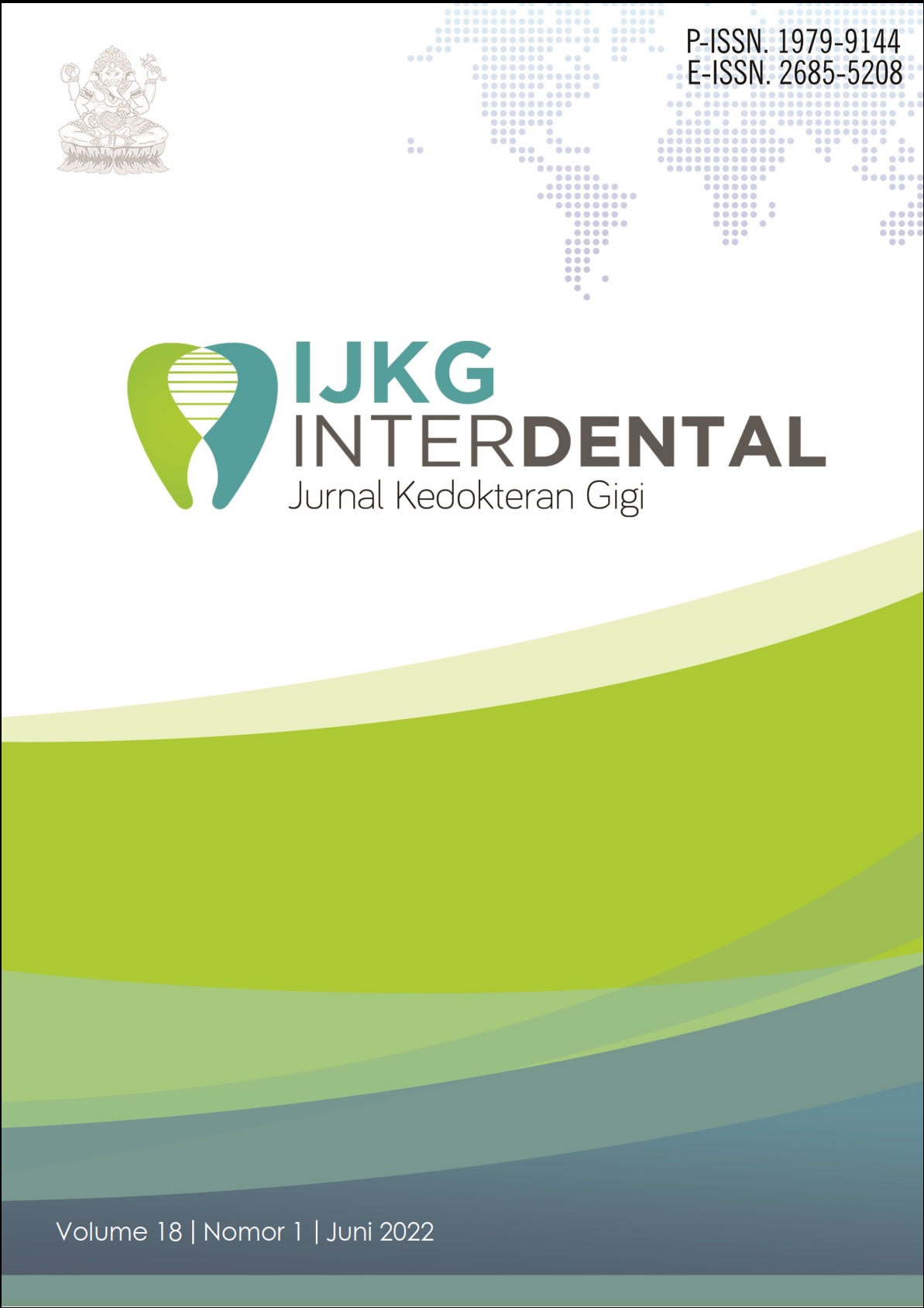 Downloads
How to Cite
Astuti, N. K. A., Sumantri, & Kusumayanti, K. S. . (2022). THE EFFECT OF REINFORCED POLYETHYLENE FIBER ON FLOWABLE RESIN COMPOSITE AS SPLINTING MATERIAL ON ATTACHEMENT OF Streptoccocus mutans : PENGARUH PENAMBAHAN POLYETHYLENE FIBER PADA RESIN KOMPOSIT FLOWABLE SEBAGAI BAHAN SPLINTING TERHADAP Streptococcus mutans. Interdental Jurnal Kedokteran Gigi (IJKG), 18(1), 20–26. https://doi.org/10.46862/interdental.v18i1.3758