Tingkat Fluor Dalam Air Minum dan Pengobatan Fluorosis Berdasarkan Indeks Thylstrup Fejerskov
Keywords:
Levels of Fluoride, Fluorosis Treatment
Abstract
Fluorosis is teeth disorder a kind of enamel hypoplastic that is defect on the enamel that result in changes on the teeth form, it is caused by excessive fluoride intake during tooth development. Fluorosis could discoloration on the enamel that varied from opaque white spots upto brown so that disrupting of the sufferrer dental esthetic. These study aims to trace the literature on fluor content limit in drinking water which can begin the fluorosis. As well as elaborate various types of fluorosis treatment which appropriate with appropriate classification of Thylstrup Fejerskov Index (TFI) on the child's teeth. Writing method have been used was descriptive method. The results of the literature search, limit of the levels of fluoride in drinking water could begin the fluorosis was 1.3 ppm. Classification fluorosis according to Thylstrup Fejerskov Index (TFI) was organized into 10 classes with scores ranging from 0 upto 9 for each grade of enamel change. Score TF 1 upto TF 3 was a kind of mild fluorosis, TF 4 upto TF 6 was moderat fluorosis, and TF 7 upto TF 9 fluorosis was a kind of heavy. Fluorosis treatments that can be used was microabrasion email, bleaching, veneers and jacket crowns as according to the type of fluorosis. Controlling of the fluoride intake for the children under 8 years is very important to prevent fluorosis but if there has been dental fluorosis hence will be needed a treatment to restore the aesthetic and self-confidence in children.
Downloads
Download data is not yet available.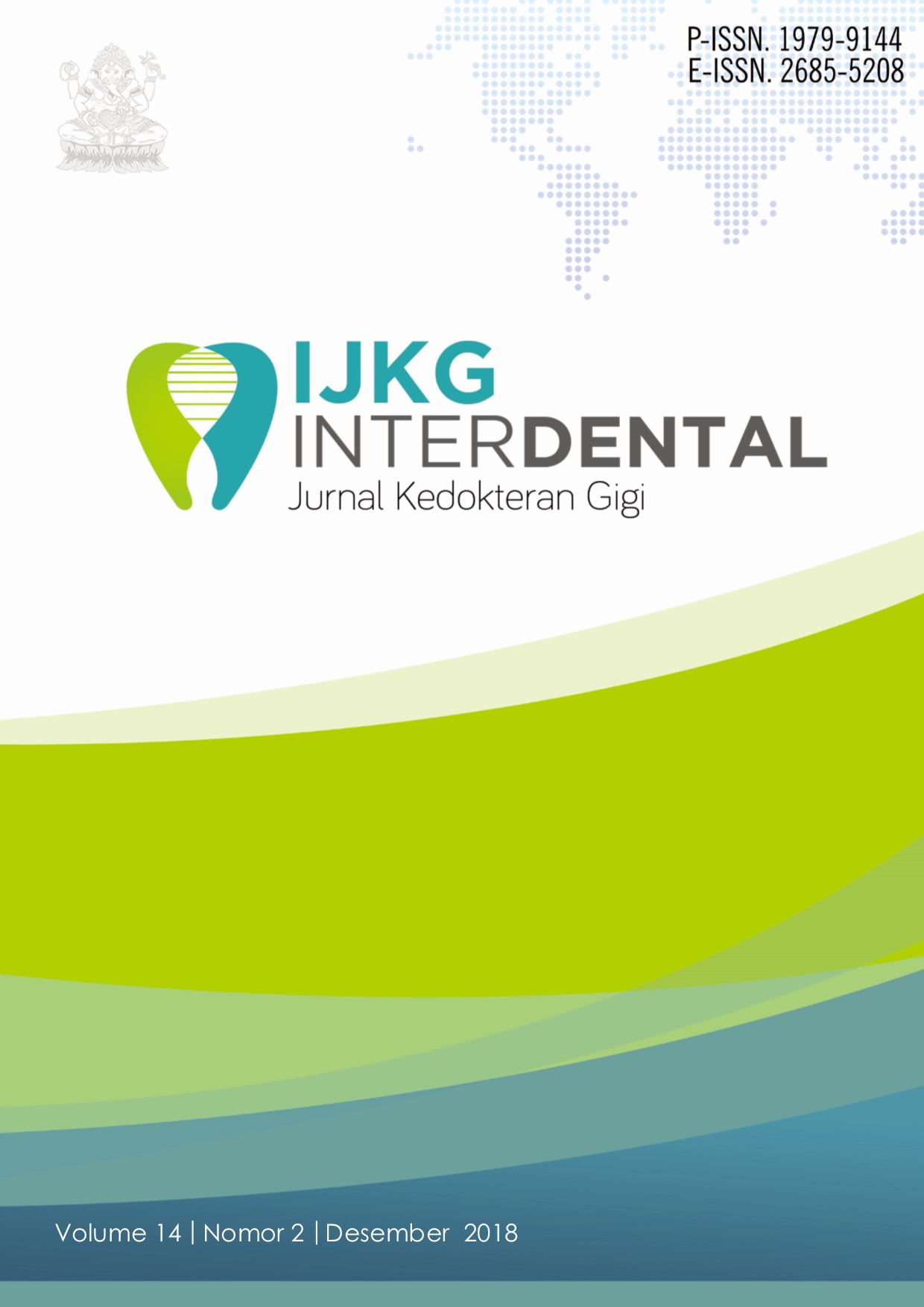 Downloads
How to Cite
Nugraha, P. Y., & Darmi, A. R. (2018). Tingkat Fluor Dalam Air Minum dan Pengobatan Fluorosis Berdasarkan Indeks Thylstrup Fejerskov. Interdental Jurnal Kedokteran Gigi (IJKG), 14(2). https://doi.org/10.46862/interdental.v14i2.373