FIKSASI TULANG DENGAN ALAT BERBAHAN DASAR POLIMER (Uji Biokompatibilitas)
Keywords:
biocompatibility, bone fractures, polyvinyl alcohol, hydroxyapatite
Abstract
Bone fracture fixation device have been using rigid metallic materials such as titanium, titanium-alloy or cobalt chrome. Besides having some advantages, as the titanium fixation devices also have disadvantages. It is challenge to develop the use of polymeric materials have good biocompatibility and mechanical strength appropriate to have a bone fracture fixation devices that can be absorbed by the body, such as Polyvinyl Alcohol (PVA). The purpose of this study is to know whether the PVA-HA composite with catgut reinforced has good biocompatibility without toxicity and hypersensitivity effects in experimental animals. Biocompatibility testing include local cytotoxicity and type IV contact hypersensitivity test using wistar rats (Rattus norvegicus). Testing is done through two phases, induction or sensitization phase is by rubbing PVA-HA composite with catgut reinforced ointment puder on the ears. Local toxicity testing is done by implantation of PVA-HA composite with catgut reinforced on the back catgut wistar rats. The results showed no discoloration or induration on animal ears in all treatment and control groups on the sensitization and the elicitation phase. There were no significant differences of the thickness of the wistar rats ears from all treatment groups before and after treatment on measures 24, 48 and 72 hours (ρ >0.05). Microscopic examination showed no infiltration of acute inflammatory cells such as neutrophils, basophils or eusinofil and chronic inflammatory cell infiltration such as macrophages, lymphocytes and plasma cells. It can be concluded that the PVA-HA (60:40)composite with catgut reinforced is a material that does not cause toxicity and hypersensitivity in experimental animals, thus potentially be used as bone fractures fixation material.
Downloads
Download data is not yet available.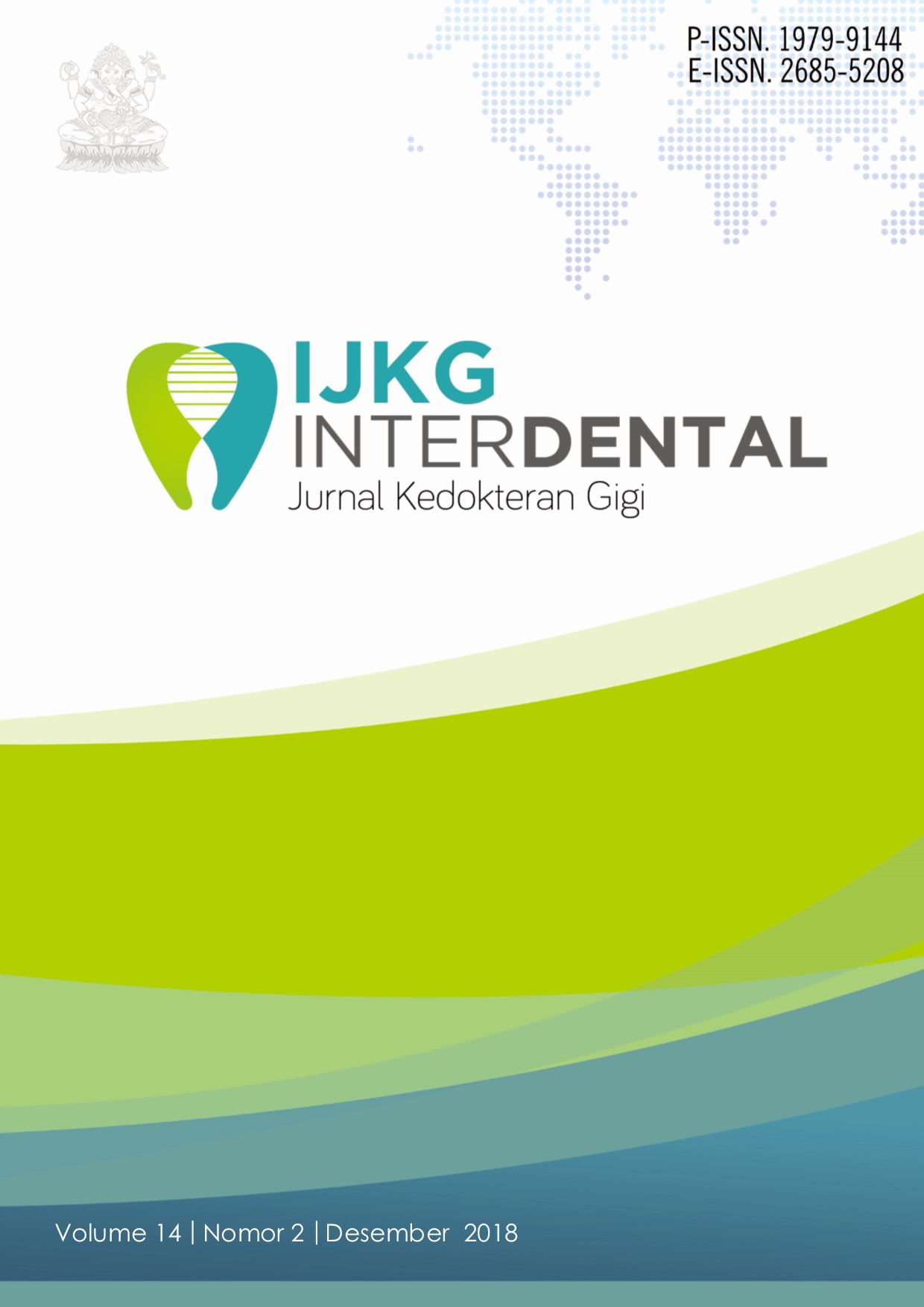 Downloads
How to Cite
1.
Ma'ruf MT. FIKSASI TULANG DENGAN ALAT BERBAHAN DASAR POLIMER (Uji Biokompatibilitas). interdental [Internet]. 2018 Dec. 18 [cited 2023 Dec. 9];14(2). Available from: https://e-journal.unmas.ac.id/index.php/interdental/article/view/371
License
Every manuscript submitted to must observe the policy and terms set by the Interdental Jurnal Kedokteran Gigi (IJKG)
Publication rights to manuscript content published by the Interdental Jurnal Kedokteran Gigi (IJKG) is owned by the journal with the consent and approval of the author(s) concerned.
Full texts of electronically published manuscripts can be accessed free of charge and used according to the license shown below.