PERAN MUSIK KLASIK BARAT DALAM PENINGKATAN SEKRESI SALIVA PASIEN GERIATRI DENGAN KONDISI XEROSTOMIA
Keywords:
Music, salivary secretion, xerostomia
Abstract
Xerostomia or dry mouth is one of the complaints in oral cavity, which associated with reduced salivary flow. Many issues will appear in people with xerostomia, such as dry mouth mucosa that can cause irritation in the oral cavity, difficulty speaking, burning mouth, taste disturbance, increased tooth decay and plaque, halitosis, changes in soft tissue, inflammation of periodonsium, and problems of prosthesis. Music can be used as an alternative in improving saliva secretion. Music that is formed through a slow tempo, repetitive rhythm, and gentle contour will provide silent and relax atmosphere. The nerve that dominates the state of calm and relaxed is the parasympathetic nervous system which supplies the saliva glands, and causes the expenditure watery saliva in large amount and enzyme rich. There were increasing saliva secretion in the result of this research, where the mean of salivary secretion in western classical music group before treatment was 0.087±0.007 ml/minute, and after treatment was 0.204±0.13 ml/minute. It is recommended to patients with xerostomia, especially in the elderly to listen the western classical music, which can make our mind relax and also increase the salivary secretion.
Downloads
Download data is not yet available.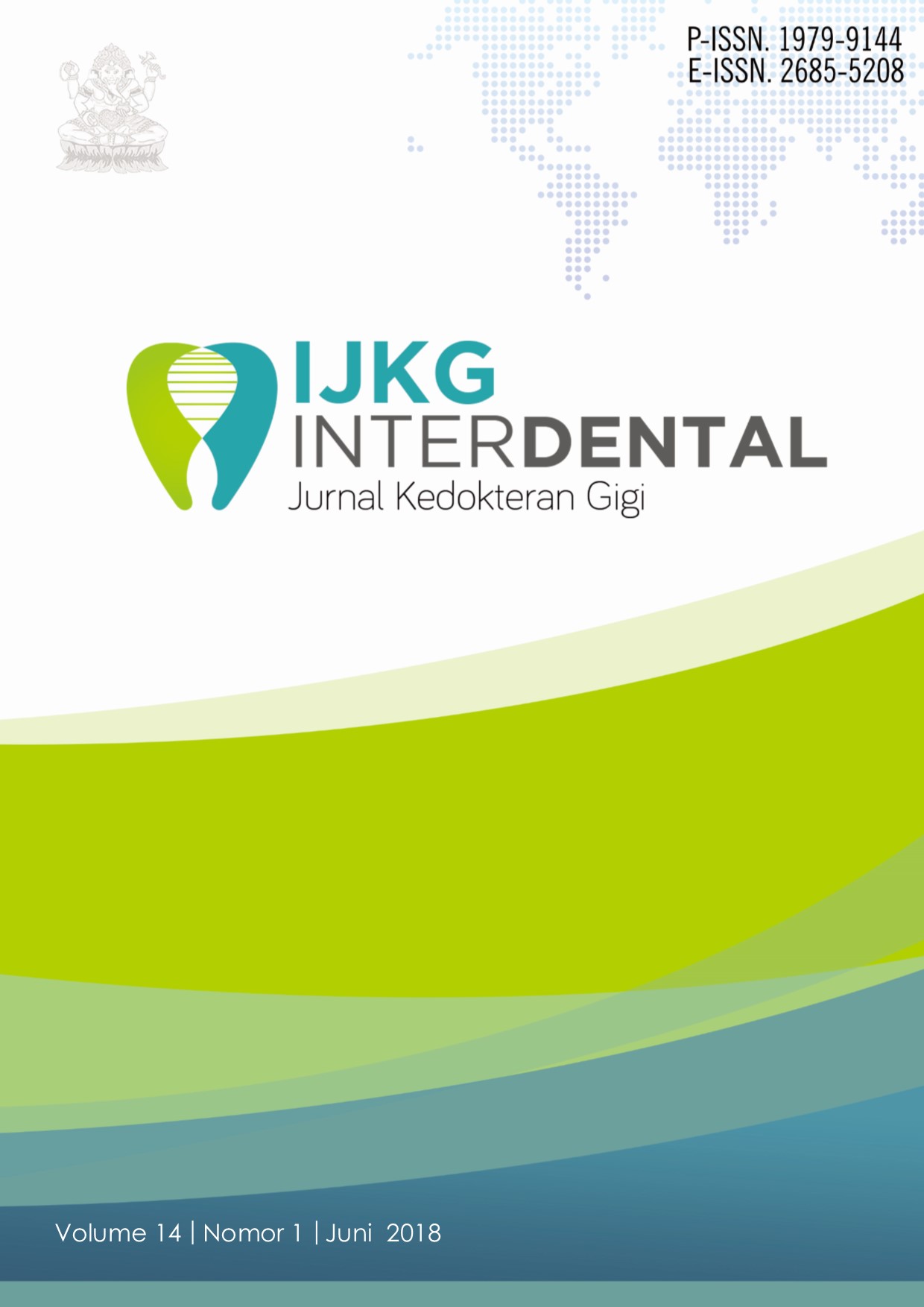 Downloads
How to Cite
Dewi, I. K. (2018). PERAN MUSIK KLASIK BARAT DALAM PENINGKATAN SEKRESI SALIVA PASIEN GERIATRI DENGAN KONDISI XEROSTOMIA. Interdental Jurnal Kedokteran Gigi (IJKG), 14(1). https://doi.org/10.46862/interdental.v14i1.370