KOMBUCHA TEA MENURUNKAN JUMLAH BAKTERI Streptococcus mutans PADA PENDERITA KARIES
Keywords:
kombucha tea, streptococcus mutans, caries
Abstract
Dental caries is an endemic disease that high prevalence and severity. Bacteria, such as Streptococcus mutans are the flora of the mouth, potentially cause caries by producing acid that could demineralize enamel of the tooth. The aim of the study wasw to prove the decreasing of the Streptococcus mutans by rinsing 10-days fermented kombucha tea. The design of this study was experimental Randomized pretest and posttest. These research used two groups:each groups contain 13 subjects. One group as a control and one group as a treatment group. The control group rinsed with sterile distilled water and the treatment group rinsed with 10-days fermented kombucha tea. Datas were analized with paired T-test. Result showed that mean of S. mutans bacteria after treated (rinse 10-days fermented kombucha tea) significantly decreased (p <0.05). It was concluded that rinsing with 10-days fermented kombucha tea could decrease number of Streptococcus mutans. Further research was needed to determine the mechanism of kombucha tea.
Downloads
Download data is not yet available.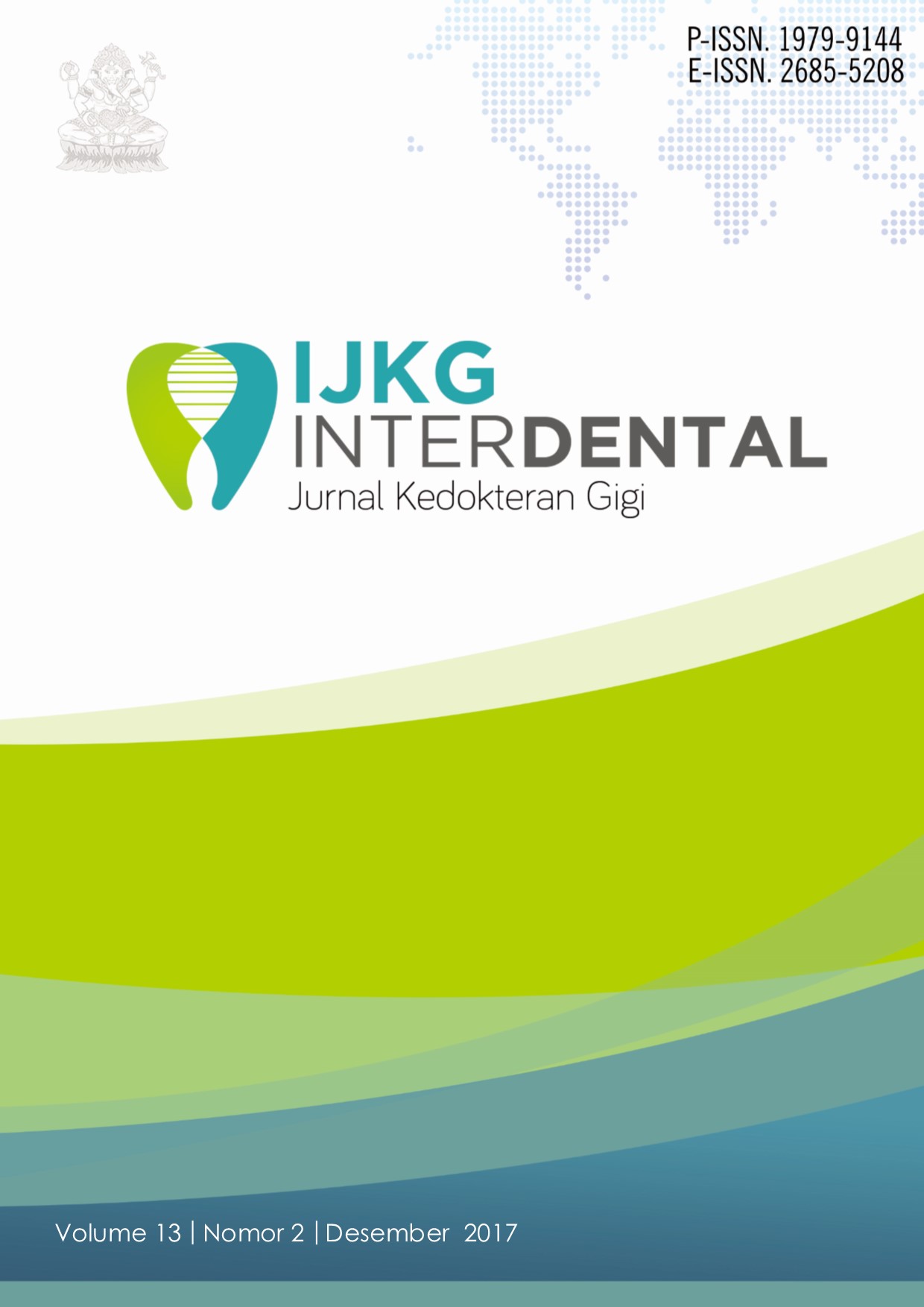 Downloads
How to Cite
Ernawati, K. L. (2017). KOMBUCHA TEA MENURUNKAN JUMLAH BAKTERI Streptococcus mutans PADA PENDERITA KARIES. Interdental Jurnal Kedokteran Gigi (IJKG), 13(2). https://doi.org/10.46862/interdental.v13i2.358