EFEKTIVITAS LARUTAN MINUMAN PROBIOTIK YAKULT® DALAM MENURUNKAN JUMLAH CANDIDA ALBICANS PADA AKRILIK POLIMERISASI PANAS
Keywords:
heat-cured acrylic, Candida albicans, Yakult® probiotic drink
Abstract
Using a removable denture can caused chronic inflammation commonly triggered from oral microorganism, specifically Candida albicans. The prevalence of denture stomatitis on removable denture user has been reported to be 15-70%. Yakult® probiotic drink contains Lactobacillus casei Shirota that is known for its role in interfering the binding of pathogen microorganisms. The purpose of this study is to determined whether Yakult® probiotic drink can decrease the number of Candida albicans on heat-cured acrylic resin plate. This study used pre-post test control group design method with n=25, consisting of 5 groups. Acrylic plates are contaminated with Candida albicans and initial counting was conducted. Then the plates were immersed in Yakult® probiotic drinks on 15, 30, 60 minutes treatment groups and on Fittydent® and aquadest control groups. Afterwards the plantation and final counting were done. The result of the study is normally distributed and homogenous, then it was analyzed using Paired T-Test (p<0,05) with mean P1 12,20±4,38, P215,60±5,72 and P315,80±3,76 CFU/ml. LSD test shown significant differencesbetween positive controls with all treatments and not significant differences between treatments. This study shows that probiotic Lactobacillus can inhibit the growth of Candida albicans.It can be concluded that Yakult® probiotic drink can decrease the number of Candida albicans colonies on heat-cured acrylic resin plates immersion, with the most effective time being 60 minutes.
Downloads
Download data is not yet available.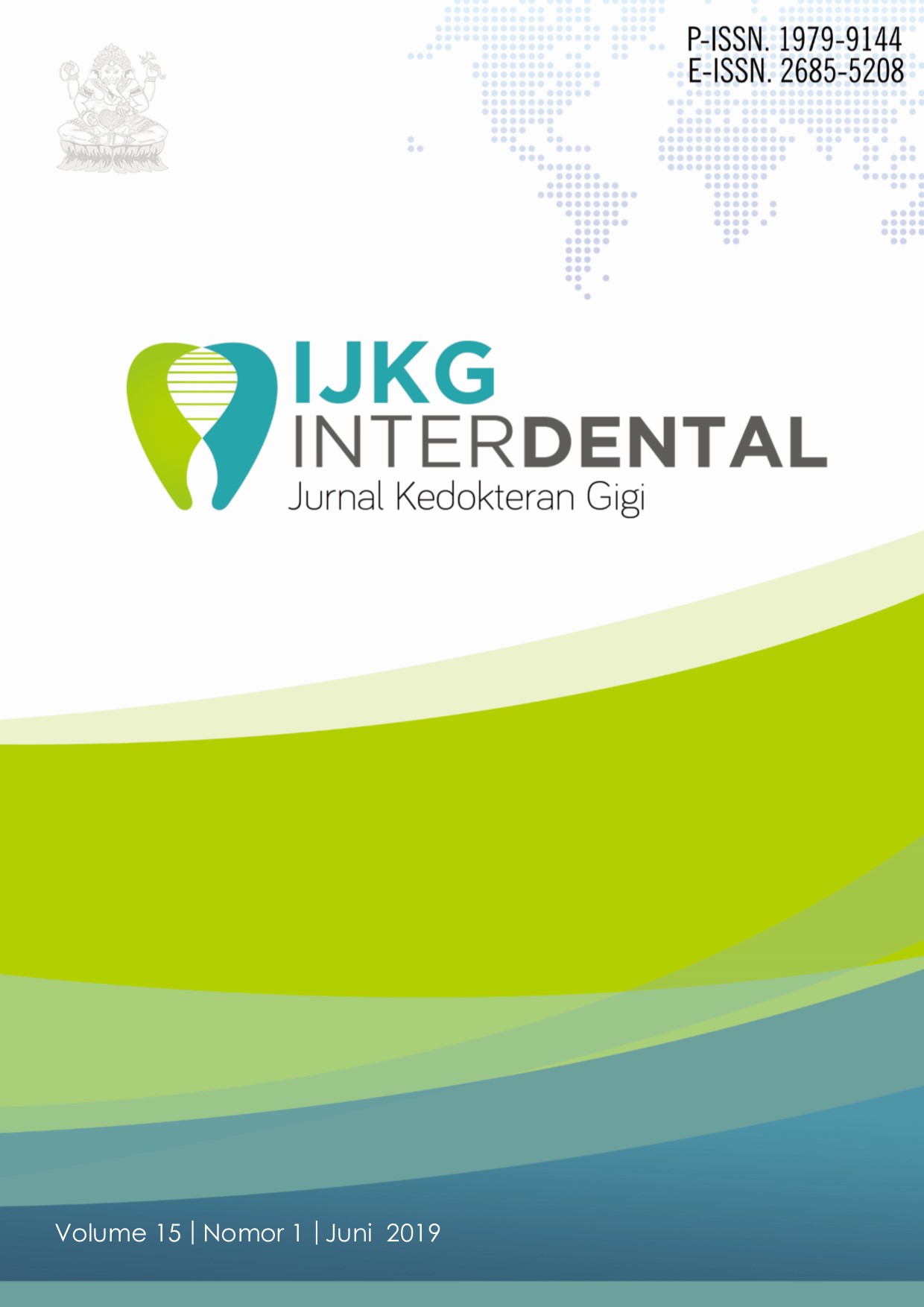 Downloads
How to Cite
Koesoemawati, R. (2019). EFEKTIVITAS LARUTAN MINUMAN PROBIOTIK YAKULT® DALAM MENURUNKAN JUMLAH CANDIDA ALBICANS PADA AKRILIK POLIMERISASI PANAS. Interdental Jurnal Kedokteran Gigi (IJKG), 15(1). https://doi.org/10.46862/interdental.v15i1.343