TEMPERATURE AND SOAKING TIME CAUSE COLOR CHANGES OF FLEXIBLE DENTURE
Keywords:
temperature, soaking time, discoloration, flexible denture base
Abstract
Flexible denture is a removable partial denture made of flexible material and can adapt well to the oral tissues. Color stability is one of the basic properties of denture that is needed in achieving good aesthetics. Intrinsic and extrinsic factors can affect the basic denture's color changes. Extrinsic factors can be stain due to the absorption of pigments of dyes from exogenous sources such as denture cleansing solutions, food and beverages, length of use of materials either due to physical or chemical conditions, such as temperature changes. Intrinsic factors include chemical changes in the material itself, among others, due to the imperfect polymerization process, material pollution in the process of making the material or its processing, due to the chemical reaction within the material itself and various processing techniques resulting in the occurrence of porosity on the surface of the material to facilitate the accumulation of dirt. This study aims to observe the color change of the flexible denture base made of nylontermoplastic. The sample of this study used 30 flexible denture base plates measuring 10 mm x 10 mm x 2 mm, soaked at different temperatures of 40 ° C, 50 ° C and 60 ° C for 1 minute, 3 minutes and 5 minutes in each group . The media used is waterbath as a temperature control and then processed using Adobe Photoshop with CIELab method. The results showed significant color changes in the 37 ° C temperature control group with temperatures of 40 ° C, 50 ° C and 60 ° C (p <0.05). Medium between 40 ° C, 50 ° C and 60 ° C has no significant difference (p> 0,05). The conclusion is that the higher of the temperature and the duration of soaking time have a significant effect on the color change of flexible denture.
Downloads
Download data is not yet available.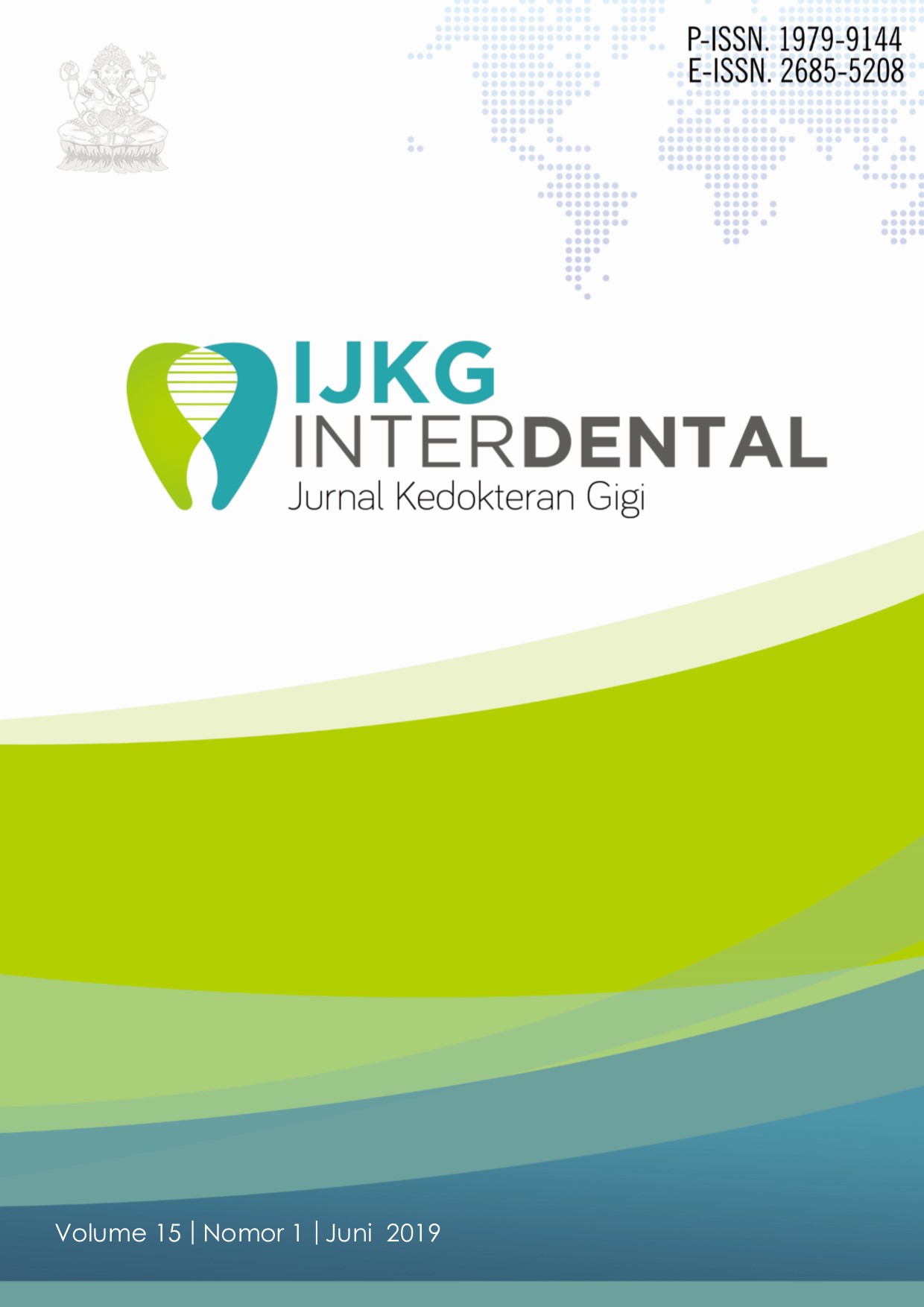 Downloads
How to Cite
Dewi, T., Nurlitasari, D. F., & Septyanti, I. G. A. P. A. (2019). TEMPERATURE AND SOAKING TIME CAUSE COLOR CHANGES OF FLEXIBLE DENTURE. Interdental Jurnal Kedokteran Gigi (IJKG), 15(1). https://doi.org/10.46862/interdental.v15i1.336