ASTAXANTHIN INCREASE AQP-5 MRNA LEVEL, SALIVARY FLOW RATE AND REDUCE F2-ISOPROSTANE LEVEL ON SUBMANDIBULAR GLAND OF WISTAR RATS WHICH IRRADIATED GAMMA RAYS
Keywords:
mRNA Aquaporin 5, Salivary flow, F2 Isoprostant, Antioxidant, Gamma rays
Abstract
Aquaporin-5 (AQP5) is a water channel protein expressed on the apical membrane of serous acini in salivary gland. Previous study have shown that the level of mRNA AQP5 is decreased in irradiated rat that result in decreased salivary flow rate; however, the mechanism has not been reported. It's maybe due to presence of free radicals. The purpose of this study was to determine the effects of antioxidant on level of mRNA AQP5, salivary flow rate and F2 Isoprostane level (as biomarker of oxidative stress) on salivary gland of rats irradiated with g rays. All experiments were performed using Male Wistar Rat (Rattus Norvegicus, ages 3-4 month,  weight 200 – 300 g) were randomly divided into 2 groups: the experimental group and the control group. Twenty two rats were irradiated with single dose (10 Gy) of Co60 Gamma rays at ventral surface at their neck. Before irradiated, the experimental group (11 rats) were given 0.5 mg Astaxanthin® for 4 days but not  the control group (11 rats). Saliva secretion, saliva flow rate, and blood were collected after 24 hours. After that, submandibular glands were extirpated for analized mRNA AQP5 using Real Time-RT PCR. Level of F2 Isoprostane  was analyzed by ELISA. Using independet t-test showed that mRNA AQP5 level and Flow rate saliva were significanly increased at experimental group (p<0,05), plasma F2 Isoprostance level were significanly decreased at experimental group (p<0,05). Pearson correlation test demonstrate a strong correlation between levels of AQP5 mRNA with levels of F2-isoprostane,  mRNA AQP5 levels with salivary secretion,  levels of mRNA AQP5 with salivary secretion rate, levels of F2-isoprostane with the salivary secretion, and the levels of F2 -isoprostane with salivary secretion rate. Using regression test showed a significant influence of level F2 Isoprostane toward the levels of mRNA AQP5 and the levels of mRNA AQP5 toward differences of salivary flow rate on submandibular gland. It can be conclude that antioxidant (Astaxanthin®) increased mRNA AQP5 levels, salivary flow rate and reduce levels of isoprostane F2 at Wistar rat irradiated with gamma-rays.
Downloads
Download data is not yet available.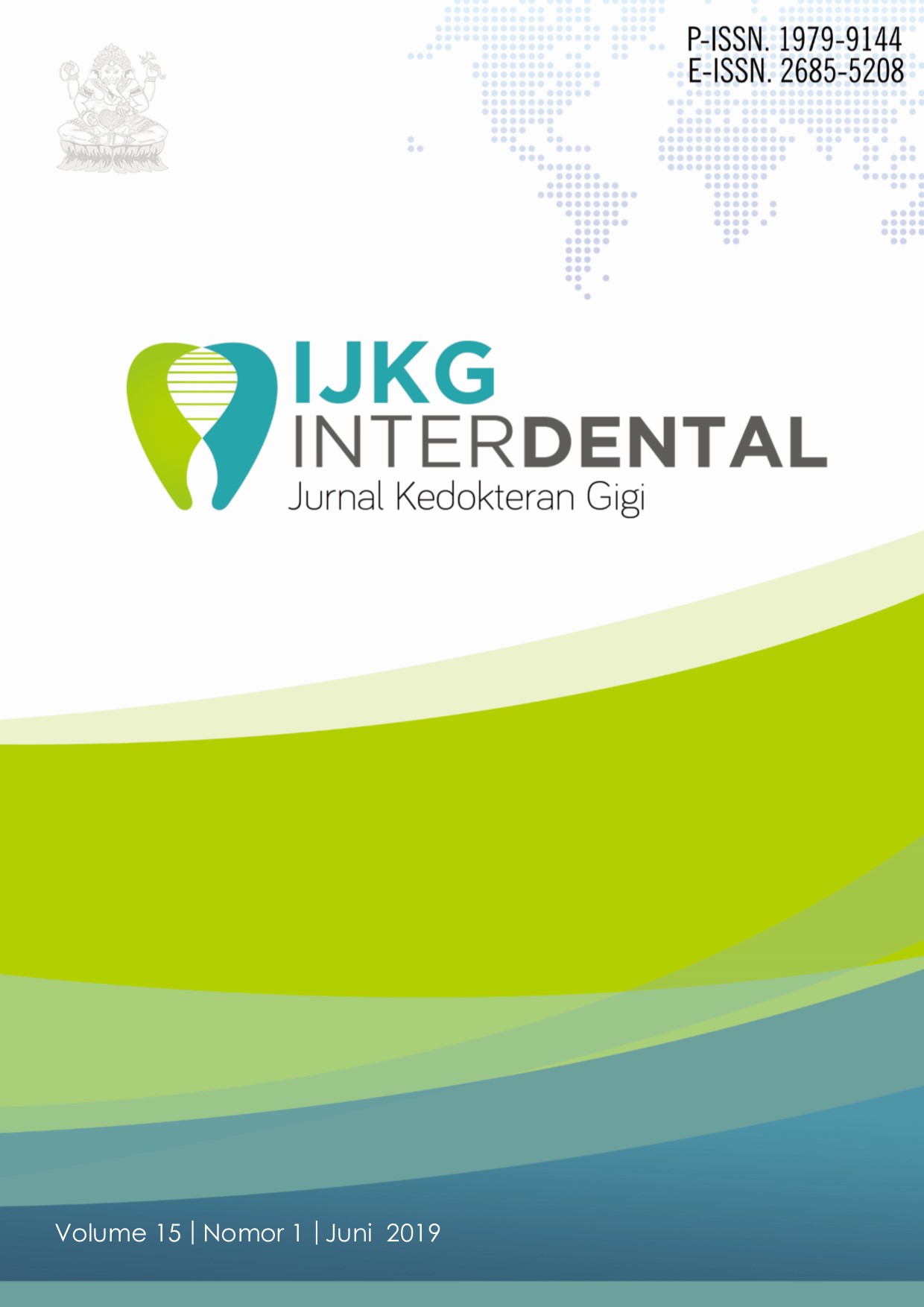 Downloads
How to Cite
Nasutianto, H. (2019). ASTAXANTHIN INCREASE AQP-5 MRNA LEVEL, SALIVARY FLOW RATE AND REDUCE F2-ISOPROSTANE LEVEL ON SUBMANDIBULAR GLAND OF WISTAR RATS WHICH IRRADIATED GAMMA RAYS. Interdental Jurnal Kedokteran Gigi (IJKG), 15(1). https://doi.org/10.46862/interdental.v15i1.335