CROWN DOWN PREPARATION TECHNIQUE WITH LARGE TAPER ENDODONTIC HAND INSTRUMENT
TEKNIK PREPARASI CROWN DOWN DENGAN LARGE TAPER ENDODONTIC HAND INSTRUMENT
Keywords:
Root canals preparation, crown down technique, large taper instruments
Abstract
Introduction: Root canal preparation is an important step in root canal treatment. The use of stainless steel K-Files is time-consuming and causes fatigue to patients and operators. The large taper endodontic hand instrument can be used as an option for another preparation instrument. The purpose of this article is to determine the advantages of using large taper endodontic hand instruments as a preparation instrument compared to conventional stainless steel K-Files. Case: The 24-year-old male patient presented with pain in his lower left tooth even though it was not used. Examination of teeth 35, percussion and press (+), palpation (-), CE (-), exploration of root canals with smooth broach (+). There was a radiolucent image in the distal crown that had reached the pulp chamber, radiolucency with a blurred border of 2mm in diameter at the periapical area, and the dilation of the periodontal ligaments along with the roots. Tooth 35 diagnosis was partial pulp necrosis
with periapical lesions. Case Management: Root canal treatment of teeth 35 using hand-used ProTaper with the crown down technique up to F4 WL = 21mm. Obturation with single cone technique with Endomethasone as a sealer. Discussion: The large taper instrument is very flexible and easily enters narrow and bent root canals, thus it can shorten the working time, reduce the risk of fatigue for patients and operators, improves the cleaning of the root canal system, and consistent root canal formation. The crown down technique used can reduce the risk of preparation errors, prevent debris extrusion and improve obturation quality. Conclusion: Root canal preparation using a large taper endodontic hand instrument can shorten the working time and reduce the risk of fatigue for patients and operators compared to preparations using conventional stainless steel K-File.
Downloads
Download data is not yet available.
References
Chandra BS, Khrisna VG. Grossman's Endodontic Practice, 12th Ed. New Delhi: Wolters Kluwer (India) Pvt. Ltd; 2010.
Diana S, Santosa P. Perawatan Satu Kunjungan Pada Premolar Pertama Atas Menggunakan Protaper Rotary dan Restorasi Resin Komposit. Maj Ked Gi. 2013; 20(1): 85-92.
Ruddle CJ. The ProTaper Technique. Endodontic Topics. 2005; 10:187-91.
Shanmugam CA, Purmal K, Alam MK, Aziz ZABCA. The Comparison of ProTaper and K-Flexofiles in Preparation of curved Canals: In Vitro Study. International Medical Journal. 2013; 20(4):507-13.
Sari DP. Pengambilan Gutta Percha Point Menggunakan Bahan Pelarut Minyak Jeruk yang Dikombinasi dengan Instrumen Manual. Jurnal PDGI. 2014; 63(3):88-95.
Kalra P, Rao A, Suman E, Shenoy R, Suprabha BS. Evaluation of conventional, protaper hand and protaper rotary instrumentation system for apical extrusion of debris, irrigants and bacteria- An in vitro randomized trial. J Clin Exp Dent. 2017; 9(2):254-9.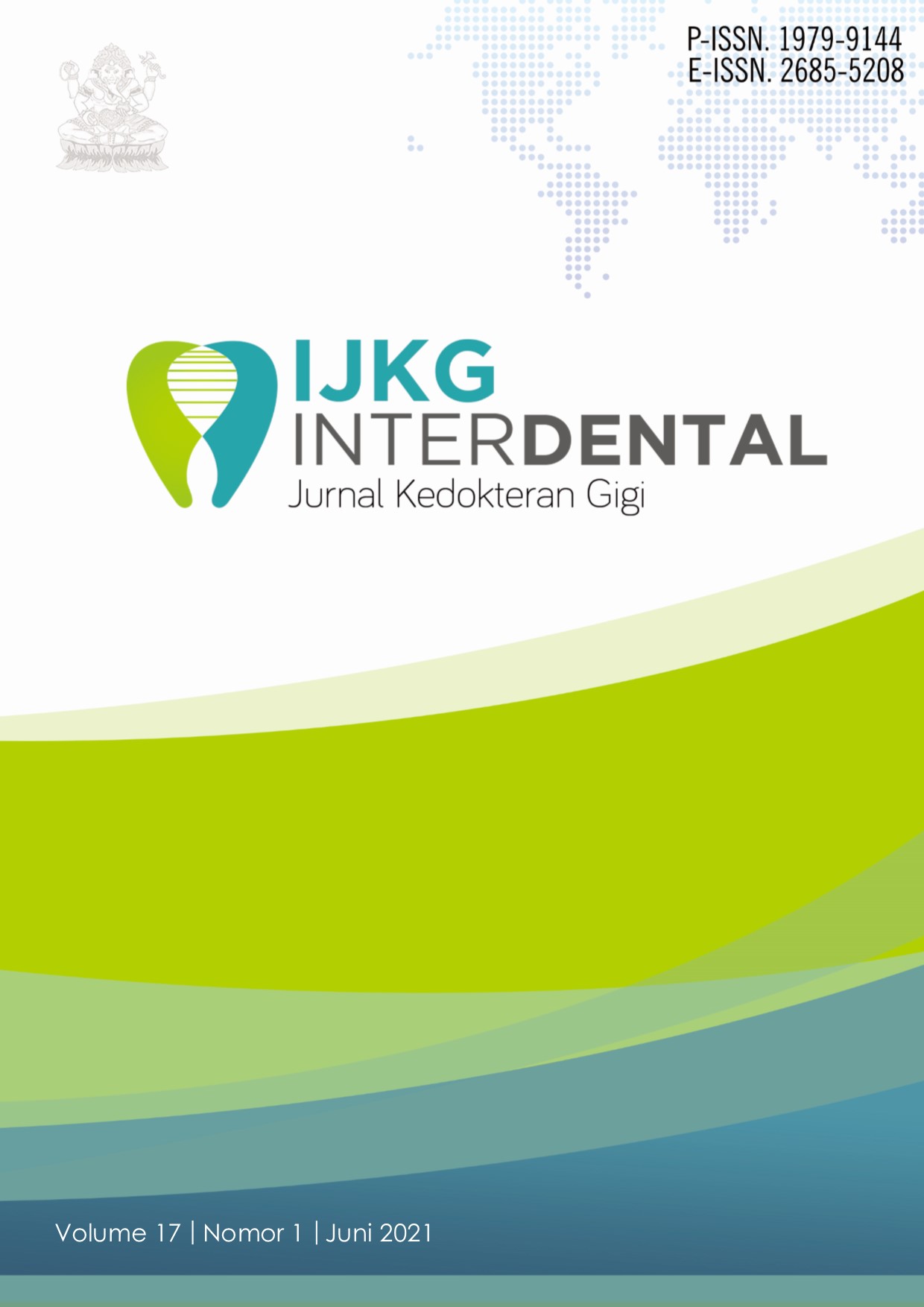 Downloads
How to Cite
Riany, A. (2022). CROWN DOWN PREPARATION TECHNIQUE WITH LARGE TAPER ENDODONTIC HAND INSTRUMENT : TEKNIK PREPARASI CROWN DOWN DENGAN LARGE TAPER ENDODONTIC HAND INSTRUMENT. Interdental Jurnal Kedokteran Gigi (IJKG), 17(1), 41–48. https://doi.org/10.46862/interdental.v17i1.2424