RED GINGER RHIZOME EXTRACT GEL IMPROVES COLLAGEN DENSITY POST EXTRACTION OF GUINEA PIG TEETH
GEL EKSTRAK RIMPANG JAHE MERAH MENINGKATKAN KEPADATAN KOLAGEN PASCA EKSTRAKSI GIGI MARMUT
Keywords:
Tooth extraction, red ginger extract, guinea pig
Abstract
Introduction: tooth extraction can cause injury involving the bone structure and soft tissue of the oral cavity. Tooth extraction can cause various complications, one of which is bleeding. Red ginger is a type of spice that is
most widely used in various food and beverage recipes. Red ginger is commonly used by the public as a cold, digestive, antipyretic, anti-inflammatory, and analgesic drug. Various studies have shown that ginger has antioxidant properties, flavonoids, and oleoresins found in the rhizome. The purpose of this study was to determine the effect of the concentration of red ginger extract (Zingiber Officinale Varr. Rubrum) on collagen density after extraction of guinea pig teeth (Cavia porcellus). Materials and method: the method of this research is an experimental in vivo laboratory with a post-test-only control group design. The hypothesis test was carried out by the One Way Anova test and was carried out on 24 male guinea pigs. The experimental animals were divided into 4 groups which were distinguished by concentration, 10%, 20%, 30%, and the control group was given 2% CMC-Na gel respectively. Results and discussions: The results showed that red ginger extract gel concentrations of 10%, 20%, and 30% can increase collagen density compared to CMC-Na 2%. Conclusion: the red ginger extract gel with a concentration of 30% was most effective at increasing collagen density compared to concentrations of 10% and 20%.
Downloads
Download data is not yet available.
References
Mawardi, H., Dalimi, L., Darmosumatro, S.mPengaruh Pemberian Ekstrak Propolis Secara Aplikasi Lokal pada Proses Pembentukan Serabut Kolagen Pasca Pencabutan Gigi Marmot (Cavia cobaya). Sains Kesehatan. 2002; 15(2): 171-84.
Dym H, Ogle O. Atlas of minor oral surgery. Philadelphia: W.B. Saunders Company; 2001.
Maryunani, A. Perawatan Luka Modern (Modern Woundcare) Terkini dan Terlengkap. Jakarta: In Media; 2015.
Sugiaman, V.K. Peningkatan penyembuhan luka di mukosa oral melalui pemberian Aloe Vera (Linn.) secara topikal. JMK. 11 (1); p 72-3: [internet]. Available from http:// majour. maranatha. edu/index. php/jurnalkedokteran/ article/ download / 907/ pdf. 2011.
Pusponegoro, Sjamsuhidajat, R. and De Jong,W. Buku Ajar Ilmu Bedah, 2nd ed. Jakarta: EGC; 2005.
Ross, M.H. Kaye, G. & Pawlina, W. Histology a text and atlas. Edisi ke-4. Philadelphia: Lippincott Williams and Wilkins; 2003.
Mercandetti M, Cohen A. Wound healing, healing and repair. E-Medicine (cited 2002 Oct 7).
Hapsoh dan Y. Hasanah. Budidaya tanaman obat dan rempah. Medan: USU Press; 2011.
Purwanto, B. Herbal dan Keperawatan Komplementer. Yogyakarta: Nuha Medika; 2013. p.108-9.
Wresdiyati T. Aktivitas Anti Inflamasi Oleoresin Jahe (Zingiber officinale) Pada Ginjal Tikus Yang Mengalami Perlakuan Stress. Jurnal Teknologi dan Industri Pangan. 2003; 14(2): 18-25.
Sadikim. R.Y., Sandhika, W., Doso, I. Pengaruh Pemberian Ekstrak Gel Jahe Merah Terhadap Jumlah Sel Makrofag dan Pembuluh Darah Pada Luka Bersih Mencit. Skripsi. Surabaya: Program Pendidikan Dokter, Fakultas Kedokteran Universitas Airlangga; 2018.
Hernani, M.T., Winarti, C. Pemilihan Pelarut pada Pemurnian Ekstrak Lengkuas (Alpinia galanga) ecara Ekstraksi, Jurnal Pascapanen. 2007; 4(1): 34-40.
Sabir, A. Pemanfaatan Flavonoid di Bidang Kedokteran Gigi. Majalah Kedokteran Gigi (Dental Journal). 2003; 36(1): 81-7.
Indraswary, R. Efek Konsentrasi Ekstrak Buah Adas (Foeniculum Vulgare Mill.) Topikal pada Epitelisasi Penyembuhan Luka Gingiva Labial Tikus Sprague Dawley In Vivo. [serial online] Okt- Des, 2011; 29 (1): [8 screens]. Available from: http:// unissula.ac.id /jurnal majalah ilmiah sultan agung vol xix Juli 2011 edisi khusus fkg/. Diakses pada hari Minggu, 30 Oktober 2018, Pukul 23.14 WITA.
Mutmainah, M., Franyoto, Y.D. Formulasi Dan Evaluasi Sabun Cair Ekstrak Etanol Jahe Merah (Zingiber Officinale Var Rubrum) Serta Uji Aktivitasnya Sebagai Antikeputihan. E- Publ. Fak. Farm. 2015; 12: 26–32.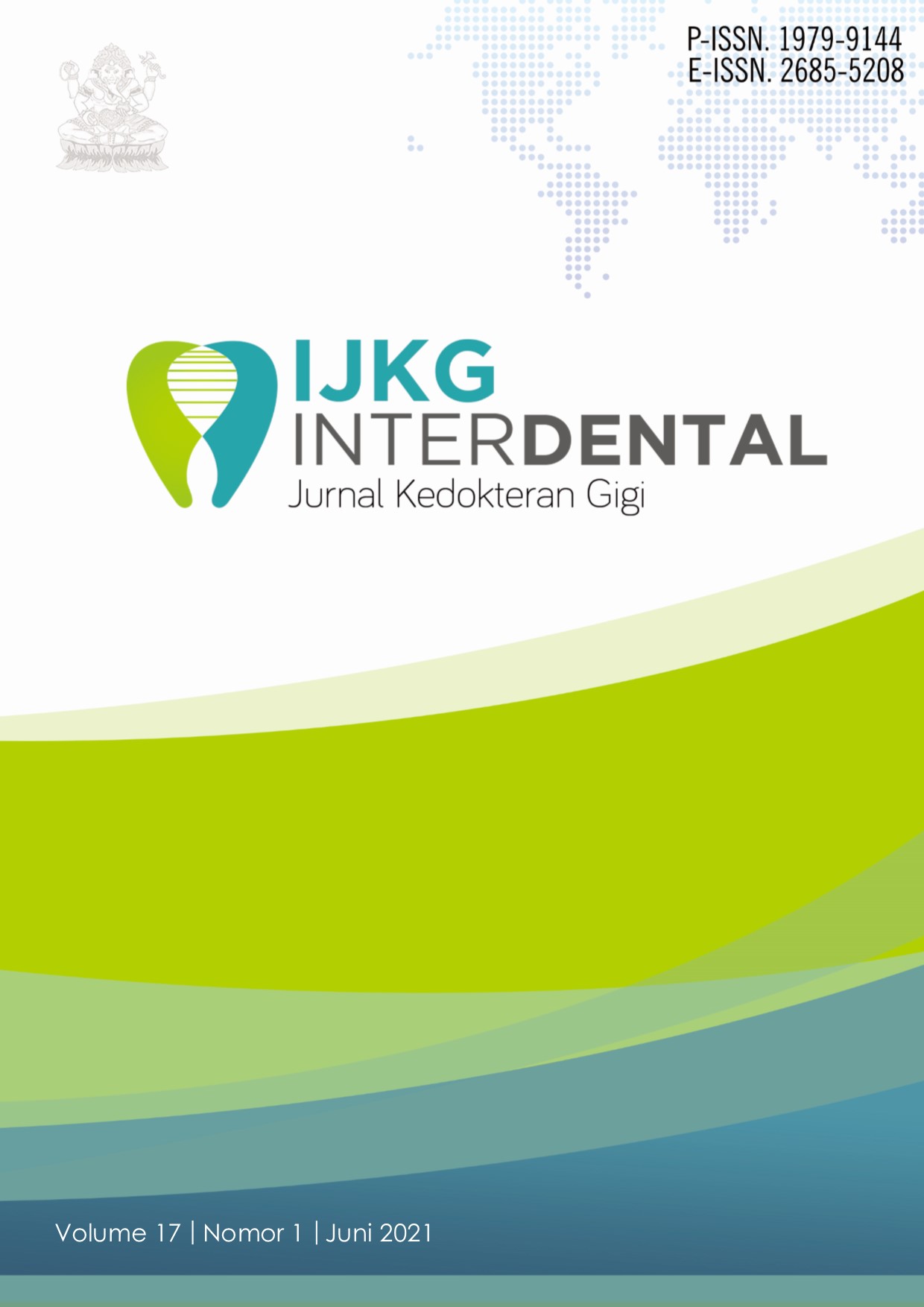 Downloads
How to Cite
Putu Dewi, S., & Ma'ruf, M. T. . (2022). RED GINGER RHIZOME EXTRACT GEL IMPROVES COLLAGEN DENSITY POST EXTRACTION OF GUINEA PIG TEETH : GEL EKSTRAK RIMPANG JAHE MERAH MENINGKATKAN KEPADATAN KOLAGEN PASCA EKSTRAKSI GIGI MARMUT. Interdental Jurnal Kedokteran Gigi (IJKG), 17(1), 1–8. https://doi.org/10.46862/interdental.v17i1.1190