THE EFFECTIVENESS OF BINAHONG (Anredera cordifolia (Ten.) steenis) LEAVES EXTRACT 25% AND 50% COMPARED TO TRIAMCINOLONE ACETONIDE DRUG ON MINOR RECURRENT APTHHOUS STOMATITIS (RAS) HEALING
PERBANDINGAN EFEKTIVITAS EKSTRAK DAUN BINAHONG (Anredera cordifolia (Ten.) steenis) 25% DAN 50% DIBANDINGKAN OBAT TRIAMCINOLONE ACETONIDE TERHADAP PENYEMBUHAN RECURRENT APHTHOUS STOMATITIS (RAS) MINOR
Keywords:
RAS minor, binahong leaf extract 25%, 50% and Triamcinolone acetonide
Abstract
Introduction: Recurrent Aphthous Stomatitis (RAS) is an inflammation of the soft tissues of the mouth characterized by recurren ulcers without symptoms of other diseases. Clinically, RAS is characterized by painful recurrent ulcerations of the oral mucosa that appear recurrently in
single or multiple numbers and have a red halo appearance that usually appears on the lip, cheek, lateral, and ventral mucosa of the tongue in the oral cavity. Triamcinolone acetonide is a prednisolone derivative and is considered an intermediate glucocorticoid. It is effective in reducing the signs and symptoms of many conditions of inflammation of the mouth, including RAS. Binahong contains active compounds of flavonoids, alkaloids, terpenoids, and saponins which have an antibacterial effect in inhibiting the growth of Streptococcus mutans and Staphylococcus aureus bacteria. Binahong leaf extract can be used as an alternative natural treatment for minor RAS. Purpose: This research compared the effectivity of extracts leaves Binahong (Anredera cordifolia (Ten.) Steenis) concentrations of 25%, 50% with Triamcinolone Acetonide in healing Recurrent aphthous stomatitis (RAS) minor. Materials and method: The research was pretest-posttest control group design, 30 samples divided into 3 treatment groups, where the treatment group I used Triamcinolone acetonide, treatment group II used 25% binahong leaf extract, and trea ment group III used 50% Binahong leaf extract. Data were analyzed with a parametric statistical test of paired sample T-test and showed that there was a significant decrease in RAS diameter in groups I, II, and III (p<0.05). Result: The mean difference of RAS diameter between-group in order 2.7mm for the first treatment group, in the second treatment group, was 1.3mm and 2.2mm for the third treatment group. Analysis with Oneway ANOVA showed that after the treatment was given to the three groups, there was a significant average difference of the minor RAS diameter decrease (p <0.05). Conclusion: The results showed that Triamcinolone acetonide was more effective in accelerating the healing of minor RAS than 25% and 50% binahong leaf extract.
Downloads
Download data is not yet available.
References
Glick, M. Burket's Oral Medicine, 12nd Edition, USA: People's Medical Publishing House, Ltd; 2015. p. 627.
Beguerie, J. R. Sabas, M. Recurrent aphthous stomatitis: an update on etiopathogenia and treatment. J Dermatol Nurse's Assoc; 2015: 7: 8-12.
Scully, C. Porter, S. Oral mucosal disease:recurrent aphthous stomatitis, J Oral Maxillofac Surg. 2008: 198 – 206.
Lewis, M. A. O. Lamey, P. J. Tinjauan Klinis Penyakit Mulut (Clinical Oral Medicine), Cetakan I. Alih bahasa Elly Wiriawan. Jakarta: Widya Medika; 1998. hal. 93.
Gandolf, S. Scully, C. Carrozo, M., Oral medicine. USA: 2006. hal. 43.
Scully, C.Oral and Maxillofacial Medicine. 2nd Ed. Elsevier; 2012 hal. 151.
Regezi, A. J., Sciubba, J. J., Jordan, R. C. K. Oral Pathology. 6th Ed. Elsevier; 2012. p. 38.
Preeti, L., Magesh, K., Rajkumar, K., Karthik, R. Recurrent Aphthous Stomatitis. J Oral Maxillofac Pathol. 2011; 15(3): 252–6.
Li, C., Huang. H., Wang, W., Hua, H. Efficacy and safety of topical herbal medicine treatment on recurrent aphthous stomatitis: a systemic review. National Center for Biotechnology Information U.S: National Library of Medicine; 2016.
Meng, W., Dong, Y., Liu, J., Wang, Z., Zhong, X., Chen, R.I., Zeng, X. A clinical evaluation of amlexanox oral adhesive pellicles in the treatment of recurrent aphthous stomatitis and comparison with amlexanox oral tablets: A randomized, placebo controlled, blinded, multicenter clinical trial. Trials; 2009. p.10.
Putri. Pemanfaatan obat herbal topikal pada recurrent aphthous stomatitis dengan pertimbangan manfaat dan keamanannya. Makassar Dent J. 2015; 4(5): 158-167.
Umar, A., Krihaniyani, D., Mutiarawati, D.T. Pengaruh pemberian ekstrak daun binahong (Andredera Cordifolia (TEN) steenis) terhadap kesembuhan luka infeksi Staphylococcus aureus pada mencit. Jurnal Analisa Kesehatan Sains. 2012; 1(2): 68-74.
Rimporok, S., Kepel, B.J., Siagian, K.I. Uji Efektivitas ekstrak Daun binahong (Anredera cordifolia steenis) terhadap pertumbuhan Stretococcus mutans secara invitro. Jurnal Ilmiah Farmasi. 2015; 4(4): 20-21.
14. Sabir, A. Pemanfaatan Flavonoid di Bidang Kedokteran Gigi. Dent Journal. 2003; 36(1): 81-7.
Prasiska, I. Efek Eksrak Daun Binahong 5% Terhadap Penyembuhan Stomatitis Aftosa Rekuren Minor pada Pasien RSGM USU, Sumatra Utara: Fakultas Kedokteran Gigi; 2017. hal. 32-6.
Paju, N., Yamlean, P.V.Y., Kojong, N. Uji Efektivitas Salep Ekstrak Daun Binahong (Anredera cordifolia (Ten.) Steenis) pada Kelinci (Oryctolagus cuniculus) yang Terinfeksi BakteriStaphylococcus aureus. Jurnal Ilmiah Farmasi Manado. 2013; 2(1): 59.
Sumintarti, Marlina, E. Hubungan antara level estradiol dan progesteron dengan stomatitis aftosa rekuren. Dentofasial. 2012; 11(3): 137-140.
Selawa, W. Runtuwene, M. R. J. Citraningtyas, G.kandungan Flavonoid dan Kapasitas Antioksidan Total Ekstrak Etanol Daun Binahong [Anredera cordifolia(Ten.)Steenis.]. Jurnal Ilmiah Farmasi. 2013; 2(1): 19-21.
Brocklehurst, P., Tickle, M., Glenny, A. M., Lewis, M. A., Pemberton, M. N., Taylor, J.I., Yates, J. M. Systemic interventions for recurrent aphthous stomatitis (mouth ulcers). Cochrane Database of Systematic Reviews. 2012; 9.
Ferdian, E., Soenarjo, & Budiono, U. Perbandingan Penggunaan Triamcinolone Acetonide Dan Lidocaine Pada Pipa Endotrakea Terhadap Angka Kejadian Nyeri Tenggorok Pasca Intubasi Pada Anestesi Umum. Jurnal Anestesiologi Indonesia.. 2014; 4(3):184.
Hamed, H., Ali, N., Saeed, G., Maryam, K.
Triamcinolone Acetonide Oromucoadhesive Paste for Treatment of Apthous Stomatitis. Adv Pharm Bull. 2015; 5 (2): 277-282.
Sugiyono. Metode Penelitian. Bandung: CV Alfa Beta; 2012.
Shafer, W. G., Hine, M. K. & Levy, B. M.
Shafer's Textbook Of Oral Pathology. 6th Ed. India: Elsevier; 2009. P. 662-6.
Amtha, R., Marcia, M., Aninda, A.I. Plester Sariawan Efektif dalam Mempercepat Penyembuhan Stomatitis Aftosa Rekuren dan Ulkus Traumatikus. Majalah Kedokteran Gigi Indonesia. 2017; 3(2): 69-70.
Mardiana, L. Daun Ajaib. Jakarta: Penebar Suwadaya; 2013. hal. 97-109.
Mutiara, G., Nurdiana, Utami, Y.W. Efektivitas hidrogel binahong (Andredera Cordifolia (Ten) Steenis) terhadap penurunan jumlah makrofag pada penyembuhan luka fase proliferasi tikus putih (Rattus norvegicus) galur wistar kondisi hiperglikemik. Majalah Kesehatan FKUB; 2015. hal.29-39.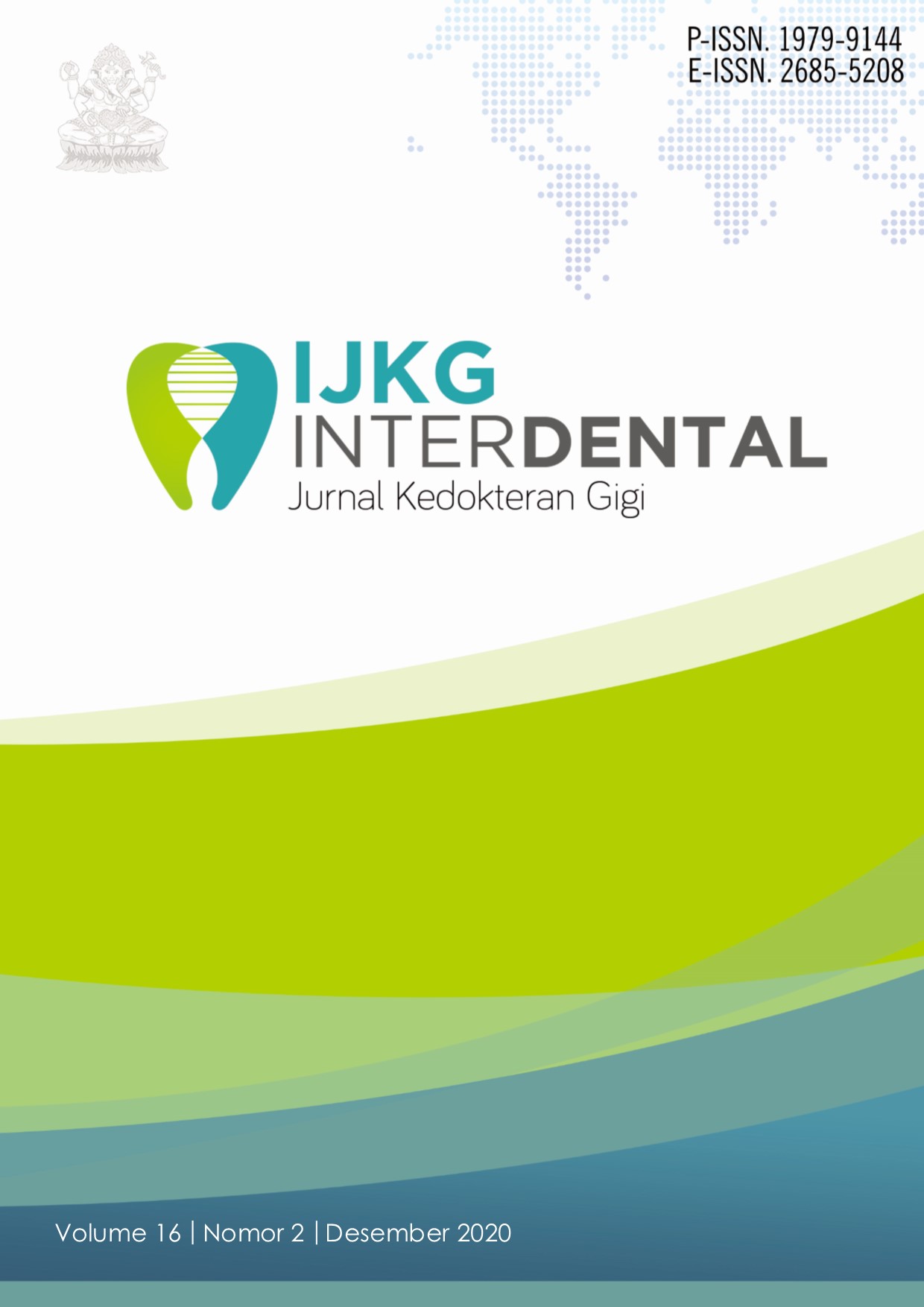 Downloads
How to Cite
Ni Nyoman Gemini Sari, Kemala Dewi, I. ., & Trimulyani , K. A. . (2020). THE EFFECTIVENESS OF BINAHONG (Anredera cordifolia (Ten.) steenis) LEAVES EXTRACT 25% AND 50% COMPARED TO TRIAMCINOLONE ACETONIDE DRUG ON MINOR RECURRENT APTHHOUS STOMATITIS (RAS) HEALING : PERBANDINGAN EFEKTIVITAS EKSTRAK DAUN BINAHONG (Anredera cordifolia (Ten.) steenis) 25% DAN 50% DIBANDINGKAN OBAT TRIAMCINOLONE ACETONIDE TERHADAP PENYEMBUHAN RECURRENT APHTHOUS STOMATITIS (RAS) MINOR . Interdental Jurnal Kedokteran Gigi (IJKG), 16(2), 52–60. https://doi.org/10.46862/interdental.v16i2.1125