CAMPUR KODE DALAM LIRIK LAGU MILIK JKT48 KARYA YASUSHI AKIMOTO
Keywords:
code mixing, JKT48, lyric
Abstract
This research aims to determine the form of code mixing and the factors that cause code mixing in the lyrics of the song JKT48 by Yasushi Akimoto.  In this research using sociolinguistic theory.  Then, this research uses data collection methods and techniques used are the listening method and the note-taking technique. Methods and techniques of data analysis using descriptive qualitative method.  This research uses the method of presenting the results of data analysis informally.  Based on the results of the analysis, it was found that there were several forms of code mixing including the insertion of word elements, the insertion of phrase elements, the insertion of repetition of words, and the insertion of sentence elements.  There are factors that cause code mixing, including because there are no appropriate words to explain the word and informal situation factors.
References
Akhii, Rahayu dan Wulandari.2018.Campur Kode dan Alih Kode dalam Percakapan di Lingkup Perpustakaan Universitas Bengkulu. Jurnal Ilmiah Korpus, 10(1), 45-55.
https://ejournal.unib.ac.id/index.php/korpus/article/view/5556
Chaer, Abdul dan Leonie Agustina. 2010. Sosiolinguistik Perkenalan Awal. Jakarta: Rineka Cipta.
Dewi, Sifta Sari dan Pujiono, Muhammad. 2018. Analisis Campur Kode dalam Lirik Lagu Gentleman oleh Boyband Shinne Karya Junji Ishiwatari. Izumi, 7(1), 22- 34. https://ejournal.undip.ac.id/index.php/izumi/article/download/17185/pdf
Ernawati, Ni Luh. 2018. Campur Kode Bahasa Jepang Oleh Penutur Bahasa Indonesia di Jejaringan Sosial Facebook. Linguistika, 49(25), 101-111. https://ojs.unud.ac.id/index.php/linguistika/article/view/50643
Kawaii, Tafi. 2015. Kamus Kosakata Serapan Bahasa Jepang. Yogyakarta: Trans Idea Publishing.
Matsuura, Kenji. 1994. Kamus Bahasa Jepang-Indonesia. Japan: Kyoto Sangyo University Press.
Nababan, P.W.J. 1993 . Sosiolinguistik: Suatu Pengantar. Jakarta: Gramedia.
Putriani, Adnyani dan Hermawan. 2019. Analisis Campur Kode Pada Lirik Lagu BabyMetal. Jurnal Pendidikan Bahasa Jepang Undiksha, 5(2), 101-113.
https://ejournal.undiksha.ac.id/index.php/JJPBJ/article/view/18611/13719
Sugiyono. 2010. Metode Penelitian Pendidikan Pendekatan Kuantitatif Kualitatif, dan RND. Bandung: Alfabeta.
Sutedi, Dedi. 2011. Dasar-Dasar Linguistik Bahasa Jepang. Bandung: Humaniora Utama Press.
Yogyanti, Devita Widyaningtyas. 2018. Penggunaan Campur Kode dan Alih Kode Mahasiswa Sastra Jepang dalam Akun Grup Facebook. Jurnal Wanastra, 10(1), 65-70. https://ejournal.bsi.ac.id/ejurnal/index.php/wanastra/article/view/2702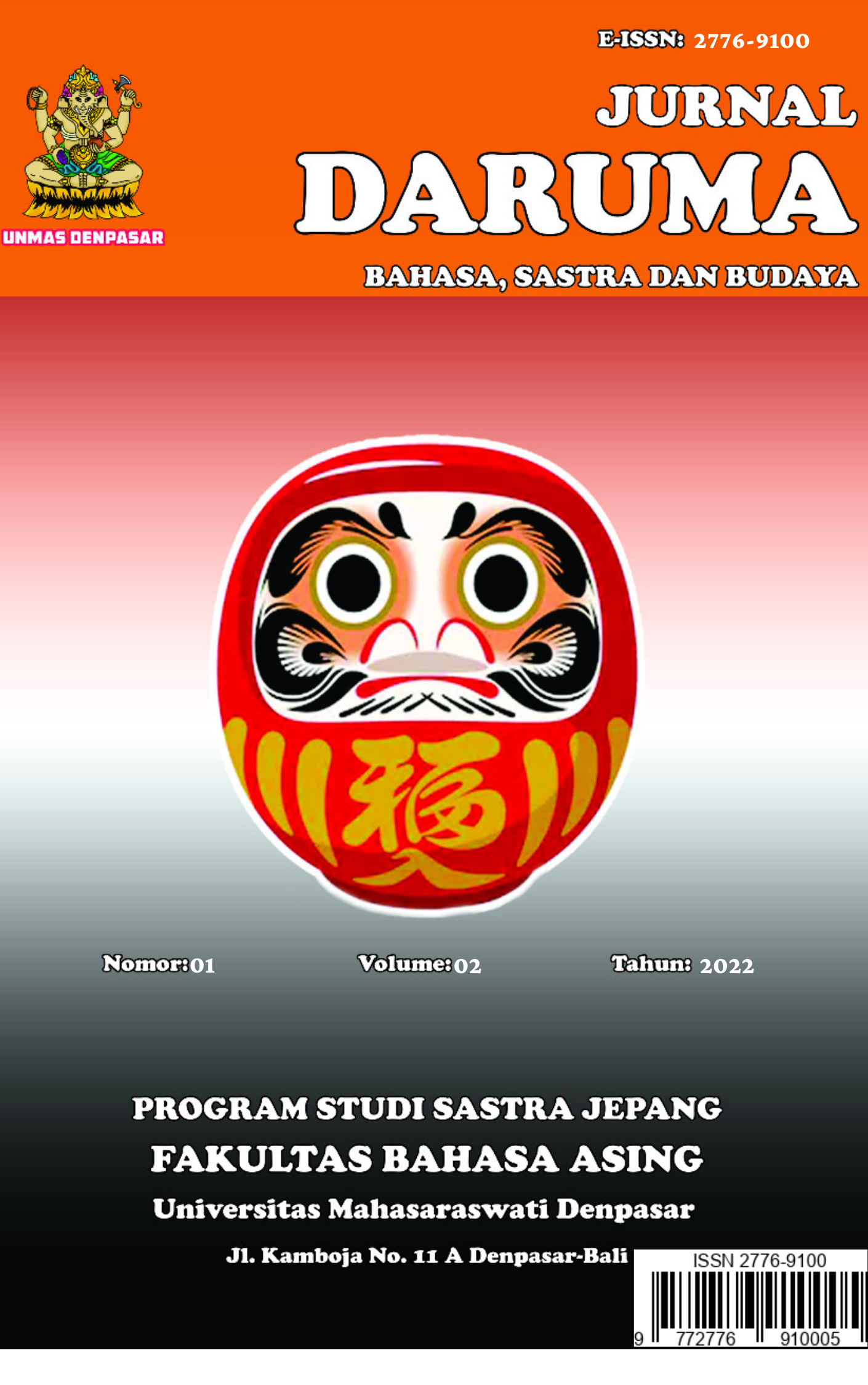 Downloads