KEINDAHAN BAHASA MELALUI PENGGUNAAN DIKSI DAN GAYA BAHASA PADA LIRIK LAGU "KOKKYU" DALAM ALBUM "PLAY" KARYA MASAKI SUDA
Keywords:
beauty of language, diction, language style, album
Abstract
his article analyzes and describes the beauty of language through the use of diction and language style in the lyrics of the song "Kokkyu" in the album "Play" by Masaki Suda. This article uses the stylistic theory proposed by Burhan Nurgiyantoro (2014). The data collection methods and techniques used in this article are the listening method with the note-taking technique. Meanwhile, the methods and techniques of data analysis, analyzed with descriptive methods and qualitative techniques. The method of presenting the results of data analysis using informal methods. The results of the analysis in this article, there are five beauties of language, namely, pleasant, touching, thrilling, touching and satisfied. There are four types of diction found, namely, diction based on connotative and denotative meanings, also diction based on lexical structures such as hyponyms and hypernyms. Then, there are three types of figurative language, namely, metaphor, rhetorical question, and antithesis.
References
Karyadi, Cahya Agung, dan Sulistyani Putri Rahmadhani. 2020. Pengembangan Keterampilan Sendratasik Untuk Guru Sekolah Dasar. Jakarta: Universitas Trilogi.
Keraf, Gorys. 2001. Diksi dan Gaya Bahasa. Jakarta: Gramedia Pustaka Utama.
Matsuura, Kenji. 1994. Nihongo Indonesia Jiten. Kyoto: Kyoto Sangyou Daigaku Shuppankai.
Nurgiyantoro, Burhan. 2018. Stilistika. Yogyakarta: Gajah Mada University Press.
Ratna, Nyoman Kutha. 2009. Stilistika Kajian Puitika Bahasa, Sastra, dan Budaya. Yogyakarta: Pustaka Pelajar.
Sugiyono. 2014. Metode Penelitian Kuantitatif, Kualitatif, dan R&D. Bandung: Alfabeta.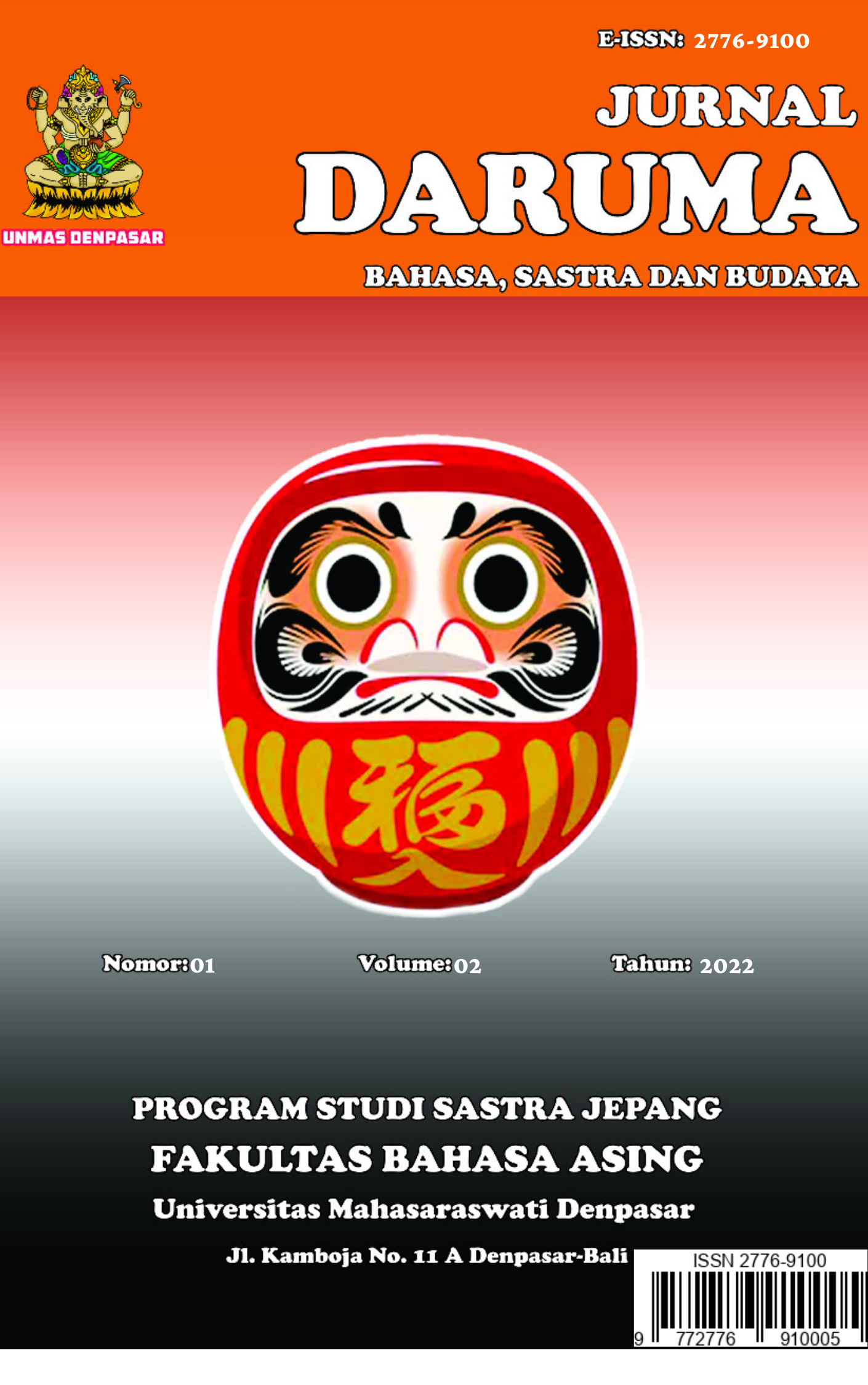 Downloads