KARAKTERISTIK KEPEMIMPINAN YAMAMOTO ISOROKU DALAM FILM RENGOU KANTAI SHIREI CHOUKAN YAMAMOTO ISOROKU
Keywords:
Yamamoto Isoroku, Leadership, Characteristics,
Abstract
This article discusses the leadership characteristics of Yamamoto Isoroku in the film Rengo Kantai Shirei Choukan Yamamoto Isoroku. Using a qualitative method with a structural approach that provides a comprehensive picture of the object under study based on Maxwell's leadership theory which has five levels, namely position, permission, production, people development and pinnacle. Based on the research results, results and conclusions in the film Rengou Kantai Shirei Choukan Yamamoto Isoroku depicts Yamamoto Isoroku as a leader who has a natural talent for leadership, a strategist, loyal to his duty and country, a respected and trusted leader, able to listen to his subordinates and can maintain relationships good. the same as those they lead. Be an example of a leader who can build enthusiasm and can develop the potential of the people he leads, contributing to the success of his organization by changing the way they interact with others to become leaders who can change the world.
References
Irawanto, Budi. 2017. Film, Ideologi, Dan Militer : Hegemoni Militer Dalam Sinema Indonesia. 2nd ed. ed. Tomi Wibisono. Yogyakarta: Jalan Baru.
Maxwell, John C. 2015. 21 Hukum Kepemimpinan Sejati. 4th ed. ed. Jesse Lantang. Jakarta: Immanuel.
———. 2016. The 5 Levels of Leadership. 1st ed. ed. Esther M. Tanuadji. Surabaya: PT. Menuju Insan Cemerlang.
Narushima, Izuru. 2011. Rengou Kantai Shirei Choukan Yamamoto Isoroku. Jepang: Toei Company.
Soekanto, Soerjono. 2006. Sosiologi Sastra Pengantar. Jakarta: Raja Grapindo Persada.
Soemanagara, Syam. 2003. "Kepemimpinan Militer : Sejarah Singkat, Nilai, Prinsip Dan Ciri Khusus." Jurnal Manajerial 2(Kepemimpinan Militer): 29. https://ejournal.upi.edu/index.php/manajerial/article/download/16465/9246.
Teeuw, Andries. 2017. Sastra Dan Ilmu Sastra : Pengantar Teori Sastra. 6th ed. Bandung: Dunia Pustaka Jaya.
Zaim, M. 2014. "Metode Penelitian Bahasa: Pendekatan Struktural." In ed. Ermanto. Padang: FBS UNP Press Padang, 195. http://repository.unp.ac.id/id/eprint/1830.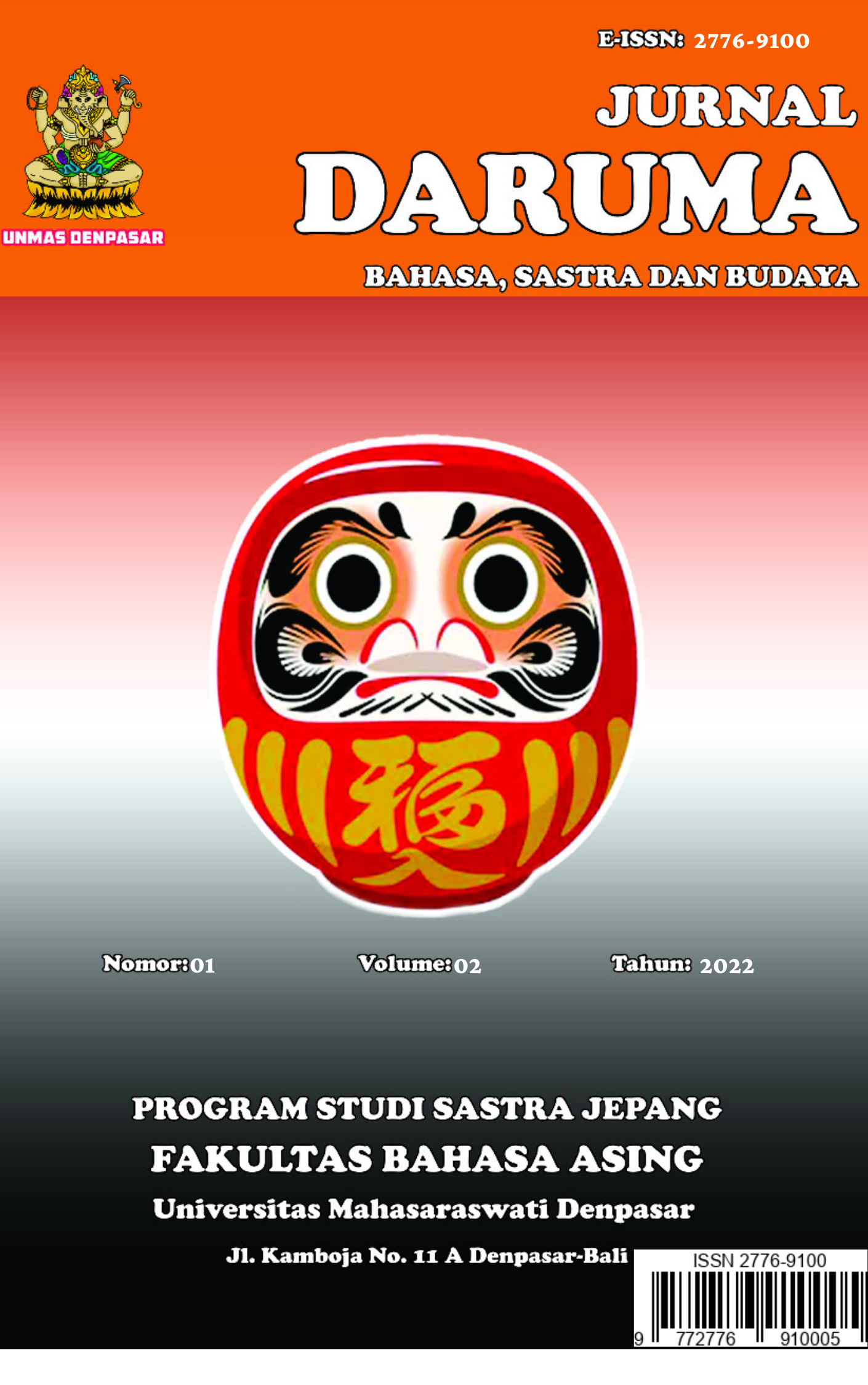 Downloads