STUDI RENCANA PEMBANGUNAN SHORTCUT JEMBATAN YEH OTAN DI KABUPATEN TABANAN
Keywords:
Bridge shortcut, Development plan, Yeh Otan
Abstract
Vehicle growth is increasing, the terrain is rising and a sharp turn on the Denpasar - Gilimanuk road, precisely in Bajera Village, Tabanan Regency has resulted in delays, traffic congestion and traffic accidents. To overcome the planned construction of Yeh Otan bridge shortcuts in Tabanan Regency. The purpose of this study is to analyze topography, evaluate vehicle travel time and operational costs and analyze strengths, weaknesses, opportunities and threats from locations, socio-economic aspects and community participation. Methods collecting data by means of observation, interviews, questionnaires, documentation and literature. The analytical method consists of analysis of Geographic Information Systems, qualitative descriptive and SWOT. The results of this study are planned shortcuts in hilly terrain. Vehicle travel time is more efficient 0.02093 hours or 1.2558 minutes and reduces vehicle operating costs, namely passenger cars Rp. 1,329.19, bus Rp. 2,623.09, trucks Rp. 4,690.84 and motorbikes Rp. 256.60. The combined results of the SWOT EFAS and IFAS matrices are quandran I, which are locations where communities support planning locations, socio-economic aspects where the development of short cuts is an opportunity to get jobs and aspects of community participation where development is supported by the community and the government continues to improve land acquisition system.
References
Adisasmita, A.S. 2011. Transportasi dan pengembangan wilayah, Yogyakarta: Graha ilmu
Aisyah, dkk. 2012. Jurnal Perencanaan Pembangunan Jalan Lingkar Luar Barat di Kota Surabaya, diakses tgl 9 Maret 2017
Kodoatie, R.J. 2003. Manajemen dan Rekayasa Infrastruktur, Yogyakarta : Pustaka Pelajar
Suparsa, I.N. 2015, Studi Pembangunan Jalan IKK Nisa Penida Kabupaten Klungkung. Denpasar. Universitas Mahasaraswati
Toni Oktora. 2011. Persepsi Masyarakat terhadap Pembangunan Jalan Lingkar Kota Solok Provinsi Sumatra Barat. Semarang. UNDIP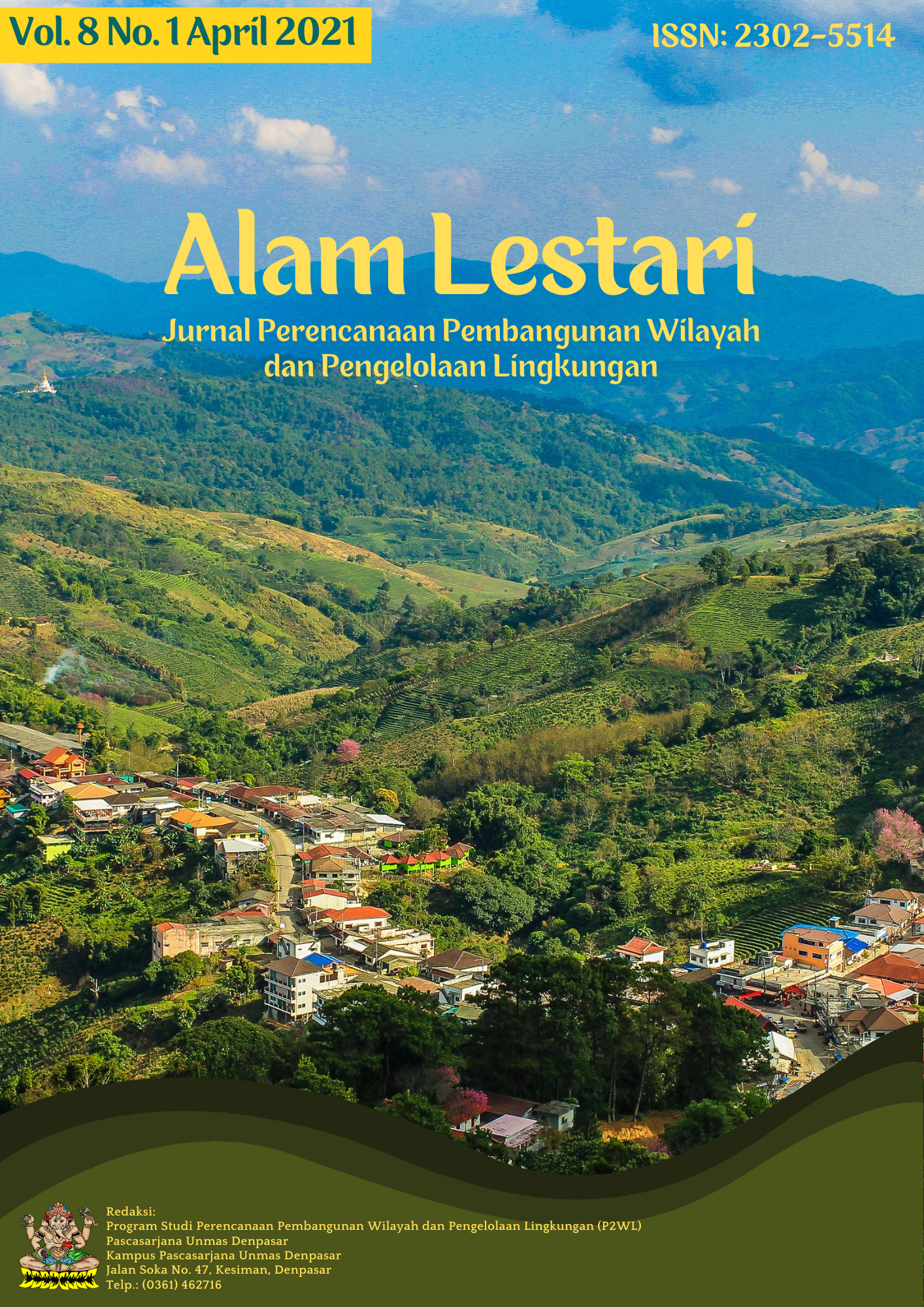 Downloads
How to Cite
Sudarmi, N. M., Vipriyanti, N. U., Sukerta, I. M., & Partana, I. G. M. (2021). STUDI RENCANA PEMBANGUNAN SHORTCUT JEMBATAN YEH OTAN DI KABUPATEN TABANAN. Jurnal Alam Lestari, 8(1), 19–26. Retrieved from https://e-journal.unmas.ac.id/index.php/alamlestari/article/view/4355