INNOVATION OF TECHNOLOGY AND INSTITUTIONS FOR SUSTAINABILITY OF TILAPIA NURSERY FARMING IN SANDING VILLAGE, TAMPAKSIRING DISTRICT, GIANYAR REGENCY
Keywords:
technological innovation, innovative institute, tilapia nursery farming, partnership, upstream, downstream
Abstract
The research of innovation of technology and institutional for sustainability of tilapia nursery farming, backed by the fact of tilapia nursery farming facing problems concerning the production capacity and institutional group. Solutions to the problems are formulated in the following research objectives: (1) to analyze the optimization of fish stocking stock density and commercial feed dose on tilapia nursery farming; and (2) to analyze innovative institutions for strengthening the existence of tilapia fishers.
Optimal doses of commercial and optimum density feeds were approached by experimental studies with factorial randomized block design, which tested the combination of feed dosage at three levels and stocking solids at three levels with three replications. The objective of the 2nd research (to analyze the innovative institute for strengthening the existence of tilapia fishers was approached by survey research Surveys were carried out on 30 indigenous tilapia farmers who have been producing tilapia seeds. Effect of commercial feed dose and fish stocking density on the growth rate and the survival of tilapia seeds were analyzed using variance analysis. The innovative institutional for tilapia fishers in order to strengthen their existence was analyzed using descriptive analysis.
The results showed that (1) the growth rate and survival of tilapia seed were influenced by stocking density, while the feed dose did not influence and there was no effect of interaction between stocking density with feed dose to growth rate and survival rate of tilapia seed. (2) innovative institutional for tilapia seed breeder in strengthening its existence is in the form of upstream and downstream partnership.
Downloads
Download data is not yet available.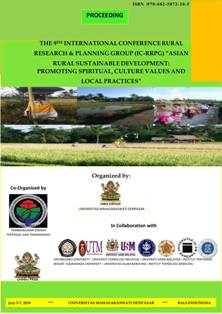 Downloads