ANALYSIS OF FACTORS AFFECTING THE LEVEL OF CREDIT RETURNS BY MICRO SMALL AND MEDIUM ENTERPRISES (CASE STUDY in LPD VILLAGE DESA ADAT CANGGU)
Keywords:
SMEs, Education Level, Total Family Count, Business Income, lenght of Business, Business Type, Loan Amount
Abstract
The Indonesian economy is supported by small, medium and small scale business units often called SMEs. The number of SMEs helps the growth of national income and able to reduce unemployment in Indonesia. One of the weaknesses of MSMEs is the limited capital to expand its business. This can be solved with the help of financial credit to help the capital of MSMEs. The problem is the number of cases of credit arrears is done by various factors namely the level of education, the number of family dependents, income, length of business, type of business and loan amount. The purpose of this study is to test and provide information about what is needed for credit repayment by MSMEs.
This research using simple random sampling technique as much as 86 debtors. Data collection methods in this study using questionnaires. Data analysis technique used is logistic regression.It is found that the increase of education level and the number of family dependent have positive effect on the return of bad credit. . While business income, length of business, type of business and loan amount does not affect the credit repayment of SMEs in LPD Desa Adat Canggu.
Downloads
Download data is not yet available.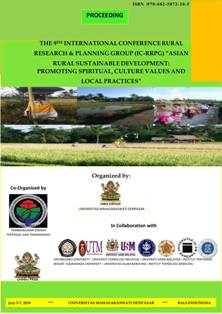 Downloads