PERBEDAAN KECEPATAN ADSORPSI DARAH GOLONGAN O PADA TIGA JENIS MEMBRAN YANG TIDAK DAN DIREHIDRASI SALINE
Harly Prabowo

Staf Pengajar Departemen Prostodonsia Fakultas Kedokteran Gigi Universitas Airlangga, Surabaya

Harry Laksono

Staf Pengajar Departemen Prostodonsia Fakultas Kedokteran Gigi Universitas Airlangga, Surabaya

Ratri Maya Sitalaksmi

Staf Pengajar Departemen Prostodonsia Fakultas Kedokteran Gigi Universitas Airlangga, Surabaya

Viola Stevy Setiyana

Mahasiswa Program Sarjana Fakultas Kedokteran Gigi Universitas Airlangga , Surabaya

Zaravia Dewanty

Mahasiswa Program Sarjana Fakultas Kedokteran Gigi Universitas Airlangga , Surabaya

Nadya Savira Giyansyah

Mahasiswa Program Sarjana Fakultas Kedokteran Gigi Universitas Airlangga , Surabaya
Keywords:
saline, adsorption speed, type O blood, collagen membrane, pericardium membrane, cortical membrane.
Abstract
Tooth extraction and periodontal disease is the most common cause of alveolar bone resorption. A technique has developed to gain the bone volume back, called Guided Bone Regeneration (GBR). GBR combine the application of bone graft particles and a barrier membrane, to protect bone regeneration from soft tissue invasion that grows faster. Collagen, pericardium, and cortical membranes are resorbable membranes that can be used in the GBR technique. Blood is an essential component of any regeneration that takes place in human body. Before the membrane is applied, it is usually be rehydrated with saline to flex the membrane so that easily applied. To observe the effect of saline rehydration on the O type blood adsoption speed on collagen, pericardium, and cortical membranes. Collagen, pericardium, and cortical membranes each 14 membranes and 2×1.5 cm in size were divided into two groups, 7 samples for group membranes without saline rehydration and 7 samples for group membranes with saline rehydration. Each group samples were submerged in 75 ml blood. The measurement of the O type blood adsorption speed was examined in 10 minutes for each group. The data was analyzed using Independent T-Test and resulted a significance value of less than 0.05 (Sig<0.05). It shows a significant difference between the control group and the treatment group. There is a difference in the speed of type O blood adsorption between collagen, pericardium, and cortical membranes with and without saline rehydration.Membrane with saline rehydration has a faster blood adsorption speed so that it is less good as a barrier membrane.
Downloads
Download data is not yet available.
References
Amrullah SSA, Sani R, Arifin N, Ruslin M. Augmentasi Tulang Alveolar eengan Osteogenesis Distraksi. Dentofasial. 2012;11(3): 174-179.
Sheikh Z, Sima C, Glogauer M. Bone replacement materials and techniques used for achieving vertical alveolar bone augmentation. Materials (Basel). 2015;8(6): 2953-2993. doi: 10.3390/ma8062953
Stok J Van Der. Bone Graft Substitutes Developed for Trauma and Orthopaedic Surgery. Ned Tijdschr Traumachir. 2015;23(4): 6169. doi:https://doi.org/10.1007/s12506-015-0024-y
Liu J, Kerns DG. Mechanisms of Guided Bone Regeneration: A Review. Open Dent J. 2014;8: 56-65. doi:10.2174/1874210601408010056
Kumar P, Vinitha B, Fathima G. Bone grafts in dentistry. Bone Graft Dent. 2013;5(1): 125-128. doi:10.4103/0975-7406.113312
Rozalia D, George I. M, Giorgio M. C, Peter V. G. The role of barrier membranes for guided bone regeneration and restoration of large bone defects: Current experimental and clinical evidence. BMC Med. 2012;10. http://www.biomedcentral.com
Lee SW, Kim SG. Membranes for the Guided Bone Regeneration. Maxillofac Plast Reconstr Surg. 2014;36(6): 239-246. doi:http://dx.doi.org/10.14402/jkamprs.2014.36.6.239
Hitti RA, Kerns DG. Guided Bone Regeneration in the Oral Cavity : A Review. Open Pathol J. 2011;5(1): 33-45.
Kamadjaja DB, Harijadi A, Soesilawati P, et al. Demineralized Freeze-Dried Bovine Cortical Bone: Its Potential for Guided Bone Regeneration Membrane. Int J Dent. 2017; 2017.
Wessing B, Urban I, Montero E, et al. A Multicenter Randomized Controlled Clinical Trial Using A New Resorbable Non-cross-linked Collagen Membrane For Guided Bone Regeneration At Dehisced Single Implant Sites: Interim Results Of A Bone Augmentation Procedure. Clin Oral Implants Res. 2016: 1-9. doi:10.1111/clr.12995
Widjajakusumah, M dan Tanzil, Antonia, (Ed). Guyton Dan Hall Buku Ajar Fisiologi Kedokteran. 12th ed. Elsevier (Siangapore) Pte Ltd; 2016.
Wang Z, Dou M, Du X, Ma L, Sun P, Cao H, Ye S, Jiang P, Liu F, Lin F, Zhang F, Li C. Influences of ABO Blood Group, Age, and Gender on Plasma Coagulation Factor VIII, Fibrinogen, Von Willebrand Factor and ADAMTS13 Levels in A Chineese Population. Peer J. 2017;5: e3156. doi:10.7717/peerj.3156
Syauqiah I, Amalia M, Kartini HA. Analisis Variasi Waktu Dan Kecepatan Pengaduk Pada Proses Adsorpsi Limbah Logam Berat Dengan Arang Aktif. Info Tek. 2011;12(1): 11-20.
Urban I, Lozada J, Wessing B, Suárez-López del Amo F, Wang H-L. Vertical Bone Grafting and Periosteal Vertical Mattress Suture for the Fixation of Resorbable Membranes and Stabilization of Particulate Grafts in Horizontal Guided Bone Regeneration to Achieve More Predictable Results: A Technical Report. Int J Periodontics Restorative Dent. 2016;36(2): 153-159. doi:10.11607/prd.2627
Phillips LD, Gorski L. Manual of IV Therapeutics: Evidence-Based Practice for Infusion Therapy.; 2014.
Thiruvenkatarajan V, Pruett A, A. Das S. Coagulation testing in the perioperative period. Indian J Anaesth. 2014;58(5): 565-572. doi:10.4103/0019-5049.144657
Soekobagiono, Prabowo H, Christopher D. Perbedaan kecepatan adsorbsi darah golongan O pada hidroksiapatit ukuran 150 – 355 μm yang tidak disterilkan dan yang disterilkan dengan pemanasan kering ( The Difference of Blood 's Adsorption Rate ( Type O ) by Hydroxyapatite with the size of 150 – 35. J Prosthodont. 2017;8(1): 1, 6.
Emam HA, Stevens MR. Concepts in Bone Reconstruction for Implant Rehabilitation. Adv Oral Maxillofac Surg. 2013;23: 617-640.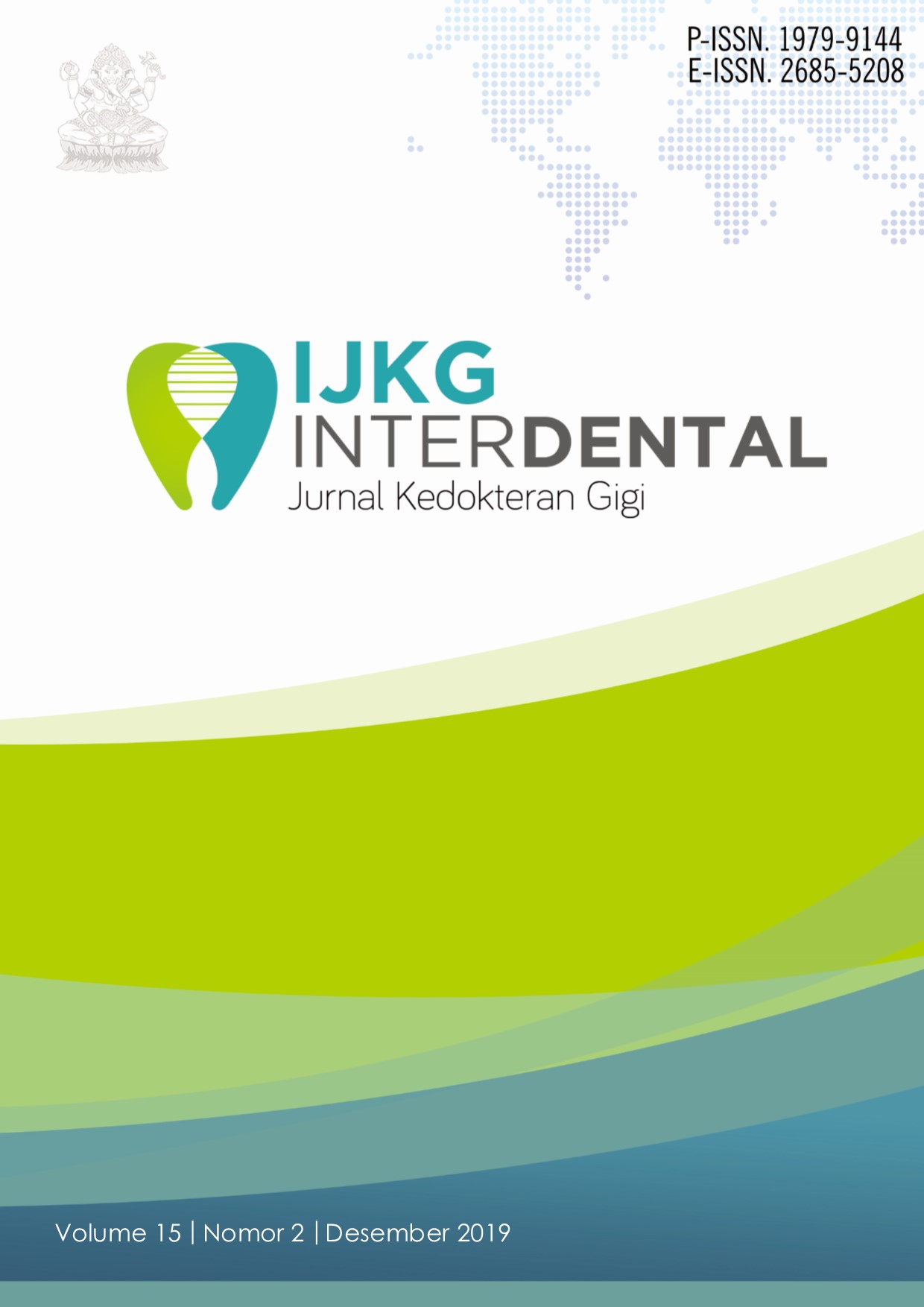 How to Cite
Prabowo, H., Laksono, H., Sitalaksmi, R. M., Setiyana, V. S., Dewanty, Z., & Giyansyah, N. S. (2019). PERBEDAAN KECEPATAN ADSORPSI DARAH GOLONGAN O PADA TIGA JENIS MEMBRAN YANG TIDAK DAN DIREHIDRASI SALINE. Interdental: Jurnal Kedokteran Gigi, 15(2), 40-43. Retrieved from http://e-journal.unmas.ac.id/index.php/interdental/article/view/663